The relentless rains flood me with memories of my childhood. Bhajiyas were a ritual and my grams was the master of ceremony. With bacon and blue cheese bhajiyas, I pay an ode to Mai
Back in the day, before I had a badass beard and a nihilistic worldview, I loved the monsoon. The 12-year-old me would chase the rain – the soft, cool sensation of raindrops on my skin, the taste of rain as I stuck my tongue out, and the comforting squish of water as it seeped through my canvas keds. I spent most of my time after school at old Mai's one-room home in a chawl where red Mangalore tiles lined the roof.
Whenever it rained, the cosy little house would fill with an unmistakable scent of those damp mud tiles, and the air carried a chill that made me want to stick to my mother. Until, of course, I was let out along with my coterie of cousins to frolic in the rain. We splashed water that collected in puddles at each other, fought, and wove imaginary stories, often pretending to be explorers walking through the jungle in the falling rain or enacting imaginary fight sequences, inspired by the many Kung Fu movies we'd watch on VHS tapes. This jamboree would continue until Mai would call us in. My cousins dutifully followed these orders, but not me. I was my own master.
But Mai wasn't my mother's mum for no reason. The wily old woman never raised her voice. She would go back inside the house and wait for the aroma of hot pakoras to hit me. And, of course, I would come back running.
There they would be piled high on a plate, steam emanating from their craggy surface. The distinct fragrance of fried food would fill the room, accompanied by the sound of liquid dough being immersed in oil. A stern admonishment from Mai, mum, and my aunt often followed, warning me that the bhajiyas were piping hot. By force of habit, I would bite in anyway. My tongue would scream in pain, as the heat singed my palate causing it to peel, and when I would finally swallow the bhajiya, it felt like I'd just chugged magma. Tears would fill my eyes, I would gasp for breath, but wouldn't hesitate to take another crisp onion bhajiya, dunk it in cold ketchup, and start chomping on it. Eventually, they would have to pull me away from the platter to let the rest have a go. But even as we would eat, that holy trinity of my grandma, mother, and aunt (three of the only women I will ever truly love) continued their assembly-line work – rapidly dunking, and frying slivers of onion, mixed together with gram flour, then depositing these ugly, delicious-as-fuck dumplings onto newspapers and into my wide-open mouth.
Years passed, I got into cooking school, worked at restaurants, started cursing the rain along with every other city slicker caught in a commute to hell and back, and grew a beard.
Somewhere along the way, Mai left. Her final years were spent in the grip of paralysis, which left her partly immobile, unable to function like before, and the rainy-day ritual was almost forgotten. I moved on from bhajiyas to fancier food, gave up onion for good old bacon. But whenever I met her, Mai still spoke of bhajiyas with the same condensed love that she reserved for her grandkids.
This relentlessly rainy week, brought back memories of the three women, huddled in that tiny kitchen, continuously feeding children who didn't seem to ever stop eating. Today, I'm in a mood to fry bhajiyas after a long time, but my recipe has a little twist. Bacon and blue cheese are the bedrock of my bhajiyas, and beer has replaced soda bicarb as a raising agent. In memory of Mai, I'm throwing in a chock-full of sliced onions.
I'm fairly sure Mai would have hated my grown-up bhajiyas and turned her nose up at the smelly blue cheese. But the bacon, she would have declared, is a touch of genius.
For Your Cookbook
Slice the onions and microwave for four minutes. Repeat this process with six rashers of bacon. If you want crisp bacon bits in your bhajiyas, microwave for eight minutes.
Mix the onions and bacon in a bowl. Add a cup of flour, some pepper chilli flakes, and salt to taste. Sprinkle rosemary and add half a pint of beer, and mix well until you have a thick mixture.
Take a spoonful of the onion mixture on your wet palms, pat it down, and add a cube of blue cheese to it. Fold the mixture over the cheese and shape it into a ball.
Now put these onion-cheese balls in the freezer while you heat the oil. Gently lower the balls into the oil, two at a time. Deep-fry them until they turn a rich, deep shade of brown.
Serve hot and garnish with crumbled blue cheese. Good old ketchup works best as a dip, but you can eat them with chocolate sauce for all I care.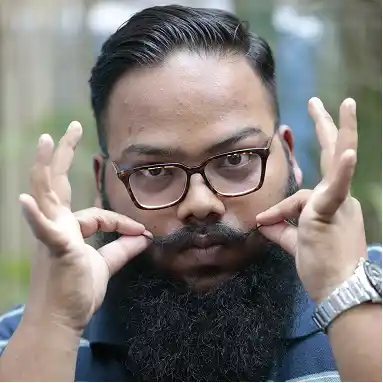 Damian loves playing videogames. If all the bounties he collected slaying zombies were tangible, he wouldn't need to write such bios. Seriously though, Damian used to be a cook who wrote, now he's just a writer who cooks.