Brilliant cooks are never exalted in an article by Vir Sanghvi or featured on TV. They never get your praise; they don't seek it. All they want to do is cook.
You walk into a restaurant for dinner. Imagine one of those places which you heard about at some swish party from someone who heard about the restaurant in question from someone who liked a picture taken by someone else at the restaurant. Your inner gourmand is aroused. You decide you're going to eat at said restaurant, whatever the cost. Maybe it costs an arm and a leg, maybe more. But fuck that, you're determined to eat there.
You walk into a cavernous dining room, populated with the uber-rich and not-so-famous fawning over the wine list, which is at least two pages long. As soon as your arse makes contact with the plush seating, you're served an amuse-bouche, a bite of food that is meant to tickle your palate and serve as foreplay for the culinary coitus to follow. The menu lists no prices, the names of the dishes are 17 words long and incorporate esoteric ingredients, and by the time you get to ordering dessert, you're wondering whether you'd need to pawn off your firstborn just to clear the cheque.
Across the room is a tiny door through where there's a bustle of activity. Beyond this portal is where your ostentatious dessert that uses liquid nitrogen to flash-freeze rainbows and unicorn poop, is being prepared by your chef.
The chef of your Instagram-worthy flash-frozen dessert is not the bald, bespectacled Heston Blumenthal. The guy messing about with the dehydrators and moulds is a short, sweaty Bengali who swears too much. Next to him, the guy who is slapping your wagyu steak on the grill like Anthony Bourdain is a middle-aged bawarchi from Kumaon, and the dude who tossed your artichoke and watercress salad is a 19-year-old kid who's listening to Honey Singh – his knife skills make Vikas Khanna look like a klutz.
Say hello to the true cooks of the meal that has cost you your baby. The men who man India's kitchens, these practitioners of the culinary arts, aren't some pretty boy chefs with a college education and internships at one of the World's Top 50 Restaurants. They come in droves from two major regions of the country, 24 Parganas in Bengal and Kumaon in Uttarakhand. They arrive in the city and get straight to work at the bottom of the food chain – washing dishes, taking out trash, and doing the shit the cooks above them have either already done and risen above or aren't supposed to do by virtue of entitlement.
They leave behind everything they know, love, and understand in order to make mega bucks to support families back home. They live in squalid conditions, often in one-room houses located hours away from the restaurants they work at, with a bunch of other guys. Getting home at the end of one shift or passing out on train platforms if they missed the last train is interchangeable. Bathed in sweat, demi-glace, and God knows what else, they find their way home, shit, shower, maybe shave, and get back to the grind. Their solitary day off is spent wandering the city or simply sleeping off after a week full of back-breaking work.
Sujoy Bagh aka Dada was one such cook. We first met during the pre-service briefing/smoke break at a restaurant I interned at. I decided to go full peacock and show off my chops on my first day getting into an argument with another cook about which restaurant among the World's Top 50 was doing what. All of a sudden I heard a voice ask in a heavy Bengali accent, "Tum dus kilo kanda chilega toh wastage kitna niklega?"
On my last day at the restaurant, I got an emotional (and aromatic) farewell from the crew, where everything from flour, to stale eggs, and fish water was dunked on me.
The voice came from a short, stocky, dark line cook who looked older than everyone there. Not wanting to seem like the little bitch I was, I shot back with, "20 per cent se kam, matlab ek kilo me 200 gramme nikalna chahiye."
He nodded and said, "Thik hai, ek kilo kanda chilo."
It was on. I was surrounded by a bunch of cooks, chefs, and cleaners. I had a point to prove. I entered the kitchen, peeled a kilo of onions, and weighed the peels. 90 gramme. "Tum to bola 200 gramme, kya hua?" Everyone burst out laughing, it felt like a kick in the nuts.
Dada rode my arse hard for the rest of my internship – making me lug 130 kilos of frozen tortellini over three floors, scrub downs at 2 am, and ripping into me whenever he felt like it. I hunkered down and took the abuse, not only because Dada ran the kitchen, but because he was a fabulous cook.
Dada grew up in Malda, West Bengal. He studied at the local Bengali medium school until the fourth grade after which he went to work with his father, a motor mechanic. At 18, he came to Mumbai and began working with a company that supplied dry groceries to five-star hotels. When he decided he wanted to become a chef, he began by washing dishes at a rinky-dink restaurant where he also doubled up as the stand-in staff cook. From there he moved up the ranks, working at restaurants such as Olive and Indigo, staying confined to the position of line cook purely because of his lack of education and mercurial temper. In his words, "Humko jo din chef banaya, woh din restaurant bandh." This meant a brilliant cook such as Dada would never be exalted in an article by Vir Sanghvi or be featured on TV. All he wanted to do was cook, and he did this job better than many other chefs and cooks I've worked with.
On my last day at the restaurant, I got an emotional (and aromatic) farewell from the crew, where everything from flour, to stale eggs, and fish water was dunked on me. After the dunking, Dada walked up to me and, in a tone of voice I'd never heard before, said, "Tum aage jaake ek cheez yaad rakho, ek kilo kaanda chilega toh tumko 900 gramme kaanda milega," and punched me on the shoulder. As a mark of respect for all he'd taught me, I handed him my favourite paring knife, which he'd been eyeballing since my first day. His bloodshot eyes turned misty and all he could manage was, "Danny, chalo daaru pilao."
***
I fell out of touch with Dada over time. I imagine he is currently at the back of a restaurant somewhere, in front of four high-pressure gas burners, riding an intern, drinking cheap wine on the job, and cooking the entrée you loved enough to Instagram and call the chef to offer your compliments. Dada and his tribe will never get your praise. But sending a bottle to the kitchen every once in a while will make up just fine.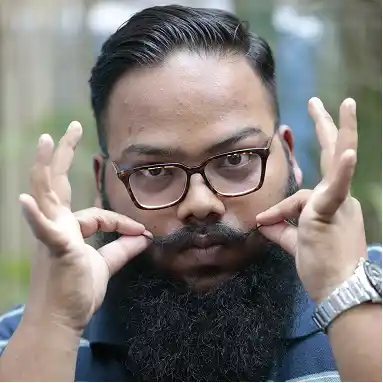 Damian loves playing videogames. If all the bounties he collected slaying zombies were tangible, he wouldn't need to write such bios. Seriously though, Damian used to be a cook who wrote, now he's just a writer who cooks.