Should I make a coconut milk strawberry mousse this Diwali? Or a soy chocolate semifreddo with a strawberry coulis? When my mother-in-law suggested besan ka laddoo and halwa, it seemed like such a radical idea.
MasterChef Australia is back. It coincides with the festival season and there's a lot of pressure to wow friends and family with some spectacular dish. After slacking off all summer and most of the monsoon with the excuse, "Garmi hai/baarish hai, market me koi sabzi nahin mili," Diwali is that time of the year when I am expected to cook – and sometimes, horror of horrors, invite people over as well.
As entertaining as MasterChef Australia is to watch, there are no takers for 15 different ways to eat beetroot and protein in my vegetarian-only family. So I had to turn to the deep, dark web for some recipes. After spending two weeks watching videos of warm caramel sauce falling gently onto a gold-dusted chocolate globe that opens out into a lotus which has a raspberry mousse-filled dark chocolate truffle ball in the centre, and putting on 10 kilos, my husband took me aside and whispered the words that no wife wants to hear: "My mom is coming to stay."
That was enough to wean me off the food porn quickly and I thought I'd never say this but it was a blessing indeed. Those internet shows somehow did not inspire me to cook; they only inspired me to eat. Probably a conspiracy of left-wing, millet-eating liberals to eliminate overindulgent right-wingers by encouraging them to clog their own arteries.
However, with Diwali approaching and the MIL visiting, I had no time for conspiracy theories or indulgent food videos. I had to get off my 10-kilo heavier ass and do some cooking. In this time of need, I turned to my old friend to find the perfect recipe: the television.
It brought out a whole lot of uncomfortable feelings that I didn't want to deal with when I slave over a lasagna or a tiramisu.
If searching for recipes on the internet is like rock-climbing – a solitary and deeply introspective process where you have nobody to depend on but yourself – searching for recipes on TV is like a football match between Brazil and Argentina… everyone in your immediate vicinity now watches along with you and has an opinion. While I was leaning toward preparing something tart and fruity, my husband wanted something healthy, and my daughter something chocolatey.
The deep insights gained from watching MasterChef were coming in handy. We were soon debating the pros and cons of a coconut milk strawberry mousse with chocolate ganache versus a soy chocolate semifreddo with a strawberry coulis for dessert, when my mother-in-law, who is the real connoisseur of sweets, suggested besan ka laddoo and halwa.
And then we had a brainwave – we could incorporate our traditional Indian cuisine into our Diwali party menu. But was it really such a revolutionary idea? Even my neighbourhood multicuisine restaurant which had gone from serving paneer butter masala and dal makhni to garlic bread and patriotic pasta in orange, white, and green, has now gone back to serving Indian cuisine "with a twist". We have had the dubious joy of tasting culinary marvels such as broccoli and zucchini pav-bhaji fondue and frozen motichur laddoo cheesecake. As strange as they sound, they are a big hit.
We pondered over how we could incorporate besan ka laddoo into our elaborate dessert plan. My daughter suggested making a base out of besan laddoo for the mousse and turning it into a cheesecake, my husband thought we could make a sooji tuile for the chocolate semi-freddo. My mother-in-law was simply mystified. Apparently, when she had mentioned besan ka laddoo and halwa she had meant only besan ka laddoo and halwa.
I was lost. I hadn't eaten plain sooji halwa and laddoos at a party for ages, but it seemed like such a radical idea that it could be a hit. Artisanal is the in thing these days, I hear. There's a little kiosk on my street that sells chai in little kulhads for 50 bucks and my regular kirana shop was selling his grandma's home-cooked poha and upma and making a killing. Recipes from moms and moms-in-law are making a comeback. All the cooking shows say so. Yet it never occurred to me to ask my own.
Mothers and mothers-in-law are a treasure trove of recipes, which have been properly tested, mastered, and curated to suit everyone's taste and health needs. Yet it's a resource that I seldom fully explore. Maybe it was the sight of my mother slaving over a hot stove and being too tired to ever enjoy the feast that she herself had prepared, that stopped me from exploring the depth and variety of some traditional recipes. Or maybe it was the fact that even though my husband was fond of my gourmet cooking skills, there was a small space in his heart that will always hanker for his mother's simple cooking. No number of exotic dishes can ever fill that void. It brought out a whole lot of uncomfortable feelings that I didn't want to deal with when I slave over a lasagna or a tiramisu.
But at the end of the day, food is love and love is food, which is exactly why we all slog it out in the kitchen to impress the people we love. This Diwali, I'm going to do exactly that. With some puri, halwa, and ladoos. The coconut milk strawberry mousse will have to wait.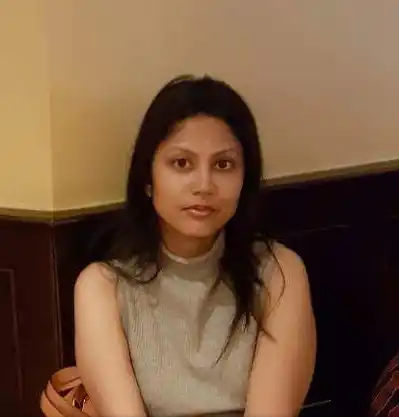 Ashwina Garg is a freelance writer and entrepreneur. She is the author of the best-selling book 'Spicy Bites of Biryani' and writes regularly for Women's Era, Bonobology and other sites. She has a keen interest in social causes and writes for the Hyderabad-based NGO, SAHE and TEDxHyderabad.