It is unlikely that demonetisation will strike again. But just in case, be prepared for a nuclear winter. Step 1: Stock up on some good old dal.
Exactly one year ago today, we woke up to the prospect of lighter wallets, thanks to the eradication of ₹500 and ₹1,000 notes in one fell swoop. Chaos had reigned the night before as people scampered around wondering what to do with all the "black money" they had. While the craziness decided to call it a day and the morning of the 9th arrived, a much bigger question arose particularly in homes like mine. What would we eat? Groceries had to be purchased, meals had to be prepped, people had to be fed.
Unsure of their future, everyone from bhajiwalas to bigger shopkeepers decided to lie low and take the day off to divine their next moves. That night, at dinner, much to my middle-class mother's chagrin, I ordered food online with just a few taps on my phone. All was well, as we ate our takeout and watched people scream bloody murder on Times Now.
Meanwhile, outside of our little bubble, despair mixed up an uncertain hunger, people couldn't fathom the fact that all that little money, ferreted away to pay for weddings, funerals, education, and other privileges wasn't worth the paper it was printed on. They mulled over their dinner, wondering what came next. If this man on TV decided tomorrow that ₹50 and ₹100 notes were to be scrapped too they'd be screwed. While the rich quickly began the process of converting large currency into gold and other valuables, the serfs stocked up on the only food they knew would see them through the next few months: dal and chawal, quite literally the manna of the common manoos. The long, snaking queues outside kirana shops at 11 pm and the puzzled faces of my friends and neighbours patiently awaiting their turn drove this point home.
Kirana shops were raided; dal, chawal, Parle-G, Marie biscuits, tea, sugar, and salt was purchased, en masse, like a Black Friday sale for brown people. These staples of the Indian kitchen, can conjure up dal-chawal, dal-roti, khichdi… food that both sustains and comforts. Forget demonetisation, we'd ride our nuclear winter so long as we have dal and chawal, and maybe some achaar to break its yellow monochrome monotony.
Those without the benefit of having a mother around, stuck to Maggi, a sorry replacement for the comfort dal and chawal could provide – and a hope that things would be better.
In the period from November 9, 2016, until about a week later when normalcy began to resume, the very dal and chawal that was once used to hide the now demonetised currency seemed to be a staple on dinner tables across the country. Testament to this, was the synchronised seetis of pressure cookers all around me every evening.
Those without the benefit of having a mother around, stuck to Maggi, a sorry replacement for the comfort dal and chawal could provide — and a hope that things would be better. So dal's one thing you MUST know how to make. It's quick, cheap, and nourishing, the three hallmarks of the perfect food.
Here's What You Need: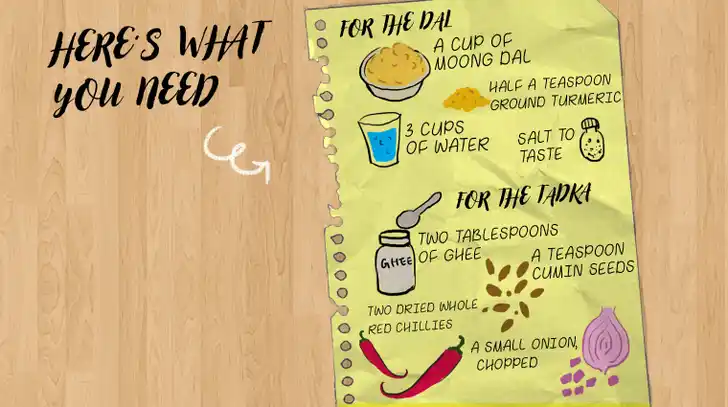 For the dal:
– A cup of moong dal
– 3 cups of water
– Half a teaspoon ground turmeric
– Salt to taste
For the tadka:
– Two tablespoons of ghee
– A teaspoon cumin seeds
– A small onion, chopped
– Two dried whole red chillies
Here's What To Do With It: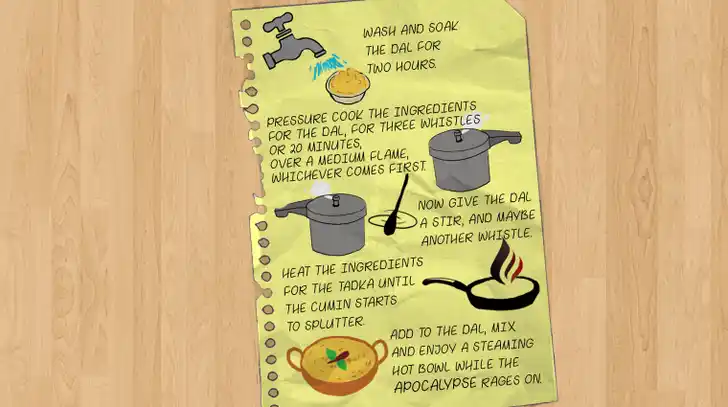 – Wash and soak the dal for two hours.
– Pressure cook the ingredients for the dal, for three whistles or 20 minutes, over a medium flame, whichever comes first.
– Now give the dal a stir, and maybe another whistle.
– Heat the ingredients for the tadka until the cumin starts to splutter.
– Add to the dal, mix and enjoy a steaming hot bowl while the apocalypse rages on.

Damian loves playing videogames. If all the bounties he collected slaying zombies were tangible, he wouldn't need to write such bios. Seriously though, Damian used to be a cook who wrote, now he's just a writer who cooks.