The 620-km Women's Wall, protesting against the tradition that bans women from entering Sabarimala Temple despite the SC verdict, is a fitting companion piece to the #MeToo wave. Like #MeToo, the Wall is as much an expression of women that cut through barriers, as it is their means to protest inequality.
Around the time that Narendra Modi, the Prime Minister of the biggest democracy in the world mistook gender inequality as a marker of "tradition" in the year's definitive interview, women in Kerala decided to point out the irony. Almost five million women lined up on the streets across national highways in Kerala, from Thiruvananthapuram to the northern district of Kasaragod to form a 620-km human wall.
Around 4 pm on the first day of this new year, women from different walks of life – homemakers, women in hijabs, students, middle-aged women, teachers, farm labourers, doctors, actors, lawyers, and transwomen– stood holding hands for 15 minutes in a historic display of protest against India's patriarchal culture. A culture that still bars the entry of women into a temple despite a Supreme Court order. A culture that encourages violent protests and shutdowns in the state. A culture endorsed by India's Prime Minister.
The lakhs of participants also took a pledge at the event, which read, "Kerala was once called a lunatic asylum. Today it's known as God's own country thanks to the social reformation movements. Orthodoxy had always stood against our surge towards a progressive society. But we had thwarted their plans." And in some parts of the state, men too formed a human chain on the opposite side of the road in a display of solidarity.
The Communist Party of India (Marxist) leader Brinda Karat termed the state-sponsored Vanitha Mathil (Women's Wall) as a resistance against "the dark forces that want to push women back into the dark ages". Presumably, the wall was a response to the BJP-backed "Ayyappa Jyothi" event, where right-wing supporters formed a chain to protest against the Supreme Court's Sabarimala verdict that lifted the temple's age-old ban on women.
The sea of women who came out to demand equality resulted in the fourth largest human chain ever, one of the oldest peaceful forms of protest. It's also touted as the arrival of a new brand of progressive and feminist politics in Kerala, backed by leaders from political parties, socio-political organisations, and ordinary people.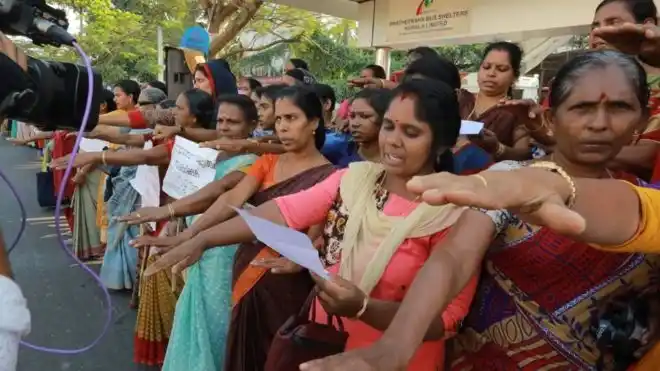 The sea of women who came out to demand equality resulted in the fourth largest human chain ever, one of the oldest peaceful forms of protest.

Getty Images
Crisscrossing 14 districts of Kerala, the Women's Wall was a fitting companion piece to the women-led #MeToo wave that engulfed India in the preceding few months. Like #MeToo, the Women's Wall was as much an expression of women that cut through barriers such as age, religion, caste, and class, as it was their means to protest inequality. However, unlike its predecessor, the Women's Wall was entirely an offline movement that didn't need to rely on the reach of social media.
Instead, it took the politics of #MeToo forward by giving the plea for equality a face – rather, several faces. When #MeToo was first making its presence known, the accusations levelled against it were that it was entirely an elite urban women's movement, with absolutely no bearing on the lives of "regular" women. Yet, it is difficult not to make the correlation between #MeToo and Women's Wall – would the latter have been possible without the former? This was possible evidence of how one movement, over time, can percolate down from supposedly elite progenitors to spark actual, grassroots change.   
Yet, in true BJP fashion, the state leadership labelled the Women's Wall a "total failure" and a waste of government funds and machinery even though Kerala Chief Minister Pinarayi Vijayan had clarified that state funds wouldn't be used.
It's not difficult to grasp why the Women's Wall might've ruffled the BJP's feathers. If #MeToo was a mere warning to all the men men abusing their positions of power, then the Women's Wall was an unequivocal message. That women refuse to be exploited as pawns by politicians who can't seem to understand the definition of gender equality. That women will now refuse to allow men to decide which rights can be granted to them and which ones can be snatched away. And that if it comes to a show of strength, women will take to the streets in unity – across the country, in Mumbai's Shivaji Park and outside Kerala House in Delhi – to guarantee that the equality promised to them in the Constitution becomes a reality.

When not obsessing over TV shows, planning unaffordable vacations, or stuffing her face with french fries, Poulomi likes believing that some day her sense of humour will be darker than her under-eye circles.