I grew up amid the sounds of thumris, ghazals, the heady scents of mogra and whiskey in the kothas near Mumbai's Kennedy Bridge. My earliest memory is of my mother fighting a drunken man, who was calling her a "randi".
In one of my earliest memories, I am a toddler bawling in the arms of an underage maid. She is standing on the top rung of a rickety wooden staircase, where a dark, narrow corridor leads to an open door. From inside the room, a bright white light emanates; two women are engaged in a tussle with an armed man. One of them is my mother. In that screaming chaos, the drunken man is flashing a knife, yelling, "randi, randi" at the top of his voice. The women scream back.
I extend one frantic arm in the direction of the door, trying to reach out to save my mother. It doesn't help. Her finger gets chopped in the attack. There is blood.
This memory is so vivid that as an adult, I first believed it was a weirdly detailed dream, or a thrilling scene from a film that has remained stuck in my subconscious. But I've cross-checked: My mother's cut finger has not grown back.
In the several retellings of this incident though, its ugliness has been dented. Humour nourishes my mother's indomitable spirit and hearing her repeat it over the years, the attack has been rendered almost entertaining.
Each time we speak about it, she adds a new layer to the harrowing incident. One time she said she was proud of her stubby finger, that it makes her feel like the tragedienne Meena Kumari, whose pinkie had been deformed in an accident. Of course my mother feels that way. Meena Kumari had played the quintessential courtesan in Pakeezah, using her perfectly shaped other hand for graceful mudras.
Like Meena Kumari, every girl in the kotha conceals her flaws with artful coquetry, but how many of them can defeat the knives, swords, or penises that assault them?
***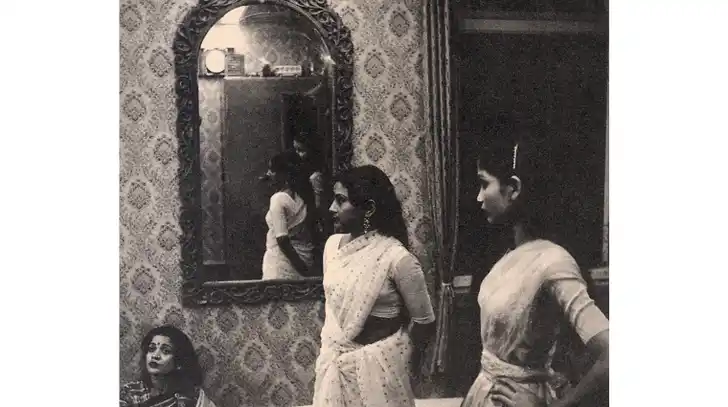 I grew up among the sounds of thumris, ghazals, the heady scents of mogra, and a splash of whiskey poured every night in these kothas located near Congress House.

Image credit: Courtesans of Bombay/ Merchant Ivory Productions
My mother belongs to the denotified nomadic tribe of Kanjarbhats, who migrated from Rajasthan to Maharashtra and Gujarat. In a long chain of undernourished siblings in Pune, she was exchanged for a spot of comfort by her family.
Married as a child-bride to a loutish young man from the Bedia community, she was treated like cattle and worked as a bonded labourer in Agra. Raped. Enslaved. But puberty saved her from her tyrannical in-laws when they decided to sell her to the "madam" of a kotha in Bowbazar, Kolkata, because the bleeding girl had run her course of luck with them.
The barter of my mother's fate proved to be slightly better in the long run. The madam trained her in kathak and vocals and soon enough my mother was able to repay her price in exchange for her freedom. But when that freedom came, it meant nothing. Except maybe saving her younger sisters from a similar fate.
I spent the first four years of my life in the area in Mumbai that goes by several names: Kennedy Bridge, Pavan Pool, Congress House, and Foras Road. There was a clear distinction between the courtesans who dotted these areas around Vitthalbhai Patel Road and the sex workers in neighbourhood Kamathipura.
While the nautch girls preferred monikers like tawaif, baiji, mujrewali, or naachne-gaane wali, the sex workers preferred the unambiguity of "kamanewaali". The dehumanising "randi", however, united women from both professions as they mixed freely.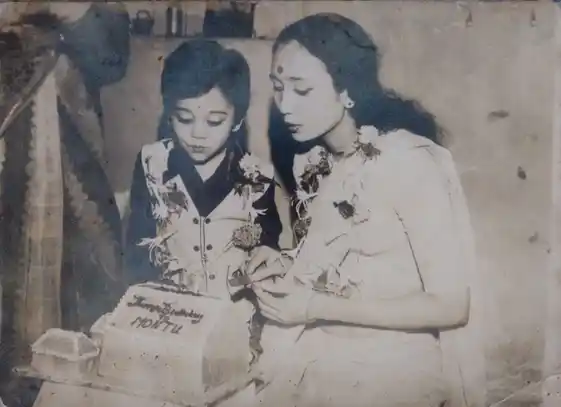 My mother's name is Rekha. Line. A word we use to describe the interloping straits on our palms.

Image credit: Manish Gaekwad
I grew up among the sounds of thumris, ghazals, the heady scents of mogra, and a splash of whiskey poured every night in these kothas located near Congress House, the compound of which proudly holds the rusty sign board Mumbai Sangeet Kalakaar Mandal at the entrance. In 1972, Prime Minister Indira Gandhi had set up the music academy to rehabilitate musicians, singers, and dancers, leading to the proliferation of mujras in the city.
In the '80s, film stars Shabana Azmi and Smita Patil came to Pavan Pool to watch the brassy young women chewing paan and spitting fire. The nautch girls crooned and sashayed in disco sarees and bondage-strap ghungroos. Actors observed them to prepare for their iconic roles in such films as Bazaar and Mandi. Mallika-e-Ghazal Begum Akhtar is said to have visited the precinct. Sarangi player Ustad Sultan Khan was a regular patron. Playback singer Mubarak Begum rose to fame from her kotha situated there.
The kothewaalis were often asked to perform in flashy dance sequences in such films as Karz and Razia Sultan. In 1983, when filmmakers Ismail Merchant and James Ivory visited the Pavan Pool compound to shoot the documentary The Courtesans of Bombay, my aunt, who was visiting us, agreed to speak to them and appeared on camera, and eventually featured as the big-bindi-ed woman on the film's poster. The filmmakers cooked up a fictitious story about her romance with a spry young man, and survival stories were narrated by actors Saeed Jaffrey and Zohra Sehgal. My aunt's name is not mentioned in the film and in its promotional material (including the DVD cover) for obvious reasons.
My mother was also bedazzled by the hollow charms of being discovered by Hindi cinema. A pimp would round up the women in the compound with the promise of meaty roles in films and whisk them off to a film set where a randy producer would make them dance to his tunes – a song would be played, the women would shimmy, get paid for the gig, and return home, little realising that the camera was never switched on through the entire shindig.
The women could hardly be blamed for their blighted optimism. If the actress Nimmi could make it from the kothas to the kaleidoscopic world of cinema, so could they.
In one of my earliest memories, I am a toddler bawling in the arms of an underage maid
Where entertainers and admirers rubbed shoulders, could the avarice of the thugs be far? Goons claiming to be gangster Haji Mastan's henchmen regularly showed up with weapons to intimidate the women. My mother was no easy target.
When the bullies threatened to abduct me in exchange for one of her pretty sisters who looked after me, she fled back to Kolkata and literally deposited me in a boarding school in Kurseong, and later, Darjeeling, for my safety. Until then, the only privilege I'd had, as an illegitimate child from a married Muslim man she loved (and who decamped with her earnings), was being born. School was my second privilege. Had the criminals not come after us, my mother would not have panicked and hidden me away like precious jewellery in a remotely accessed vault. That vault was education.
As a five-year-old, I returned to the kotha from the boarding school for my first winter vacation. During dinner, I studied my plate placed on the floor. "Mummy, where is my spoon and fork," I asked. She wept. "Phat-phat angrezi bolta hai yeh toh," she cried in disbelief, inviting the other women in the kotha to bear witness. I could speak a language that did not sound crude, vile, and debasing to her spirit.
As it so happens in melodramatic films mirroring real life, my mother was too frail to bear a child when she got pregnant. The surgeon in the hospital who cut through her stomach to deliver me, had told her before wheeling her into the operation theatre, that he could save only one of us. The man she loved had forewarned her not to give me his surname if I made it alive. My mother's horrified reaction to the surgeon's one-option procedure was, "Kill the baby."
Mummy and I have giggled over this story a number of times, on how OTT it sounds, how tragicomic. And then there is also the practicality of her outburst. What would have become of me if she had died during the operation? It is only through our shared sorrows revisited with laughter that the trauma of our lives become bearable.
My mother's name is Rekha. Line. A word we use to describe the interloping straits on our palms. Palmists examine the lines to predict the future. She cannot read, or write, but she shaped my future, fully comprehending that hers was denied.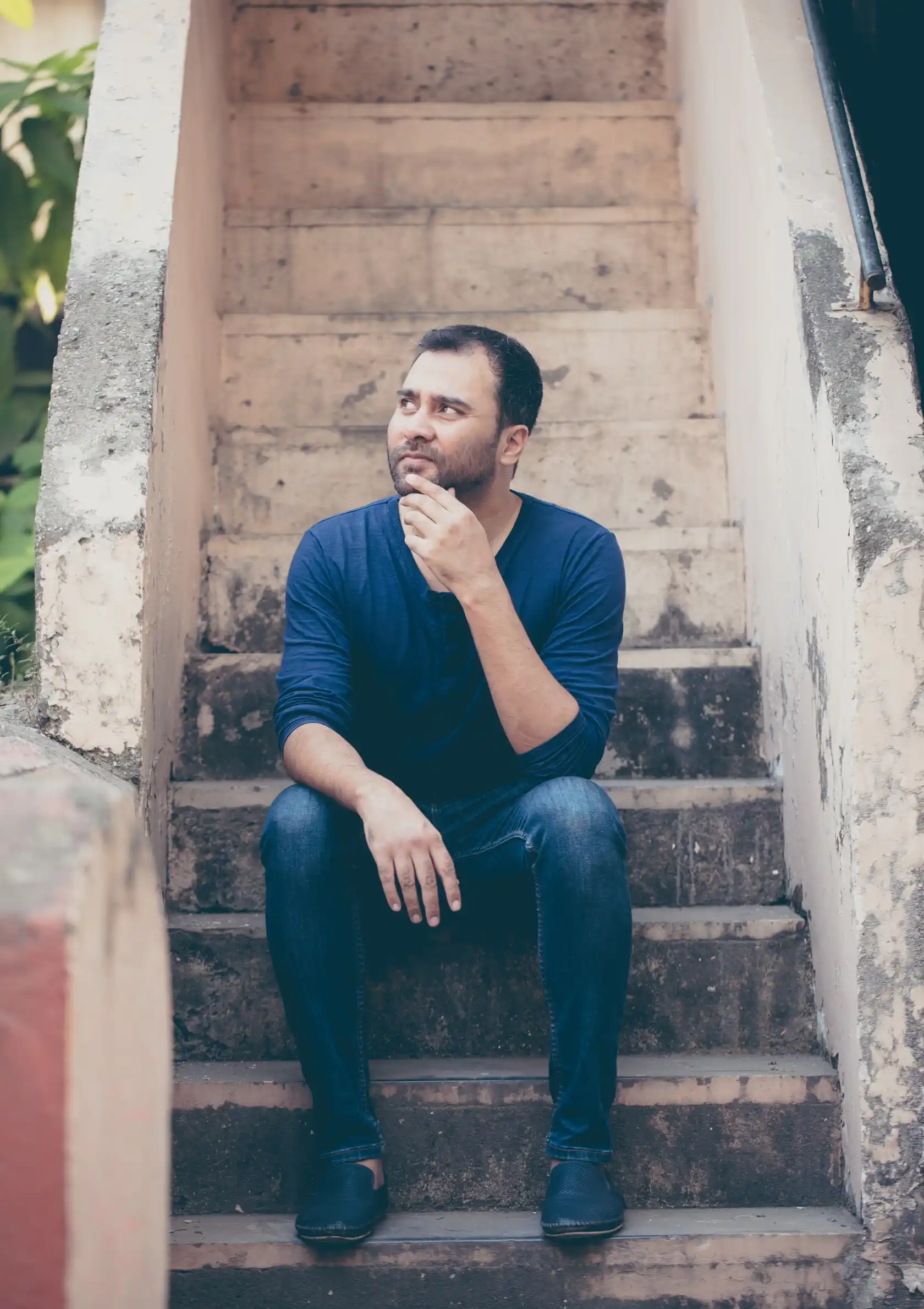 Manish Gaekwad is a Mumbai-based freelance writer and the author of Lean Days, a novel dedicated to his mother, and exploring a gay man's identity in India.