Smita Sharma was molested by a professor and then, her cousin committed suicide after facing abuse. Today, this photojournalist traverses India to hear the stories of rape survivors.
In a remote village in West Bengal, 140 kilometres from the nearest state highway, a young Indian photojournalist from New York is making her way across the fields in the dark. She is dressed as a village angandwadi worker in a decrepit salwar kameez, with her hair coiled into an oily bun. The fierce sun has set on this parched land, but heat still rises from the earth, as Smita Sharma makes her way, hiding her SLR camera as much as she can. Fireflies flit madly in the distant peepal tree, as she approaches the dimly lit hut where Shanta lives.
Smita has been in the village for three days now and it hasn't been easy. Her first day was spent standing outside the government hospital in the Diamond Harbour area in the hope that she'd get a chance to meet Shanta. The local health worker had tipped her off about the name, but Smita had to identify her from the crowd and make contact herself. Smita identifies these women from their body language – their tentative walk, drooping shoulders, and fearful faces give them away. Recognising Shanta wasn't the tough part; it was getting her to talk.
The men in the village don't want Shanta to talk to an outsider about what was clearly an "internal matter". The sarpanch had sent a warning through the health worker, strongly suggesting, that Smita be careful about not bringing shame to the village by speaking to these women, but Smita's determination to record Shanta's story was bigger than any threat the sarpanch could make. Thankfully at the hospital, Shanta had whispered a hasty agreement, before shuffling away with her husband.
To protect Shanta, it was important that Smita did not visit Shanta's house immediately. So she spent the last couple of days visiting several other houses as part of an "ethnic photography project" she claimed to be working on. These visits were a decoy to ensure that Shanta alone is not accused of meeting with the outsider.
Now finally, Smita is at Shanta's. Inside, she knows the anxious woman will be waiting and along with her will be her family. The village wants them to keep mum but the family always wants to tell Smita their story. So does the rape survivor. Nobody has asked Shanta how her life changed after that fateful night. Nobody has uttered the word "rape" but that day, for the first time, someone will come asking, and Shanta will speak. She knows, like Smita does, that if no record of her horrific rape ever exists, it will be like it never happened.
Steeling herself for the emotional rollercoaster that was soon going to follow, Smita raises her hand and knocks on the door.
***
Sexual abuse haunts Smita's waking moments. It also surfaces as nightmares. Her childhood was marked by the horror in more ways that one. As an adolescent, she was molested by a trusted professor in college, and years later, the crime repeated itself, a hundred times worse, when her innocent 13-year-old cousin Kamalika Das was molested in school by a classmate. "She was very close to me. I was in Std X when she was born. As her elder sister, she brought out all my protective instincts," Smita says. When her little sister tearfully confessed, Smita reeled in horror. "Kamalika's father was travelling when this happened. She called me and I knew exactly what she wanted. All she wanted to know was that it was not her fault."
Rape is not an easy subject to live with. The stories leave their mark on Smita and there are days when she cannot eat.
Unfortunately, the school's principal, who was a woman, did not think so. She ridiculed Kamalika, called her an arrogant child, and threatened to expel her for attracting undue attention. The school and some of its teachers ganged up on Kamalika. What followed was a spate of character attacks for four years – four long years of being punished for small misdemeanours, being ridiculed in class. But she stood up against them all because she had Smita on her side, Smita who had convinced her that she had not done anything wrong. But, in the end, the accusations of the world became a burden she could not bear. When Kamalika was suspended for not completing an assignment and her mother insulted for "not raising her child properly", she (Kamalika) committed suicide by jumping out of a seventh-floor window.
Kamalika's death changed Smita's life forever. "I was like a wild horse after my cousin's death. It was an institutional murder. No one should lose their identity, their dreams or their lives because of an abuse that the world does not even acknowledge."
The silence of abuse survivors screams out loud in a culture that accuses them of provocation instead of offering protection. The silence wouldn't let Smita sleep. She was haunted by the idea of giving these women, if not justice, then at least a voice. She'd been a photojournalist for many years, but now she had a responsibility. She had been dabbling with the idea of a project that documented rape in India, but after Kamalika's death it acquired a new meaning.
It was an ambitious project, one for which Smita had no funds. An editor friend from New York suggested crowdfunding and "Stories of Rape & Sexual Violence in India" was launched as a project on Kickstarter. The response was tremendous. In 45 days, it raised more than $30,000 from across 30 countries.
Smita packed her bags and flew to India.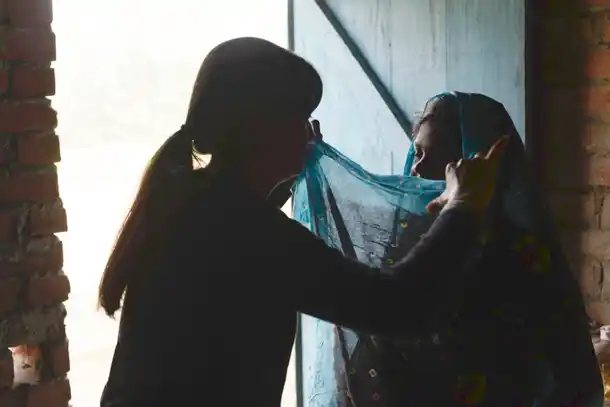 Smita has covered West Bengal, Haryana, Delhi, Telangana, Uttar Pradesh, and Jharkhand, and documented 35 cases of rape like Shanta's that go unreported.

Arko Sen
It's been 19 months since then, and Smita has covered West Bengal, Haryana, Delhi, Telangana, Uttar Pradesh, and Jharkhand and documented 35 cases of rape like Shanta's. During interviews, Smita sits with the women, talks to them, eats with them. Sometimes she doesn't use her camera at all. She never prods them, but the story always comes out. There have been times when she could not shoot because she was crying so hard, shattered by the stories she kept hearing again and again.
Smita has met teenage mothers who were made to marry their rapists, girls who were raped on their long commute to school, or some when they went out in the fields at night to defecate. A young mother, whose six-year-old daughter's broken body was discarded like a rag doll by her rapist, asked Smita brokenly, "Why did he have to kill my daughter?"
Rape is not an easy subject to live with. The stories leave their mark on Smita and there are days when she cannot eat. "I meet these survivors and all of them have a different story, but the dead eyes staring into the darkness remain the same."
Smita plans to be on the road for another two years, raising money along the way to fund her project and also helping these girls by donating bicycles. She doesn't know when it will end or what it's going to take, to shift the needle even an inch. If nothing comes out of the stories she's collected, it doesn't matter to Smita.
What's important is that the story has been told.
Smita is currently raising funds to purchase bicycles for victims of sexual assault. You can contribute at http://kamalikafoundation.org/.

With inputs from Kangana Sachdev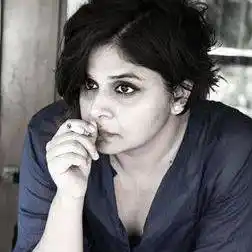 Sharan Saikumar is the Creative Director at Arré.