An insistence on a drink? Repeated phonecalls? Personal questions? What is sexual harassment – especially in a digital workplace – and how do you know when to speak up?
Fresh out of college in 2013, the writing internship with Emaho Magazine, the "iconoclastic, hip and edgy" webzine of photography and culture, had me hopping with excitement. Manik Katyal, its itinerant founder, had offered me the opportunity to interview South Asian artists across the board. It was the job of my dreams. I was to be based in Pune while Manik continued to call Delhi his head office.
Days into the internship, and my conversations with my boss, who for me was only a voice on the phone, took a swift, unexpected turn. It began with the slightly intrusive but innocuous questions like whether I had a boyfriend or what I did on weekends and "for fun". It escalated quickly from there. When he discovered I knew a talented young photographer, he asked me straight up how I liked the idea of making out with her.
I started pushing back then; first, trying and then failing to laugh it off, and then, telling him unequivocally that he was being inappropriate. It was when I visited Delhi on a personal trip in the middle of that three-month internship that I really began counting the red flags. Although I had taken a few days off from work, Katyal knew I was in the city, and I received several messages asking me to come over for a drink. One disaster of an evening, he insisted on crashing in on my time at Haus Khaz Village even after I repeatedly told him I was there for personal reasons.
When I got back from that Delhi trip, an email awaited me telling me how unprofessional I'd been lately, and how I needed to up my game if I wanted a letter of recommendation from Emaho. I was 21 and torn. I knew his behaviour was inappropriate, but what I was experiencing – did it actually qualify as sexual harassment? For starters, I'd never actually met him. I could see how his pathological lechery had affected me over the course of the three months, but many of the friends to whom I mentioned this, laughed it off. I felt as if I was overreacting to the real-life equivalent of a message in Facebook's notorious "Others" inbox.
Either way, I quit and for a long time I was conflicted about my decision. But now, looking back at everything that has happened since, the testimonies of several young women, who started the blog "I was harassed by Manik Katyal", I'm thankful for the instinct that propelled me to run a mile from the man. Not everyone got away as clean as I did.
***
Four years later, the thing that surprises me about this phase of my life was that even after the public blog, it took one of us to file an actual criminal complaint against Katyal for "outraging her modesty" for others to speak up. But like many young women who encountered him, I also kept my silence. I think it had a lot to do with the continued haze around sexual harassment – where exactly is the line and what are my rights? I was unaware then, that in the workplace, harassment had nothing to do with the (often male) boss or colleague's "intent" – it was all about how the harassed person interpreted it and how it made her feel. It could be a supposedly innocuous comment about a female colleague's clothing, but the way it was delivered and the weight of what it implied, made all the difference.
In five days flat, over 20 posts were published on the blog, a mere fraction of the testimonials the photographers running the blog actually received.
When I finally did speak out, it was because I drew my strength from numbers. Despite my privileged background and awareness of my rights that were being violated, it was humbling to be reminded that I was just as much a product of this culture of silence as anyone else. However, the knowledge that so many other women had undergone the same experience — and a gnawing anger about him being able to get away with it — gave me the courage to come out.
"Sharing the story of your oppression, I believe, only empowers you, and others who have faced the same," read a stigma-shattering post, published November 7, 2015. "I am writing this for all the women whom he has done similar things to, and this is to let you know sister, we all stand together in this and we must stand tall. There's no shame. However, there is much anger and let's spread that anger."
From that point on, the anger did spread like wildfire – in five days flat, over 20 posts were published on the blog, a mere fraction of the testimonials the photographers running the blog actually received. It became clear quickly that Katyal was a repeat sexual offender, preying on young women and interns who were misled by his air of self-importance and exaggerated influence.
The blog was last updated on November 11, 2015, as "it had served its purpose in bringing together the women and creating a platform they could speak out on." Since then there have been developments that illustrate that Katyal's brazenness finds no arrest: On December 26, his lawyer Ankit Lamba, an advocate practising in the High Court of Uttarakhand, sent a legal notice to 36 people. These included several who have put down their stories on the blog. The notice claimed compensation to the tune of ₹5 crore "for the financial, mental and physical agony suffered and the losses which my client had to bear due to the wrongful act done." But earlier this week, he was issued a notice by the Supreme Court, to explain what is termed, a Strategic Lawsuit Against Public Participation. Or SLAP, if you like your irony.
I know the journey of the case, as it trudges through the corridors of justice, will be slow and gradual. I hope the energy and strength of the plaintiffs and their lawyers will carry through. But for the sake of everyone involved, and for those of us who are observing the case, I hope it is swiftly brought to justice, because Manik Katyal may seem unimportant, but the most important lesson that this case has imparted remains — that in the long fight against sexual harassment, there is no alternative to speaking up.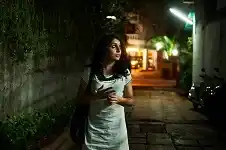 Aditi has been writing about music and culture for the past five years, and is currently based out of Bombay. Awake since the late 90's, she will readily work for filter coffee.