Missing, a new role-playing game, attempts to raise awareness about trafficked girls. But can a game based on the reality of thousands of exploited women really create empathy?
Iam Champa, a young, trafficked girl trying to escape from a brothel. It takes me 20 attempts to find a key to escape the room I've been locked up in. As soon as I open the door, there are men outside waiting to catch me. I'm taken back to the Masi who runs a brothel. She has named me Ruby and dressed me up in red. She calls Shonty to punish me for trying to escape. He pushes me into a room and the door closes. I scream, "Please, noooo."
I don't like the idea of playing Missing, the new role-playing game by Leena Kejriwal, when I first hear of it. How is it okay to play a game based on the reality of thousands of exploited women? An experience that for millions of abducted and trafficked girls is chilling? How am I expected to become Ruby, to put myself in her situation while I'm sitting comfortably at home sipping coffee, my dog cuddled up next to me? There are no real consequences to my actions. I can do as I please and most importantly, when I've had enough, I can pause and exit.
It's the same reaction that I had to a UNHCR game called My Life as a Refugee or even Depression Quest (in which you play the role of a person suffering from depression). In Depression Quest, the story is told through snippets of text, bookended with ostensibly straightforward decisions for the player. Will you work at your desk or retreat to bed? Will you attend the party or remain at home? The choices appear mundane, but the protagonist, slowed down by depression's fug, finds each one of them to be tremendously burdensome. Depression Quest unsettled me because I didn't find it hard to play and make decisions. I don't know what this familiarity means.
Whether we like it or not, augmented reality-based empathy-building games are here to stay. They speak to several aspects of our personality – our voyeurism, fundamental empathy, desire to know more about experiences we cannot have, and our lofty ambitions of solving all the problems in the world by simply understanding them. They remind me of psychology classes in college that propagated the ultimate cliché of "putting ourselves in another person's shoes". Those classes infuriated me because they made it all seem so easy.
But still, I play Missing. I enter Ruby's world.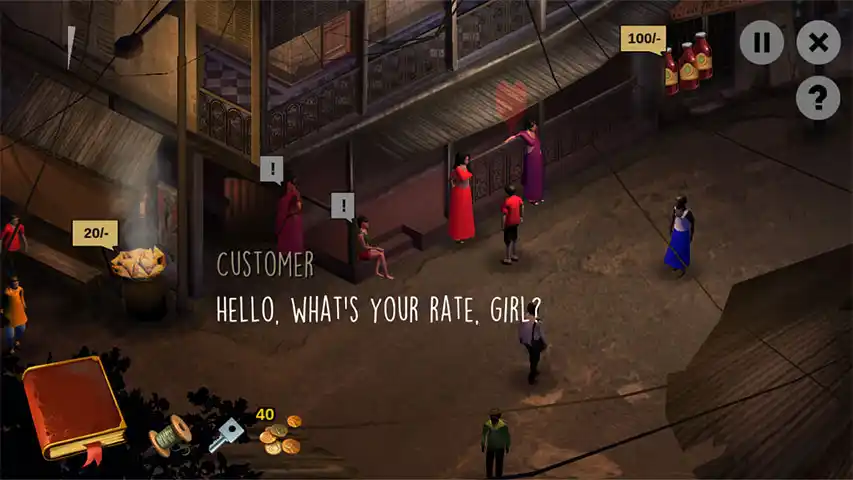 Missing, the role-playing game, is about a trafficked girl.

Courtesy: Missing/Screen grab
Wearing a  red blouse and skirt, I'm standing in the middle of what seems like a town square, my arms around a pole, swaying my hips, trying to attract customers. Masi is next to me, in a pink sari, demanding the money I've got from the men. I have to negotiate with potential customers. I can see how much money they have (little green notes above their heads) and how lustful they are (a full red heart equals more lust). For the first 15 tries, I can't meet Masi's basic target of ₹150. Every night I fail to meet the target. She takes all the money and summons Shonty to punish me.
Augmented reality gaming rarely escapes the tropes of cinema in trying to entertain even as it tries to educate.
Missing is more lethal than My Life as a Refugee. It has both animated and lifelike characters. When I play the game, I'm first an animated Ruby standing with my arms around a pole and Masi is demanding the money I have earned from the men. But when each of them speaks "real", unanimated faces appear — Masi with her hateful expression and messy hair, Shonty in a shirt that is ruffled and unbuttoned, and Ruby as Champa, young, her hair plaited, and looking innocent. The lifelike faces have an impact on those playing the game – they act as a reminder that this is unfolding in the real world.
In Ruby's world, escape is guaranteed if she can find a missing girl's silhouette painted on a wall of the tram depot, which has a phone number that will lead to her release. As I inhabit Ruby's dark world, I see a ray of hope. There is a way out. All I have to do is solve the puzzle. It begins to sink in – I have started to play just to finish the game. Ruby is no longer real to me.
As the game unfolds, Ruby learns that the rich men with zero lust are the most lucrative. She begins by buying them alcohol to increase their lust levels and charges them the full ₹1,000 so that she can meet her target for the day. I am thrilled by my clever moves to meet Masi's target. Shonty's daily beatings don't really register on my psyche.
It is perhaps for this fundamental flaw in the idea of empathy gaming that Zoe Quin, the maker of Depression Quest, was hounded and threatened with dire consequences. Zoe, just like Leena Kejriwal, had pure intention – to allow others to understand a complex issue and hopefully in some way help solve it. But with these games, as with my theoretical psychology-class way of seeing things, what happens is that my focus shifts and I forget that I'm playing to understand what it's like to be Ruby.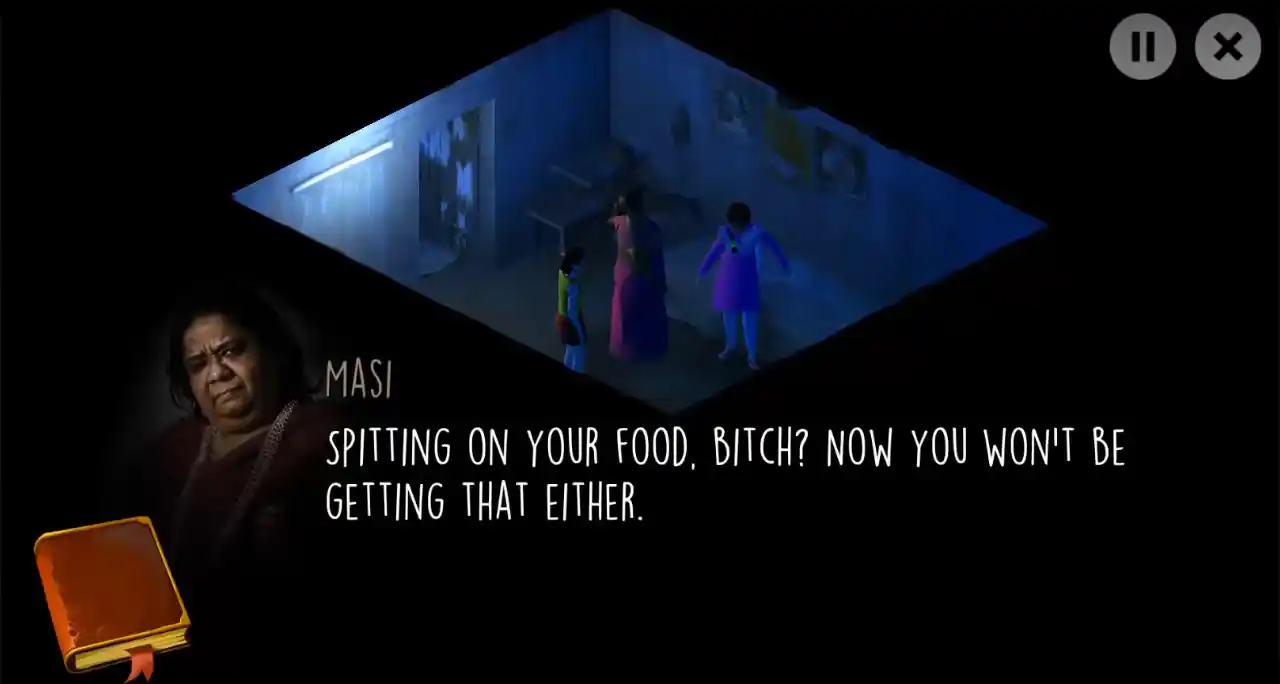 Masi runs a brothel in the game Missing.

Courtesy: Missing/Screen grab
A friend stopped playing Missing quite early on. I asked him if he hated Masi. "Of course, how is that even a question," he replied. But the problem is also that it becomes easy to forget (or ignore) that it's not fair for Masi to be the evil character when she herself was in Champa's shoes once. In the real world, characters aren't black and white; grey abounds. My friend, however, stopped playing the game because it made him feel like there was no light at the end of the tunnel.
I, however, find some hope, as Ruby succeeds in escaping her captors and finds an ally.
I unlock the door with a key I have hidden and run out into the dark. I escape with the light from the matchsticks I had bought. I stumble and run for a long time before I suddenly burst outside to find Shakti waiting for me with the police, just as they are about to give up and leave.
By this time, I'm in full game avatar. Ruby has escaped and is on on the train, on her way back home. I am feeling victorious with an underlying layer of guilt that acknowledges that real life rarely pans out like this and girls like Ruby may never find heroes like Shakti. The shame that women often face is explored when Ruby tries to kill herself at the thought of meeting her parents but is once again saved by Shakti. The game concludes after some more hair-raising moments – Ruby pushing Shonty off the train, but I am far from satisfied. I hardly feel empathetic; the game has become perfunctory. I'm more frustrated that at the end of the game, I remember Shakti as a saviour more than I remember Ruby as a fighter – in the last scene he stops her from committing suicide.
Augmented reality gaming rarely escapes the tropes of cinema in trying to entertain even as it tries to educate. Even Depression Quest hints at a happy ending, a world where adequate therapy and medication will vanquish the enemy. In the world of entertainment, the troubled patient will find peace and the victim will find freedom, and you will emerge virtuous for having participated in their struggle and release.
If only this is how it worked in the real world.

Ila Ananya is a staff writer at The Ladies Finger.