In my family, it is always the men who take all the important decisions. Elections are all about herd voting, where my father announces his political leanings and the rest follow. Women, they believe, are incapable of understanding the affairs of the State. But this year, despite all the pestering, I voted for a candidate of my choice.
Chunaav is here and I, for one, have been really excited. It is my first time after all. And what a heady last few months it has been: Who'd think chowkidars would become the stars of the general election, and in the state elections, the burning issue would not be farmers or employment but Bharat Ratna? I was as thrilled to join the electoral rolls as Spider-Man was to be part of the Avengers, but my enthusiasm disappeared faster than the friendly neighbourhood hero in Infinity War.
Lurking like the unwanted cherry on top of a chocolate cake was my father. His pestering phone calls hinted that I vote for the party he has worshipped for the past 30 years. As much as I appreciate his political commitment, I do not hold the same thoughts about the chowkidar brigade of the Bharatiya Janata Party.
Our daily calls, which until a few months ago were simply small talk – the weather in Pune, where I now live, my dinner plans, gossip about relatives – had turned into an intimidation tactic of sorts. "If you don't vote for the BJP, say goodbye to achhe din forever."
For someone who never located herself in the nation's political discourse, his subtle urges didn't bother me at first. But this year, as I readied to vote for the first time, I got to experience first-hand the many ways in which patriarchy works, when it comes to women taking decisions, including their voting rights.
After a series of frustrating conversations with my father where all my arguments were branded as "librandu propaganda", I called up my mother to disclose my differing political opinions and how papa was intolerant toward them. She sympathetically listened to my 30-minute rant and then calmly said, "It has always been like this with men here, beta."
Men in our family have always influenced the voting decisions of women whom they assume have little understanding about the affairs of the State. Being a first-time voter I didn't realise the mania that surrounds elections in my family which, as my mother told me, is rife with patriarchs announcing their ballots in advance for the familial herd to abide by. Election season, for women in the house, is just another overt reminder of living like secondary citizens.
My mother who is a quick and smart decision-maker does not find a place in all-male family meetings, where everything from monthly bills to property is discussed. This, despite the fact that she runs the house. There seems to be an accepted notion of women being submissive and incompetent when it comes to financial, political, or any of life's choices. And hence a woman with a mind of her own is an anomaly.
I have tried to talk my father out of this mindset many times; I still do. He usually listens and works on a lot of things: He recently refused a rishta from a "good family" after I told him I don't feel the wedding bells. He has begun to appreciate how much my mother toils in the kitchen and now even asks her if she needs a helping hand. However, when it comes to politics, he seems to be adamant.
Cast your vote at the booth. That is your space and no man can take it from you
But I am my father's daughter. So to mark my little act of dissent I voted for the party I liked. Or to be more specific, the one that I thought would beat the party I reserve my dislike for.
My own little rebellion was essential because my rights as a citizen and my duties as an obedient daughter were seamlessly conflated over years to an extent that they blurred my ability to think for myself. I called my mother immediately after casting my vote to tell her about my little step. I told her that she too needs to vote for the candidate she believes in rather than the one she has been made to believe in. Coming out of the polling booth after voting for my preferred candidate was my version of fighting patriarchy. And even if it might not have been as eventful as the hyperbolic burning of the bra, it felt important.
Later that night, I took turns to talk to my sister, mother, and grandmother to explain to them the importance of our vote, our choice. "I know papa pushes you, he will, but if you cannot make yourself heard amid the heated political decisions at home, at least don't let it influence you. Cast your vote at the booth. That is your space and no man can take it from you," I told them over a series of phone calls.
We women have been saying yes to everything for so long that we forget we have every right to say no. And that is why the freedom to vote however I like, and for whoever I want is necessary to me to assert my legitimate presence as a woman citizen.
Our democratic choices often remain ambiguous in our domestic lives and this is reflected in the public sphere where women have to live with policy decisions tailored for them by a masculinist State. The two-finger test, for example, which was the sole determinant of testing whether a woman had been raped or not was quashed under the Criminal Amendment Act of 2013 that hurriedly proceeded the 2012 Delhi gang rape. The persistence of this test, which continues to be illegally practiced even now, reveals the deeply patriarchal functioning of the State and Indian society that burden women with undemocratic practices, obstructing our prospects of justice.
The cultural notions of misogyny practiced in our homes extend to politics where male politicians do not think twice before demeaning their women counterparts. Samajwadi Party leader Azam Khan's "khaki underwear" comment against Jaya Prada is a case in point. In the past, Mayawati has been ridiculed for her dark skin, Vasundhara Raje for her weight, and Renuka Chowdhury for her laughter.  
Years of entrenched misogyny has somehow made us believe that our voices don't matter. But they do.
Sometimes we just have to speak louder to make ourselves heard. Or do something radical to make ourselves seen. For me, that starts with not herd voting like the rest of my family. I might be the first woman in the Jain parivaar to vote for the candidate for her choice. Or at least the first to not hesitate to talk about it. I will only know when I sit down with my father and explain my electoral decision. Not as one  non-abiding daughter but as a responsible citizen who was made to wait too long to feel like she was one.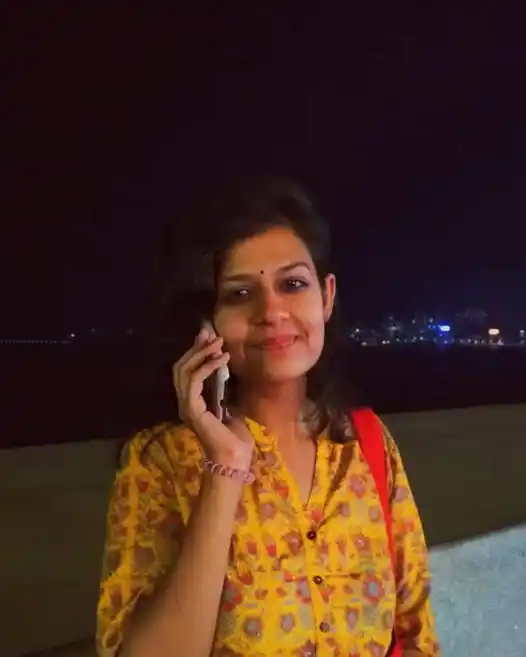 Writer of everything pop-culture, gender, and the stuff that composes our everyday life. When she is not obsessing herself and people around her with digital cultures and feminist theory, she indulges herself in cafe hopping or a good sleep. Tweeting her drama and other cool stuff at @ShubhanganiJ