The first slap came out of the blue. The sensation was familiar. Vaijayanti Jadhav had been slapped before – after her father found out that she had been sneaking out in the evenings to play with boys, or when she refused to lend her mother a helping hand in the kitchen. But this time she didn't see it coming.
Vaijayanti had left her home in Mumbai just a few months ago, in pursuit of love. Her husband was a migrant labourer in the city and when he proposed marriage to the 19-year-old, she said, "Yes". That is how she had come to a hamlet, a few kilometres away from Bhubaneswar, to start a new life. She had done everything she was asked to do. She had learnt how to drape a sari; she had learnt how to cook.
She spent her mornings collecting cow dung from the pastures surrounding the village. She had even learnt to respond to the new name her husband and in-laws had given her, Natasha. She was determined to turn this into the life she'd always dreamt of.
And then the slap broke her reverie.
A year later, she returned home to Mumbai, to her family home, two rooms shared by seven people. All she had to show for the brief marriage were bruises and a newborn daughter.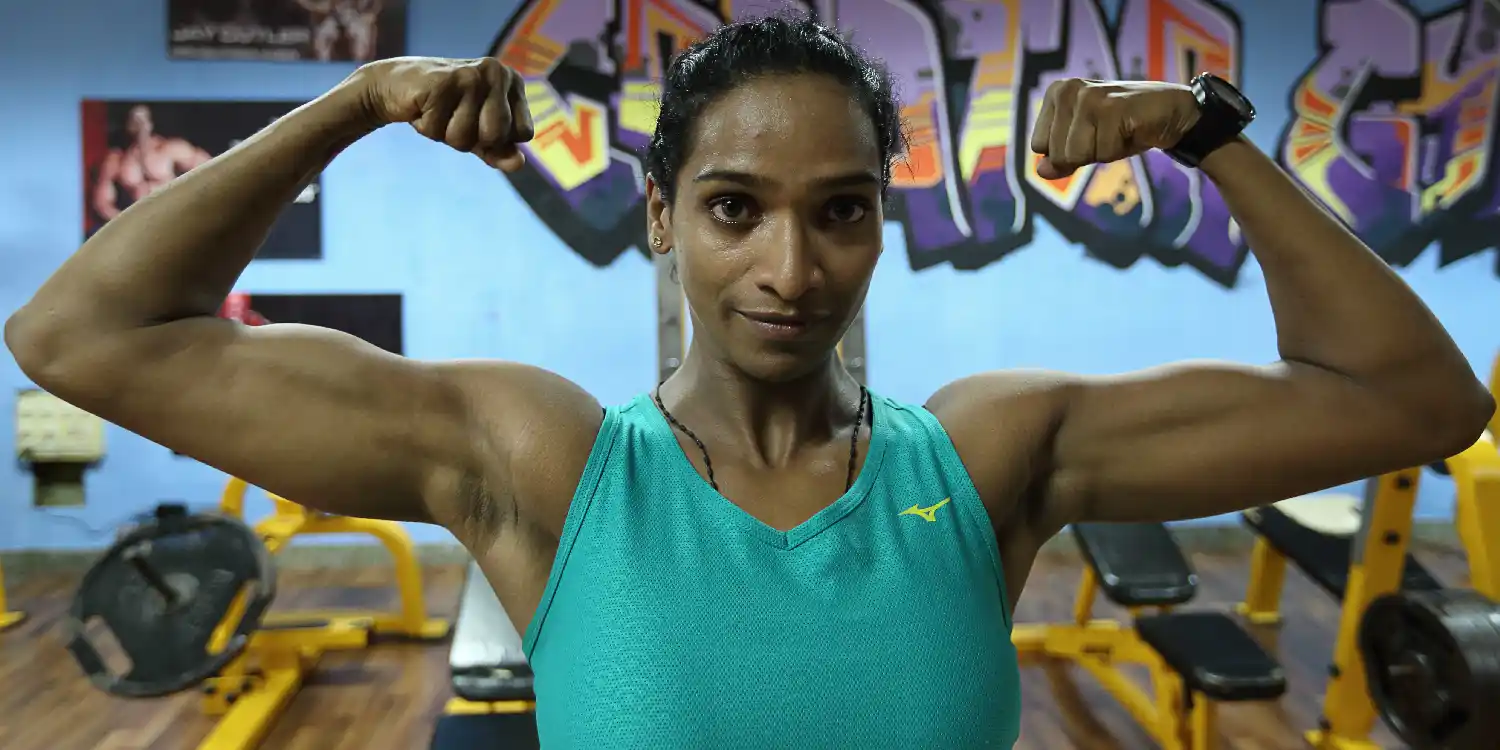 Vaijayanti started working as a receptionist in a gym. She was soon lifting weights in her off-duty hours.

Pratik Gupta/ Arré
The woman, I meet, is ripped; veins stand out on her toned arms, and a tight pair of pants reveals thighs rippling with muscle. "Hard" is the word that comes to mind and she is thrilled with the descriptor. It is the biggest compliment in the somewhat peculiar and completely testosterone-fuelled world of bodybuilding that she has made her own.
"Main usually aisi nahi dikhti," says Natasha Pradhan (that's what she is known as in the bodybuilding circles), as she points to her arms after a quick handshake. The introduction is full of trepidation. Her eyes turn wistfully to her body every few minutes, as she apologises for her depleted state. A shoulder injury, incurred during a marathon bench-pressing session, left her out of commission. She has not touched weights for months now. For Vaijayanti, this pause is unbearable. The tell-tale signs of steroid use are visible on her face, the dark facial hair and the deep voice, but she doesn't care. Her body is growing soft and feminine, and she does not want to inhabit that body again.
It is difficult to reconcile this woman with that frail creature of yore. When Vaijayanti came back to Mumbai, head hanging in shame, she started work as a babysitter to make ends meet. Her daughter was growing up and the monthly income was just about enough for her school supplies.
One day, a few friends who worked at a local gym, invited her to witness a spectacle, which they touted as the "event of the year". The 2013 World Bodybuilding Championship was being held in Goregaon in suburban Mumbai. Vaijayanti tagged along. She was among the thousands gathered in a public park to ogle at the greased, chiselled bodies on stage. And then they announced the women's segment. She was caught off guard. Could women be bodybuilders too?
And then, under the arc lights of that massive stage, walked some of the most beautiful women she had ever seen. Their bodies were glistening with oil, tiny bikinis showing off a form, which was a testament to their strength and determination. They flexed their muscles to the music, turning and twisting to show off their bodies, which were honed to defy imagination. These women did not shy away from the gaze of the thousands who were simply there to gawp. Instead, they were revelling in it, preening in the spotlight.
The power they exuded, the control they wielded over their bodies, and by extension, their lives, took Vaijayanti's breath away. In that moment, all she wanted was to be there, up on that brightly lit stage. She wanted that hard body and the empowerment that came with it.
Vaijayanti started at the bottom. A friend, who worked at a gym, got her the job of a receptionist. She was soon lifting weights in her off-duty hours. The next six months were a cycle of working out, resting, and eating. A kilo of chicken, some 20 eggs, a kilo of broccoli and sweet potatoes, and half a dozen chapattis made out of nachni flour; the diet puzzled her family but she made excuses. At work, she politely refused Tupperware bowls of leftover Chinese and home-cooked pulao.
Slowly, her body changed. Her thighs grew while her waist whittled away. Her stomach lost its soft bulge and developed a row of muscles, standing at attention. Her jaw became prominent as her arms grew, rivalling her breasts in size. Soon, even the hardened gym trainers could not beat her in a bench-pressing face-off.
When Mumbai's popular bodybuilding showcase, the Talwalkar Classique, rolled in next year, Vaijayanti registered for the city trials. She decided to enlist under the name Natasha. It was the name her estranged husband's family had given her. But she liked the ring of it.
Her parents learnt about her bodybuilding escapade the day after the competition, when her picture appeared in the local newspaper. Indian women were still a rare sight in bodybuilding circles and the media had flocked to see this supposedly "gender-bending" exercise. The caption read, "Natasha Pradhan, bodybuilder." Here she was, in a black bikini, her muscles standing to attention.
She had bought the cheapest bottle of tanning oil and caked her body in that brown, shiny goop. A fellow contestant had lent her some eyeliner for the occasion. She had worn a bikini for the first time and was waiting for her name to be called out.
Then all of a sudden, a nervous chill came over her. She bent down and did a few squats, followed by a quick push-up. The body needs to be warm for the muscles to flex and for the fibrous texture to show through the skin. A chill could ruin it all.
She then heard her name, walked on to the stage and the tremors vanished. Her body took over and shone under the spotlights. Vaijayanti's transformation was complete.
Over the past two years, she has participated in numerous local showcases and two international bodybuilding competitions. She now has the support of an NGO who foots her travelling bills. Bodybuilding is now her life.
"Meri life main mujhe kabhi bhi success nahin mila. Main abhi 34 saal ki hoon, yeh mera last chance hai," her voice is determined, when she announces her goal to bag a medal at an international event.
The choice she has made comes at a price. Men don't look at her the way they used to, people question her femininity, and only those inside her closed world understand the sacrifices she makes for her body, but she shrugs them off.
The old Vaijayanti may have cared. But this new Natasha does not.