Vijay's fascination with an 11th-century Goddess drives his quest to recover India's stolen antiques. After an eight-year struggle, he fulfils his promise to bring her home.
Shiva passed this way
with a young woman whose mound of Venus
is like a cobra's spreading hood
Together with the woman whose soft breasts
fill her taut bodice
Together with the woman
her waist as thin as a vine
 – Sant Sundarar, 8th-century poet
Vijay first saw Uma at the Asian Civilisations Museum in Singapore. Her head, at a perfect 110-degree angle; locks cascading down her tilted shoulders; and a slight, but intensely provocative, sway of her hip. It was this graceful tribhanga pose that slayed him. He didn't know it then, but Uma would become his muse for the next eight years, slipping into his dreams, infiltrating his waking hours, and disrupting his life.
Vijay's fascination with Uma started long before this encounter. At the turn of the millennium, a young and ambitious Vijay embarked upon a shipping career in Singapore and had he not got his hands on Ponniyin Selvan, he might have dedicated his life to charter shipbroking. By the time Vijay put down the 2,400-page historical novel that chronicles the life of Raja Raja Chola, his love affair with Uma had started.
The two-foot patina-covered Uma Parmeshwari, a flawless interpretation of Parvati in her avatar as Shiva's consort and easily the most mesmerising of the Chola bronzes, had gripped his imagination.
"She came to life and I turned to metal," Vijay wrote on his blog, after his first visit to the Singapore museum in 2004. Over the next few years, he kept going back, pulled in by the mysterious power of the idol, never suspecting that she was a stolen treasure and that he would have a significant role in bringing her back.
Chola bronzes, processional deities called thirumenu – which literally translates to "bodies of God" – were crafted by the expert fingertips of a master sculptor in the 11th century. First into beeswax, then covered in a special-grade sand or clay to be fired in a kiln, before hot metal was poured over each one, capturing their exquisite beauty for posterity. At the end of it all, the cast was shattered so that no other idol might ever be made in the same mould again.
In the 19th century, the Chola temple bronzes caught the attention of art connoisseurs around the world, and became highly prized artefacts. And so started the pillage of temples in south India where Gods and Goddesses were brutally ripped away from their enclosures in the cover of the night, shipped off across the world right under the noses of indifferent customs officers, only to be sold to museums for several crores. Theft of temple arts was barely considered an offence since no FIR for a missing idol could be lodged without a photograph and nobody had documented the millions of temples in India and the treasures they held.
In 2004, Vijay started blogging about iconography and the loot of India's temples. As the years passed, he took over the responsibility of documenting the vast temple art legacy of the subcontinent, starting with Tamil Nadu. By 2014, this turned into the Pride Project on social media, which indexed over three lakh objects from across 30 temple sites in the country, and catalogued 172 museums across the world with 4,300 pieces of Indian temple art.
Vijay started leading two lives. As the general manager for the shipping magnate, MSC, his days were spent overseeing operations in South Asia, but his nights were dedicated to galvanising volunteer support, liaising with reporters, telling anyone willing to listen that India was being robbed of her past in broad daylight. Vijay lived on less than six hours of sleep and even then Uma would slip into his dreams, haunting them with her seductive beauty.
In 2009, five years after he first saw Uma, the Tamil Nadu government's idol wing put up a few photographs of missing antiquities on their website. Vijay had been checking the site frequently for matches against his documented database. This time, he found a scanned image titled "Devi" that looked a little like Uma, but the proportions were out of shape. Devi didn't match any of the Chola bronzes documented by him. It took him another three years before he realised that some idiot at the idol wing had reduced the size of the statue to fit the PDF file without ensuring it shrank in proportion. It was only in 2012, when a volunteer dug out a decade worth of artefact ads and sent them to him that one ad jumped out.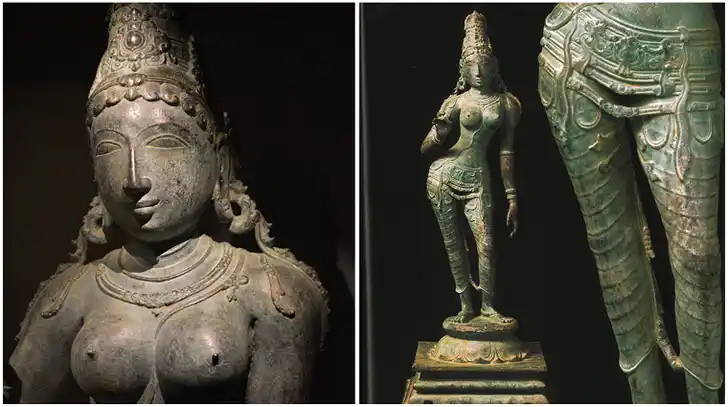 The two-foot patina-covered Uma Parmeshwari is a flawless interpretation of Parvati in her avatar as Shiva's consort and easily the most mesmerising of the Chola bronzes.

Courtesy: Vijay
There, on a black glossy page of the Arts of Asia magazine, standing in all her resplendence, was Uma, available for sale by Subhash Kapoor, an infamous New-York based antiquities smuggler. In 2011, Homeland Security had cracked down on him and seized 2,622 pieces of temple art worth $108 million from his eight godowns.
Once Vijay saw Kapoor's name on the ad, he resized the image from the idol wing notice, and went back to his database. Devi was indeed his very own Uma Parmeshwari.
Vijay immediately contacted the ACM and the Singapore heritage board, but was stonewalled. Museums are mandated to run every acquisition through the art loss registry, but Uma didn't show up, as she was acquired two years before the notice from the idol wing.
His next port of call was the idol wing itself, but even there his plea fell on deaf ears. Disinterest was endemic to the system since the idol wing was considered a punishment posting. Moreover, there was massive potential for embarrassment. The government would first have to acknowledge that in the last decade alone, Uma and 10,000 other artefacts had slipped out of the country, past the law enforcement and airport authorities. Nobody was going to own up to that.
Disheartened, Vijay went back to the Singapore museum, just before its closing time, to take another long look at Uma. That evening, as she stood alone against the bright shining lights of a foreign city, he promised her that one day, he would take her back to the land where she was revered as a Goddess.
Fate finally favoured Vijay in 2013. Aaron Freedman, Kapoor's gallery manager who was also handling a network of looters and shipping arrangements, confessed that one Uma Parmeshwari from the Sivan Temple in Tamil Nadu's Ariyalur district, had been shipped in January 2006 to the US. It was sold to the Asian Civilisations Museum the following year in February.
Vijay stood vindicated. He doubled his efforts, taking up Uma's case with the director of antiquities in Chennai in 2013, and handed him a folder with a paper trail demanding that she be brought back to India.
Vijay knows that this is an obsession that demands an unreasonable price – from his career, from his family, from his limited resources, and his sleeping hours. But like any lover in the throes of an abiding passion, it is a price he is more than willing to pay.
What ensued was a two-year radio silence. Vijay moved on to other cases like the Ganesha that had been found in Toledo and the Nataraja in Australia. But he never forgot the promise he'd made to Uma. Finally, as if sensing his devotion, the Goddess smiled upon him.
In June 2015, eight years after he'd first set his eyes on her, a letter rogatory was issued by the Government of India. The museum was given 30 days to refute that claim. In October 2015, Vijay was at work when the news that the museum would soon be returning Uma Parmeshwari to the rightful temple in India, came in. He stopped himself from whooping with joy and instead, went back to his flashing terminal. But his mind was far away from anything related to shipping that day. Soon he would begin obsessing over the 28 other relics sold by Kapoor to the ACM. He knew that unlike his beloved Uma Parmeshwari, bringing back each one of those would be a massive fight, as they had no support of a confession.
But for that one day, he allowed himself to celebrate.
***
Uma Parmeshwari was handed over to the Indian government in Delhi on December 17 and now sits under the watchful eye of the Archeological Survey of India.
Uma has not yet left Vijay's dreams, but he knows she will go when she's back in her rightful abode. This is how Sripurnathan Nataraja and Vriddhachalam Ardhanariswara left, after years of haunting him.
Vijay knows that this is an obsession that demands an unreasonable price – from his career, from his family, from his limited resources, and his sleeping hours. But like any lover in the throes of an abiding passion, it is a price he is more than willing to pay. One day, hopefully soon, he will go back to the Sivan Temple, and there she will be, the queen of her own kingdom, standing in her sensuous tribhanga pose. And every moment of the past eight years will have been worth it.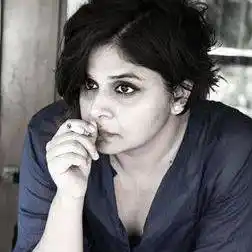 Sharan Saikumar is the Creative Director at Arré.