Fashionable technology is no longer a luxury, it is a bare minimum in 2020. And that's the case with the OPPO F17 Pro. Thanks to the AI Portrait modes, I no longer have to worry about trying to edit dark pictures that look like they were clicked by Mangalyaan in space with no light around. Each picture is a work of art.
"Every child is an artist. The problem is how to remain an artist once we grow up," said Pablo Picasso. So I decided not to grow up. As an "artist" type, I wake up late in the morning, throw tantrums about not being in the "mood", wear my kurta, take my jhola and head off to work.
To be in the right "mindspace" is central to creating earth-shattering art. The last thing I want to worry about – apart from my Starbucks coffee flavour – is whether my phone is completely charged. Thankfully, the OPPO F17 Pro's AI Night Charging feature is extremely resourceful, with the algorithm redistributing the last 20% of charge within 90 minutes of me waking up. I keep my phone on charge while sleeping and it is always 100% charged before I leave. It's like a "battery hack" but by an AI. Mind=Blown. Thank God, I can now focus on bigger battles: Should I wear chappals or sneakers?
For an artist, a look is everything. Do I even deserve to work in this industry if people can't recognise my profession from five kilometres away? Aesthetic is very important for me, and for all the accessories I carry. My bag will have Pokemon keychains attached to it, my glasses will be vintage, heck even my Covid-19 mask must have a funny caption or design. I also firmly believe in fashionable technology, I want my phone to also possess a fashion sense like Ranveer Singh. In that regard, the OPPO F17 Pro is the perfect piece of technology to flaunt. At 7.48 mm and 164 grams, it is incredibly convenient to hold and keep in your pocket, unlike some devices that feel like you're carrying a brick in your pants. As an artist, I'm already carrying the baggage of my parents' disappointment on my tiny shoulders, I don't need more weight.
However, being sleek is not enough, it must also look swanky. I wear the round John Lennon glasses even though I don't need spectacles. Why do I sport crisp kurtas with jeans like it's 1973? Aesthetic! I need that in my phone as well. If you don't have a good screen going with a sleek device, that's like owning a Ferrari that runs like a rickshaw. The screen is integral to user experience in the modern-day smartphone and the stunning FHD+ Super AMOLED display on the OPPO F17 Pro is an absolute beast.
The bright colours and clearer pixels on the screen ensure a great view even in direct sunlight, so I don't have to place my hands around the screen in a kind of funny yoga pose to get a view in sunlight. It goes against the very essence of my being, which is supposed to be effortless. As a Mumbaikar who understands the value of space, I appreciate the Mini Dual Punch Holes for the camera that ensure more real estate is dedicated to the screen.
*Chef's kiss* camera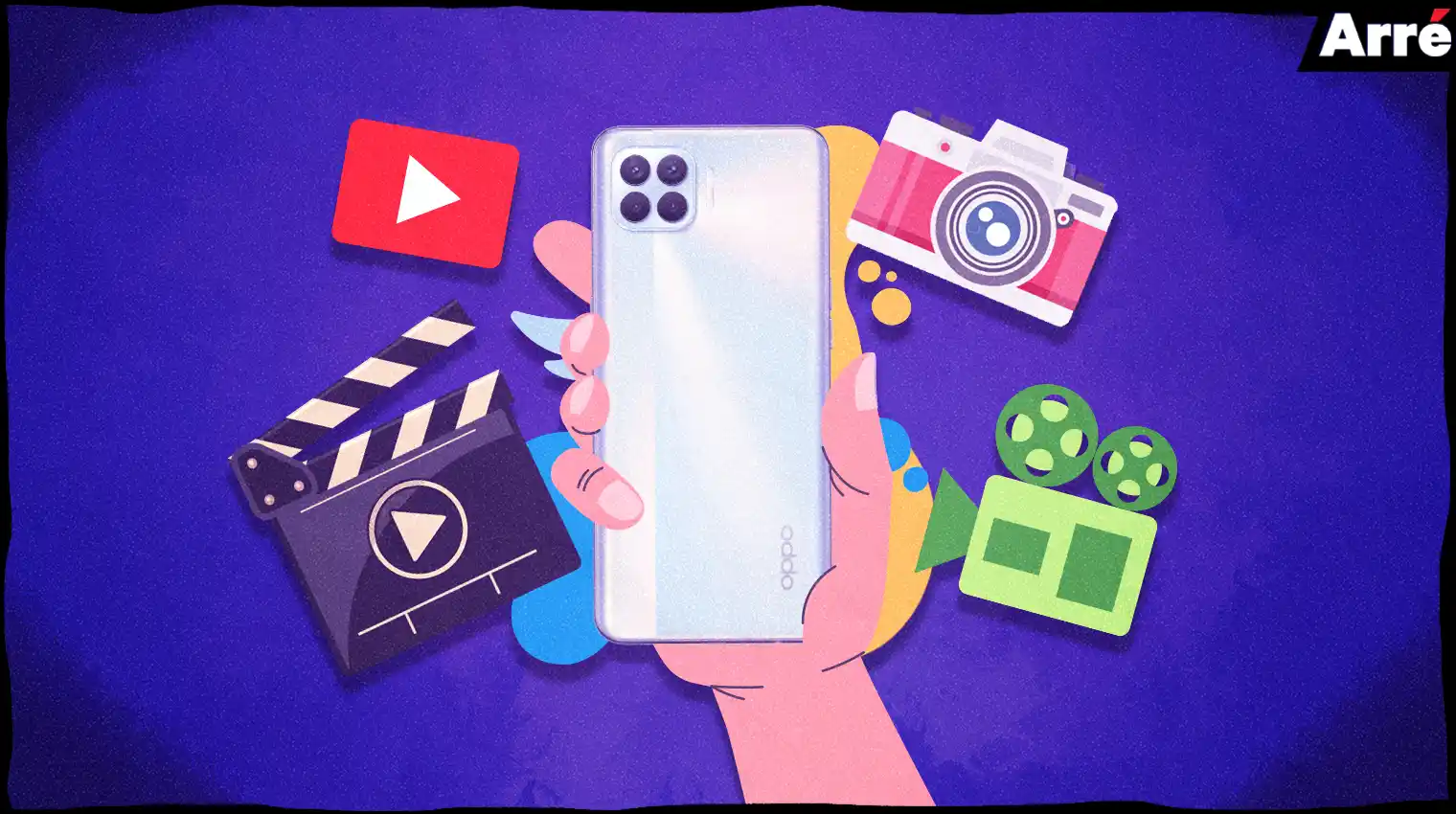 Look and screen is fine but what about the camera? We artists are all about the Instagram look, Snapchat filters, and selfies and photo tagging. Sometimes I get hiccups if I've not clicked a picture in two hours. No matter where we are and what the social occasion is, we whip out the camera and capture the moment like historians keeping a record of our own lives. Whether it is clicking selfies, low-light pictures at parties, thrilling videos on treks or shooting something for work, it's become a significant part of my life as an artist – and a deal-breaker when it comes to deciding to buy a new phone. Camera is to a phone what a jhola is to an artist, indispensable.
The OPPO F17 Pro has a standout 48MP Quad Cam. Four cameras; that is more than the number of vegetables I have in my fridge. But hey, I'm not complaining. We artists are lazy AF and we need all the help we can get, the best modes and features and filters. Thanks to AI Super Night Portrait and AI Night Flare, I no longer have to worry about trying to edit dark pictures that look like they were clicked by Mangalyaan in space with no light around. The AI Portrait Color has been a favourite of mine on the OPPO F17 Pro. It can distinguish people from the background, and apply separate filters that make the pictures stand out.
The AI Beautification 2.0 on the OPPO F17 Pro been customised for Indian beauty preferences.
To give you perspective, if you had to do something like this on your own, you'd require a premium editing software, an engineering degree and the hand-eye coordination of a commercial pilot. But now I take credit on behalf of the phone when friends say, "Wow, mast hai yaar! Tu pakka artist hai!" That's a big part of being an artist, to take credit for work that doesn't belong to you.
I manage to do that even with selfies. Every selfie camera these days has a "beautification" mode but the moment you apply it on an Indian face, it either looks quite weird (like Akshay Kumar's makeup in Action Replay) or it just messes up Indian elements like the bindi. Then you have to make excuses in front of your cousin sisters that it's a "glitch" or maybe a "light issue". As an artist, it is painful to not be able to do something that everyone expects you to do, like host a sangeet function because you were good at English in school. Thankfully, it is taken care of through AI Beautification 2.0 on the OPPO F17 Pro, which has been customised for Indian beauty preferences. As millennials on the Internet say, 10/10 would recommend this camera.
A battery life to live for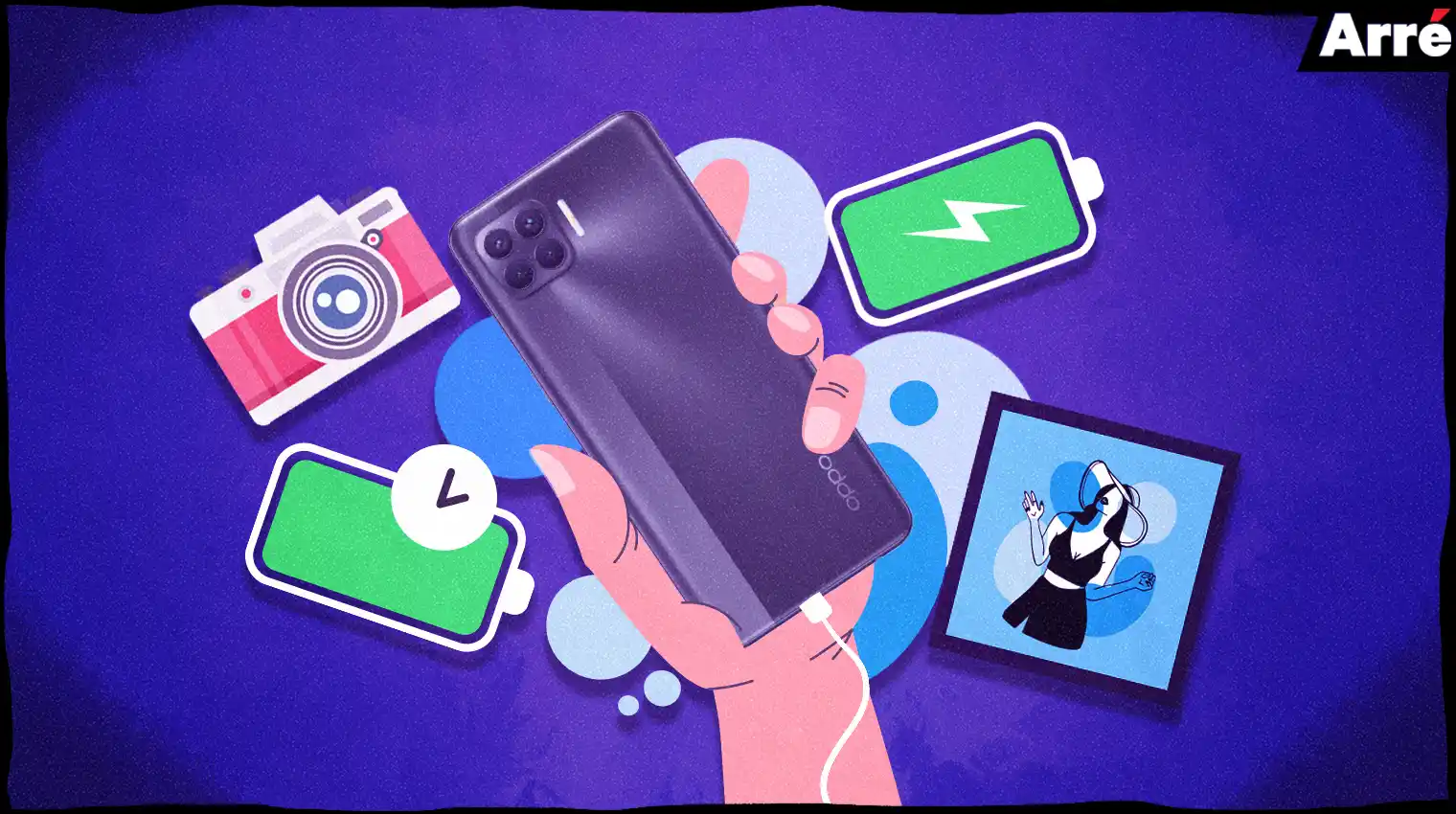 A prime challenge of being an artist is you always have to be charged up and ready. Like monkeys at a circus, when someone says perform, you have to perform. As desis, we want to extract the best value out of everything, which is why "Kitna deti hai?" became a viral campaign. That question applies to the mileage of an automobile as well as battery life of a smartphone. We artists don't want to run around with cables looking for charging spots, we have bigger problems to solve like figuring out whether to have brunch or lunch. I have reasonable demands, I want the battery to last an entire day, for which the 30W VOOC Fast Charge 4.0 is quite helpful. It's almost like in the video games of the '90s, where you drink a potion and your "life" is back in a few seconds.
We artists are bad at basic things like figuring out accounts, insurance, or knowing how to change an operating system. You see, we want to focus our energies on bigger problems like changing the world order, solving climate change, or eliminating poverty. These other things, the more sorted they are the better. At least I don't have to worry about it with regards to my phone, which is equipped with 8GB of memory and 128GB of storage, expandable up to 512GB. With that much memory, I can almost have a K serial's lifetime worth of footage saved on the device. Nothing to worry about. It also comes with the smooth ColorOS 7.2 and fun features like Air Gestures to pick up a call.
All in all, the OPPO F17 Pro is a work of tech-art, like the Mona Lisa, or the Eiffel Tower. A sleek design, great camera and long battery life equips me with all the tools I need to create the kind of art that will make Pablo Picasso proud. If you're an artist, the OPPO F17 Pro is the phone you need in your life. As the popular meme format goes, the OPPO F17 Pro is art. And OPPO is the artist.
Get your OPPO F17 Pro here.