Marvel's Avengers has been one of the most-awaited games of the year. It has been an instant hit and in order to achieve that thrilling experience, developers Crystal Dynamics partnered with Intel to make CPU optimizations for PC players. Now, Intel India's sweepstake-style contest is your ultimate chance to come closer to the superhero experience and win prizes worth up to Rs. 400,000.
Marvel's Avengers has been one of the most awaited games of the year. People have been looking forward to it like the return of sport or being able to go to a restaurant once again. The hype was real, and after the game was finally launched earlier last month, one can safely say, it was well worth it. One of the best ways to spend time indoors right now is to don Iron Man's suit, wield Thor's hammer or block the negative vibes with Captain America's shield. Superheroes are definitely needed right now. 
The action-adventure game boasts a multiplayer mode that will continue even after the story is over and will be constantly expanded. The game has been an instant hit and in order to achieve that thrilling experience, developers Crystal Dynamics partnered with Intel to make CPU optimisations for PC players. Let's just say, it is rab ne bana di jodi.
The Intel magic
Optimisation is the best usage of available resources, like MS Dhoni managing the Indian cricket team. How does one extract the most performance from the CPU to play these new-age graphically intense, stunning games? For Marvel's Avengers, Intel has worked on optimising CPU-focused tasks for the game which leaves the GPU with additional headroom for other tasks. These optimisation methods have produced fantastic performance on high-end as well as entry-level machines. Win-win for everyone, except the supervillains. We're coming for you.
Intel has made CPU optimisations in three categories – armour destruction, environmental damage, and water simulation.
Armour destruction creates a visual effect after you attack an enemy, including debris like glass, rubble and metal. They will last longer on high-end machines and interact with players and enemies. Remember when Hulk punched a building and one sees the debris falling apart in slow motion? Yup, that detailing and magic is coming to your PC.

 

Environmental damage helps create the type of destruction that one sees when superheroes or supervillains battle, like shock waves and energy blasts. What's a superhero battle until a highway doesn't crack right through the middle and a few cars don't tumble, amirite?

Water simulation ensures that water in the game looks and reacts in the same way one would expect fluids to react, in terms of flow, splash and its interaction with other objects. Is any superhero movie ever complete without the ocean water taking over the entire city? Nah. Full marks to Intel on the effort spent to make the visuals look realistic. 
The partnership between Intel and Crystal Dynamics is bound to enrich the gaming experience for PC users. The gaming community is wondering, why don't we have more such deals between developers and manufacturers? Let's hope it is a start and we see more such specific interventions that lead to superior gameplay experience. Tech Avengers, assemble. 
Running the latest popular gaming titles requires serious power, and that's where Intel has come to the rescue. With the power of Intel's 10th Generation, come a whole host of additional features like Intel's Wifi-6, Intel Turbo Boost Max Technology, and Intel Optane Memory that enhance the gaming experience beyond the specs. Optane Memory substantially decreases game load time, so we can finally say bye-bye to the annoying, unending load screen. Intel's Wifi-6 provides up to* 75% lower latency and up to* 3x faster download speeds, so users can experience a super-fast wireless gaming experience like never before. It's true what they say, Gaming Happens With Intel.
Fellow Avengers, it is time to win big
It's all fun and games playing Marvel's Avengers, but you also have a chance to win big. Intel India has announced a Marvel's Avengers-themed sweepstakes style contest. What's the prize, you might ask? The coolest machine in town, a superhero of computing, if you will. Prizes include two high-end 10th Gen Intel-powered gaming laptops, a gaming chair, and a Marvel's Avengers collectible CPU Box i7-10700K, all of which are worth upto Rs 4,00,000. Register for the contest by clicking here and stand a chance to win one of the prizes. The contest will go on till October 30 with the winners being announced on Intel's social media pages.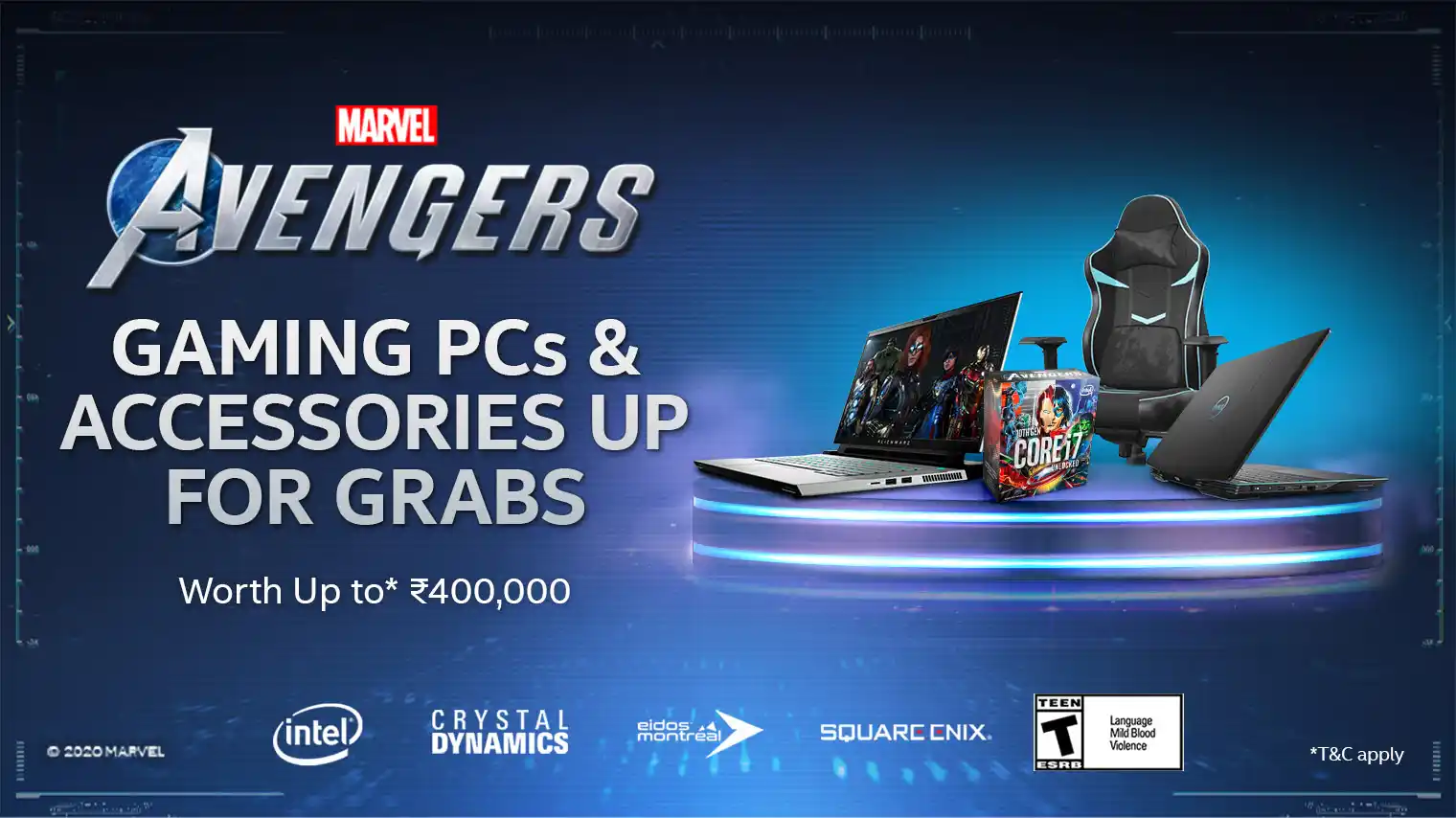 Influencers, assemble
Some of India's most popular gaming streamers like Rakazone Gaming, Xyaa, Ankkita C, PC Peasants Gaming, and GodAtWar have come together to create the #IntelsUltimateSquad. They kept streaming entertaining content through the beta phase as well as the launch of the game. There is more to come. The game streamers will be hosting various activities, giveaways and interactions. They will also be sharing some tips and tricks as well as recommendations on which Intel-powered devices to buy. Keep an eye out on their social media pages to win cool Intel x Marvel's Avengers merchandise and game codes.
If you're wondering where to look to either upgrade your existing setup or buy a brand new laptop for that stunning gaming experience, Intel India has partnered with several retailers such as Amazon, Croma, Dell, Flipkart, and Reliance Digital. All of these companies are offering incredible discounts and deals on 10th Gen Intel® Core™-powered gaming laptops.
Dear Avenger, it is time to channel your inner Thor, and wield that hammer. 
Enter now to win the ultimate Marvel's Avengers PC Bundle 
*Visit www.intel.com/benchmarks for more information