A few days ago, Priyanka Chopra Jonas wore a Ralph and Russo fringed couture gown for the Grammys. The plunging neckline of the dress immediately broke the outrage internet. You see, the actress is a woman, so every square inch of skin she shows must first be approved by men – and protectors of sanskaar.
What must it feel like when what you wear to a party gets more press than your actual work? Ask Priyanka Chopra Jonas right about now. I imagine she's currently hanging out on the balcony of her Beverly Hills mansion with a stiff drink and a jar of zandu balm as she scrolls through her Instagram. A few days ago, the actress wore a Ralph and Russo fringed couture gown for the Grammys. The poor dress had the misfortune of being accompanied by a neckline that plunged all the way down to her navel. 
Much chaos ensued.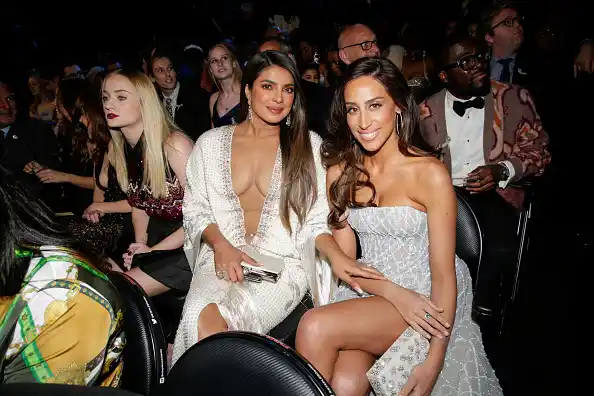 Priyanka Chopra and Danielle Jonas appear at THE 62ND ANNUAL GRAMMY® AWARDS, broadcast live from the STAPLES Center in Los Angeles, Sunday, January 26th.

Francis Specker/CBS
Self-styled protectors of India's sabhyata, sanskriti, and all those other sombre, heavy-duty words that Amitabh Bachchan keeps invoking in Mohabbatein immediately took up cudgels against this outrageous attempt at corrupting India's moral fibre. They slut-shamed Priyanka, disabusing her of the radical notion that she can do whatever she damn well pleases with her body. Who does she think she is, the friendly neighbourhood Sanghi who has been brushing his teeth by the window, scarring generations of children for life with his manboobs spilling over from the sides of his baniyan? Of course not. Priyanka is a woman and a public figure, so every square inch of skin she shows must be first approved by men and protectors of sanskriti. 
Like designer Wendell Rodricks, who helpfully pointed out in a now-deleted sarcastic post that Priyanka's neckline went "all the way from LA to Cuba". That seemed to seriously upset erstwhile singer and actor Suchitra Krishnamoorthy who launched into an impassioned, if slightly amusing, rant about how the actress' dress was the "height of liberation" (no, it was not) as well as men's "pre-pubescent hipless perverted fantasy" and "teenage gay boy flat chested contortion" (What do these word salads even mean?!). Krishnamoorthy also took great pains to glorify women's bodies, complete with our rolls of fats, pesky proclivity for water retention, and stretch marks. "We are not our bodies. We are our abilities. We are our talent," she thundered on a social networking platform designed to validate us for our bodies and faces. 
Priyanka is a woman and a public figure, so every square inch of skin she shows must be first approved by men and protectors of sanskriti.
Now I know that my feminist points are going to be seriously docked for this but the truth is that I'd trade all my abilities and talents – as blessedly few as they might be – for a body like Priyanka's. Who wants to trade? 
Next up after the morality brigade was the ageist brigade. The actress is too old to pull off a dress so daring, they muttered sadly. These wizened souls don't have a problem with the skin show, they welcome it, in fact. But only so long as said skin is stretched across unwrinkled skin. After deleting his original comment, Rodricks quickly jumped onto this bandwagon, admonishing those who don't dress age-appropriately. So much drama over a dress, and not even a particularly good one, at that. Pass that jar of Zandu, will you, Priyanka? 
Is anyone else also tiredly wondering when we're going to learn how to criticise and disagree, without being low-key homophobic (looking at you, Krishnamoorthy) or accidentally-on-purpose condescending (Rodricks, not cool, man)? Look, regardless of what one's personal opinion is about where to draw a reasonable line with skin show, showing skin and what constitutes age-appropriate clothing, Priyanka doesn't owe us anything — not aspirational perky boobs, nor a grudging compliance with our culture's obsession with handing out character certificates based on clothes. And when are we going to learn that it's entirely possible to critique fashion choices — and justifiably so, she is an important cog in the global fashion wheel — without resorting to iterations of body-, age-, or slut-shaming? I, for one, found the white embellished tasseled gown the couture version of khichdi made with three days' leftovers. Some will love it, while others will wonder why aloo gobhi is lying with bits of tandoori chicken on a bed of moong dal and rice.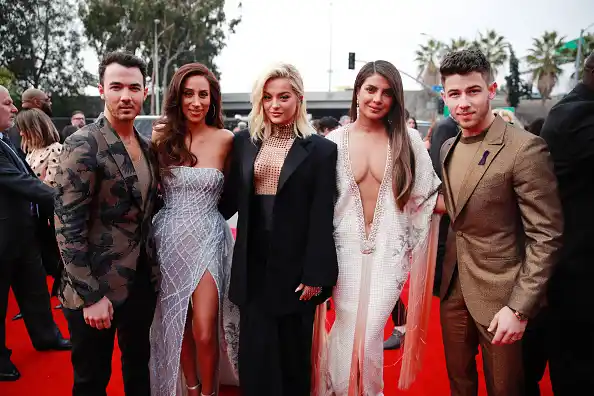 (L-R) Kevin Jonas, Danielle Jonas, Bebe Rexha, Priyanka Chopra and Nick Jonas attends the 62nd Annual GRAMMY Awards at STAPLES Center on January 26, 2020 in Los Angeles, California.

Rich Fury/Getty Images
Clothes are just clothes and sometimes people wear stuff we don't like. It's not the end of the world and it won't cause the annihilation of the culture we're so desperately clinging to. So isn't it time we stop using them as an excuse to wage completely pointless and thoroughly forced ideological wars, especially when the wearer clearly didn't intend for it to be a statement of any kind?
That's not to say that we shouldn't be criticising the look or asking some tough questions about the dress, but we should focus on the real, burning ones. Here's the one I'd like an answer to: What is the name of the magical tape that was holding up PCJ's dress through the night? And how can I get my hands on a roll? Asking on behalf of all the women looking longingly at saris with choli blouses for the weddings of the evil cads who get married in the sweltering heat of May.

Sonali Kokra is a journalist, writer, editor and media consultant from Mumbai. She writes on feminism, gender rights, sexuality, relationships, and lifestyle. In her 12-year-long career, she has written for national and international magazines, newspapers and websites. She was last seen as the lifestyle editor of NDTV, and HuffPost.com, and has published a coffee table book on Shah Rukh Khan.