Mumbai's mountain of waste, the Deonar dumping ground, is a source of livelihood for ragpickers and scrap dealers. Why then, would they start a blaze that scorches their homes?
"My colleagues have been arrested. I really can't talk to you, I'm still in a meeting," Shalini tells me, finally answering her phone the third time I ring her.
I'd met Shalini Kamble and her group of recycle workers in Deonar's Shivaji Nagar a few days earlier, when news of them being banned from the dumping ground had surfaced. After multiple fires broke out in the area earlier this year, much of the Indian and international media's coverage, barring a few exceptions, had tended to skew toward Mumbai's middle- and upper-middle-class residents and how they were affected by the poor air quality, even though they lived nowhere close to the site of the fire. There was barely any information on the people who reside in this dense, interlinking grid of shanties that are bisected from the Deonar dumping ground by a low, broken wall, and for whom this 326-acre festering mess of Mumbai's refuse was the only source of livelihood.
Now, a thin, reedy voice from the other side of the phone tells me about the desperate workers, who were rendered jobless, and entered the dump yard, only to be arrested on charges of negligence and destruction of public property. The police will now let them go only if their families deposit a fine of ₹15,000. Where will they find 15,000 rupees, they barely make 150 rupees a day and there has been no work for the last two months, Shalini asks, the hysteria slowly building in her voice.
The foothills of Deonar are the fulcrum of life and livelihood in Shivaji Nagar and its neighbouring colonies. Although it is difficult to pin down an exact number, roughly 1,500 people here are recycle workers. When it was time to affix the blame for the fires, the authorities went for the softest targets. They first accused some ragpickers of starting the blaze, and over the last few days, arrested 13 scrap dealers who have been remanded to a fortnight of judicial custody at the Arthur Road Jail.
In reality, spontaneous fires are incredibly common at the dumping ground, a combination of methane build-up and heat – but they have always been controlled by the agencies contracted by the BMC to administer the landfill. Somehow, the absurdity of charging Shalini and her crew for setting the fire has gone unnoticed by the world. The only way the recycle workers could have benefited from setting their livelihood ablaze, would be if they could have claimed insurance for it.
***
Shalini Kamble is the president and founder of the Kachra Vechak Seva Sangh. A tiny little dynamite stick, the 38-year-old looks closer to 50. She instructed me to meet her at a local leader's office, the sole landmark in an anarchic network of streets that form the south-eastern periphery of the dumping ground. Chickens and goats scurry about, looking much busier than the people they belong to. It has been like this for the last two months, Shalini explains, since the workers' entry to the dumping ground was barred.
"Maine aisa angaar kabhi nahi dekha," she says – the first one in January cost us a month of work and smelled like thousands of mirchi packets burning together. We are sitting on rusted iron chairs that might once have had cushions, outside the modest recycling shop of Ismail Ansari, who hasn't seen fresh stock in days.
On a routine day, Shalini and her co-workers would have broken for lunch around this hour, after a half-day's work of sifting through the contents of every BMC trash truck that made its way to Deonar. They would have helped unload it in a corner of the dumping ground, divvied it up into four or five piles, and scrutinised each of them carefully.
In the hierarchy of waste collectors, people like Shalini and Javed are at the absolute bottom of the pyramid. They are sub-contracted by the BMC, which means that they get no salaries for their efforts, no insurance or other linked benefits that come with it.
They would have split it into heaps of polythene, glass, paper, and the most coveted of the lot, plastic. It is the hardest to come by – Shalini is able to collect only about 10-15 kilos a day – but it goes for about Rs 10 a kilo. That's nearly ten times the price that polythene bags and glass fetch, even though she is able to collect over 40 kilos of each during a good workday. She and her husband Javed Sheikh would each have made about ₹150 a day – just about enough to support their family of six and continue paying rent for the tin-roofed pucca house they have on road number 14. At the end of the month, Shalini would have deposited ₹50 in her bachat gat and an equal amount in her aarogya khata.
As we speak, the sun beats down mercilessly upon us but Shalini doesn't mind the heat. It is the monsoon she hates. That's when the area fills up with water to about waist level, the city's refuse floating around her. Shalini doesn't mind the trash – it is work after all – but it is the dead cats and dogs drifting around her that really freak her out. Then there is the risk of stepping on used needles or broken glass.
In the hierarchy of waste collectors, people like Shalini and Javed are at the absolute bottom of the pyramid. They are sub-contracted by the BMC, which means that they get no salaries for their efforts, no insurance or other linked benefits that come with it. Not even low-rent safety gear that could really come in handy during the monsoon. Unsurprisingly, the BMC workers who appear to have these marginal benefits and who Shalini and her group routinely interact with, are enemy number 1. I strain to listen to her accuse them of corruption and laziness, over a jumma khutbah emanating from the mosque next door.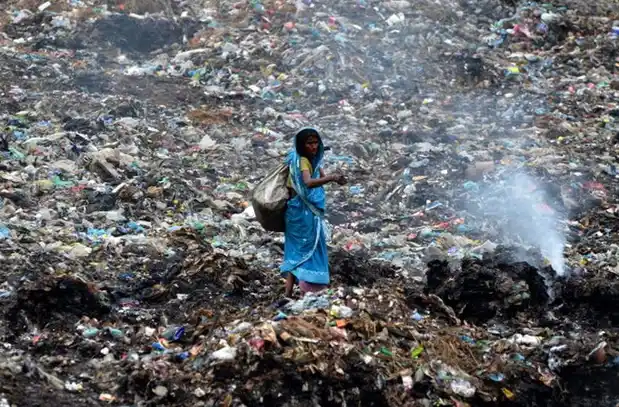 The foothills of Deonar are the fulcrum of life and livelihood in Shivaji Nagar and its neighbouring colonies.

STRDEL / Stringer via Getty Images
Then the trucks stopped coming. Shalini and her co-workers were informed that the lorries were being diverted to the dumping grounds at Mulund and Kanjurmarg. Today, they sit around, restless and desperate to return to the wretched work that helps them get by, one day at a time – but also ensures that they consistently rake up the bottom of any human development index.
Of Mumbai's 24 wards, the M-East Ward where the Deonar landfill is located, is ranked last, no doubt because of its proximity to the mountain of biomedical and hazardous waste. Life expectancy in the ward, for instance, stands at an appalling 39.30 years, according to this exhaustive BMC Human Development Report compiled in 2009. The corresponding figure for D Ward, which encompasses tony South Mumbai's Grant Road area, is over 60 years. The distance between the two wards is much greater than the 20 kilometres that separate them. Most of the 150 patients that present themselves at Rafique Nagar's primary health centre are either suffering from tuberculosis or "double" typhoid. But Shalini doesn't care. All she wants to do is, go back to doing the work that might one day claim her life.
***
I walk with Shalini to a small meeting room run by Apnalaya, a not-for-profit organisation in Shivaji Nagar, where about 30 members of the Kachra Vechak Seva Sangh have gathered to discuss their desperate situation. I immediately sense a quiet riot brewing, when the amiable Raju Chavan, an Apnalaya employee, suggests that they ought to look for alternative employment. "Yahan se baahar niklo," he urges. "Humein kachre se upar bhi toh uthna hai na?" This dump yard can't be your life, he appeals to the workers. It feels like the tense few moments before a pressure-cooker whistle goes off – and then it erupts.
The crowd violently disagrees and everyone speaks at once. Nobody wants to leave Deonar. Nobody has any intention of "rising above the garbage". Rajuji tries, and fails, to get his point across over the clamour. Eventually he gives up trying to make them see the light. "But what if you're never allowed back inside the dumping ground," he asks, leaving a whiff of resentment and dread in the air.
The thought is unbearable. As twilight gathers outside the small meeting room in Shivaji Nagar, the mood turns black. Everyone is quieter with realisation that every day away from work is a step closer to utter penury.
They have no idea how long they can hold out.

Karanjeet Kaur likes Mughal miniatures, mountains, moot points, and alliteration. She is the Creative Editor at Arré and tweets as @kaju_katri.