The humble pear and the doctor-approved apple no longer cut ice. As city folk up their fruit game, the person most thrilled with this one-upmanship is the farmer.
Jesse Jacob, a farmer from Kottayam, Kerala, is looking forward to laughing his way to the bank. A thousand-odd kilometres away, the hipsters in the far-off fancy burbs of Mumbai and the artist villages of Goa have decided that they need to up their fruit game and that the humble pear and the doctor-approved apple will no longer cut ice. These fruits have lost their A-lister status and new, exotic ones are now being invited to take the stage.
For farmers like Jacob, this is great news. His forefathers grew coffee and rubber plantations but he took a punt on the flickering tastes of fanciful Mumbai and went the way of fruits.
Years ago, his grandfather planted a rambutan tree in the backyard which set off the novel idea. Kerala is home to several such trees, born of seeds brought back by plantation workers in Malaysia in the last century. These sturdy, hardwood trees yielded good but low quality fruit. Jacob decided to see if he could change that.
He travelled to South East Asia and spent years scouring several countries, poking around small farms, surveying large holdings, and sampling fruit in all corners of the hinterlands. He got back with him a special strain of the fruit he now so lusciously grows on his farms – the red, hairy rambutan.
The key is to be accessible enough for the profits to roll in, but not so accessible that commoners begin to think of the rambutan as a local cousin of the lychee.
Nobody in India knew much about this weird fruit that looks like a ball of messy, fibrous hair that's had a bad day at the colourist's, but Jacob instantly knew he had stumbled upon a goldmine. The first batch of Sri Lankan rambutans that he exported to Dubai and Saudi Arabia were a hit. Now only few years later, this sweet, succulent fruit has captured the imagination and tired taste buds of big cities in India where it is being widely hailed as a "superfruit".
The superfruit status is good for everyone in the game though it may not be in the fate of every fruit. Balasaheb Pansare has pinned his hopes on the tamarind. The traditional tamarind sells for ₹30 per kg, but the sweet version he's developing and researching can fetch up to ₹400 in the market. In 2014, Pansare sold 300 saplings to fruit farmers, mostly from Gujarat. The next year, he doubled that. But his brand of tamarind is facing stiff competition from the dragon fruit. Slightly more popular within the organic and vegan set, this pink, scaly fruit with soft white insides, which until a few years ago only grew in Vietnam and the Philippines, is also being prepped for the Indian soil.
Pansare and Jacob both have their fingers in the dragon-fruit pie, and Pansare is especially hopeful. He has spent months developing the Thai lemon and the Thai guava in India. The results have been encouraging, but as he samples both varieties, Pansare knows intuitively that they will not work in the market. They cannot hold against the tang of the Indian variations. The dragon fruit, thankfully, has no Indian equivalent so its price ought to remain high.
Worried about competition in the exotic fruit farming business, Pansare paints the picture of the struggler who is still trying to hit the big league, fearing that the others will get on the exotic bandwagon soon. And why wouldn't they? Rambutan is after all, a remunerative crop for farmers. As against a maximum possible net income of ₹30,000 per acre from rubber, rambutan can give an assured income, which is five to 10 times more.
Jacob, already flush with the success of his efforts, doesn't worry about competition. In fact, he encourages it. He anticipates a rise in the exotic fruit community, and plans to convert yet another 40 acres of land from rubber to fruit. He will then expand his nursery and grow more saplings for other farmers who want to cash in on this trend and he's pretty sure he's going to be flooded with takers.
So far, only 10 per cent of over 3.3 million hectares of land has been devoted to exotic fruit farming, but Dinesh Shinde, a Mumbai-based wholesaler who monitors business trends from his office in Navi Mumbai's Agricultural Produce Market Commission, believes that the demand can only grow from here. He should know. Dinesh has a stake in 400 acres of blueberry plantations in the United States, a large chunk of which is frozen and shipped to India to be sold to hotels who's chefs insist on fancy fruit, and gourmet food companies who'd go out of business without the word "exotic" in their product range.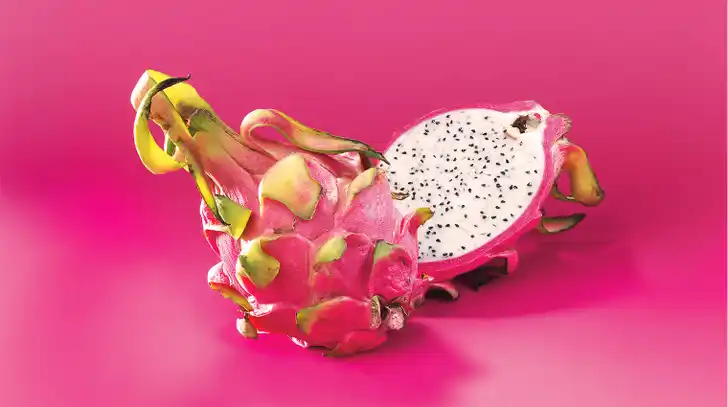 The dragon fruit has no Indian equivalent so its price is likely to remain high.

DeAgostini/Getty Images
It's the beginning of June and Jacob's fruit crop for the year is not yet ready. The soft, hairy spikes covering the fruit are turning slowly from green to orange. By July, the lush trees on Jacob's farms will be heavy with ripe rambutans, ready for the picking. In August, as the Kerala monsoon softens to a drizzle, Jacob will begin picking rambutans at his riverside nursery, and watch with pleasure as the fresh juice runs down his fingers. After this, the real test begins. Within four days of picking, the rambutans will need to make it to the market and be sold almost immediately. But that's a small problem considering that even in 2015, the entire production of rambutans in Kerala flew off the shelves in weeks.
Such immense popularity in the world of exotic fruit is a bit of a double-edged sword. The key is to be accessible enough for the profits to roll in, but not so accessible that commoners begin to think of the rambutan as a local cousin of the lychee. The horror of being reduced to the pedestrian status of apples is what keeps farmers like Jacob on their toes. They wonder what will happen once the rambutan becomes a victim of its own desirability but they really don't have to worry. For every rambutan that vacates its exotic spot, the hipsters have a ready line of at least twelve fruits ranging from the starfruit to the purple mangosteens to take its place.
All Jacob and Co have to do is keep up.
Aparna Joshi likes to travel, observe and meet different folks. When the mood is right, she writes too.