This month is likely to be the wettest September in India in over a century, with the average rainfall across the country being 48 per cent above normal. At this point, the question must be asked – in a world impacted by climate change, will disastrous weather events become increasingly commonplace?
With just a day left to go, the average rainfall across India in the month of September is 48 per cent above normal. Floods are wreaking havoc in Bihar, Gujarat, Uttar Pradesh, and Maharashtra with red alerts issued for the first two states. In the last four days, more than 110 people have died because of rain-related incidents in the country.
September has recorded 247.1mm rainfall and this is likely to go past 1983's figure (255.8mm) on Monday, The Times of India reported. If that happens, this month will be the wettest September in the country in 100 years, it said. What we are witnessing in north India this month, was seen in the southern states in August for two consecutive years now.
In August 2018, devastating floods battered Kerala. It took a massive co-operative effort between locals, NGOs, and the government's disaster management forces to contain the damages and reduce loss of property and life. Nobody would have wanted this to become an annual tradition, but history chose to repeat itself 12 months later, as three days of torrential rainfall once again brought Kerala to its knees last month. This time around, Karnataka and Maharashtra were swept up in the fury.
Across these three western states, severe flooding and unpredictable landslides led to more than 150 deaths. Kerala's Kochi airport was shut for three days, so that the water has time to recede. Odisha, Himachal Pradesh, and Uttarakhand also witnessed some monsoon fury. 
Even before the August downpour, this monsoon has been accompanied by strange events. After being delayed from making landfall in Mumbai throughout June, it arrived in the parched, water cut-suffering city in July, and after providing some initial relief from the heat, promptly made itself unwelcome. The kind of rain that evokes headlines about "Mumbai's spirit" began to batter the city, grinding it to a standstill and even claiming lives in building collapses in suburbs like Thane. As the monsoon continued on its path toward the interior and north of India, it was so fierce in patches that it turned an urban legend into reality – in a small town in Maharashtra and in Vadodara, Gujarat, the floodwaters allowed crocodiles to venture from their regular river haunts into the sewer systems and streets of these settlements.
Against this bizarre backdrop, extreme rainfall events began concurrently occurring over Maharashtra, Karnataka, and Kerala, triggering the catastrophic floods and reviving memories of last August, where almost 500 lives were lost in the Kerala flooding. The fact that this kind of unpredictable event is actually taking place with predictable regularity is worrying. Two times might be a coincidence, but three will start pointing toward a trend. While nobody wants such a disaster to revisit the country a third time, the question must be asked – in a world impacted by climate change, will events like the Karnataka, Kerala, and Maharashtra floods become increasingly commonplace?
The fact that this kind of unpredictable event is actually taking place with predictable regularity is worrying.
The former head of IIT Delhi's Centre for Atmospheric Sciences, SK Dash, seems to think so. In an interview with Economic Times, he says, "Due to global warming, frequency of rainfall as well as temperature extremes are increasing, and will go on increasing in the future." And it's not just our own domestic experts who are sounding the warning bells. The same report also cites the UN's Intergovernmental Panel on Climate Change's (IPCC) dire prediction that both droughts and floods were to increase in the subcontinent.
Another report, from fortnightly environmental publication Down To Earth, is more direct with its accusation, carrying an article titled "How Climate Change has Increased Flood Events in India". The warming global temperature has affected patterns of precipitation, making rain fall sporadically in short and intense bursts, as opposed to evenly over the entire catchment area. The article states, "Global rainfall data for over the last century also shows an alarming trend. The number of rainy days is decreasing while intense rainfall events of 10-15 centimetre per day are increasing. This means that more amount of water is pouring down in lesser time." And we've seen, to our horror, what happens when too much water comes down in one place all of a sudden.
This might be our new normal – a chilling thought. And even as most of the country is concerned about the economic slowdown, it's also worth sparing a thought for what our world will look like in the future, and what we'll be forced to do, to endure it.
This is an updated version of a story published earlier.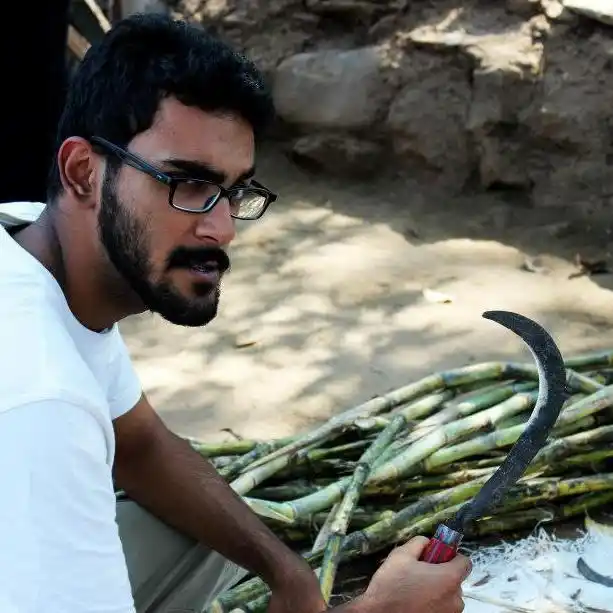 Dushyant Shekhawat really likes his mustache. He grew it himself. You can find him on Twitter at @SeriousDushyant.