Oh, the success you can achieve by tapping into people's need to be validated on social media! This is the reason urban and rural Indians alike have taken to the Kiki Challenge faster than Ganesh Gaitonde took to Cuckoo.
At the peak of the Mannequin Challenge's popularity, I recall witnessing my younger cousins standing statue-like, each with a deadpan expression on their faces as a camera hovered around them. There they were, standing still and going nowhere, much like my love life – a breathing testament to the stalling of human evolution. The Mannequin Challenge showed up in the unlikeliest places: In end-of-the-year workplace videos where the employees looked like their families had been threatened by HR thugs, in pre- and post-wedding choreographed set pieces, and even in a promotional MMS my colleague received from her local salon. I shudder to think what beauty treatment they were advertising.    
But as with all things internet and economics, the ubiquity of the Mannequin Challenge also led to its end. Of course, we'd all learn later that the Mannequin Challenge was just a viral marketing gimmick to promote Rae Sremmurd's song "Black Beatles". Just the way the Kiki Challenge has been a marketing gimmick to promote Drake's "In My Feelings".
Unless you've been living under a rock (which in 2018, seems like a better option with each passing day), the Kiki Challenge is a dance challenge popularised by comedian Shiggy's Instagram feed and involves walking next to a slow-moving vehicle while popping and locking to the song. The challenge has caught on and folks all over the world have been hopping on to the bandwagon. So popular has it become that there are advisories from authorities across the world, asking people to be a bit more responsible and not disrupt traffic and hurt themselves in the process – although, to be honest, I think we should not interfere and just allow natural selection to do its work.
Still, the Kiki Challenge is important for what it tells us about us and the world we now occupy. It's become a prime example of the success you can achieve by combining marketing ingenuity with our innate need for validation from social media. Something that brands and industries have made a habit of in recent years.
Over the years, we've witnessed a shift from delightfully absurd viral content to cringeworthy antics in a bloodlust for views. It started off harmlessly enough with the Harlem Shake and took a philanthropic turn with the ALS Ice Bucket Challenge. Although the latter did make more than a $100 million for ALS research, the New Yorker deduced it as, "faddishness undermining charity".
At home, once Bollywood caught wind of social media challenges, we were subjected to cringe-fests like the Beat-Pe-Booty Challenge to promote Tiger Shroff's equally cringey Flying Jatt. And downright slacktivist in the form of the Padman Challenge, another desperate attempt in Akshay Kumar's transformation from "Gives the D" to "Gives the Deshbhakti". Only a step behind their Bollywood counterparts, even our enterprising politicians exploited the power of social media with the recent #FitnessChallenge. I will never quite get over Modi Ji's stretches and Manoj Tiwari's push-ups.
And now here we are, urban and rural Indians alike, taking to the Kiki Challenge faster than Ganesh Gaitonde took to Cuckoo.
A couple of good-natured farmers getting their 15 seconds of fame is probably the only good that's come from the Kiki Challenge.
Don't get me wrong, I am grateful for the heartwarming results of Kiki Challenge, like that of the lovable rice farmers from Telangana which was picked up by the New York Times. But a couple of good-natured farmers getting their 15 seconds of fame is probably the only good that's come from the Kiki Challenge.
Most other attempts at the Kiki Challenge have unsurprisingly been high on the nuisance quotient. Like the numerous accidents caused by those pretending to emulate Will Smith's daredevil antics atop a bridge in Budapest. Or the shenanigans on display by this Mumbai local delinquent, currently at large.
There's no denying that the recent development of social networking platforms has magnified the speed at which new ideas can spread in the world. In fact, humankind's relationship with the internet has now become more psychologically connected than ever, according to Damon Centola, associate professor of communication at the University of Pennsylvania and author of the book How Behavior Spreads. "While online, our emotional excitement is triggered if we see lots of commenting activity around a post, which creates more excitement for others, and encourages them to participate," he says.
Makes sense, considering in the past, we've attempted to garner social media points for glorified publicity stunts like gathering to shout "Pyaar Ek Dhoka Hai" and "Bol Na Aunty Au Kya". And now we find our Facebook timelines rife with event pages that aim to hold gatherings for those willing to "Shout Kiki Do You Love Me" at Bandra Bandstand or Connaught Place. If nothing else, the gusto with which we've adopted the Kiki challenge is a harsh reminder that Virat Kohli's consistency and millennial vellapanti can never be written off.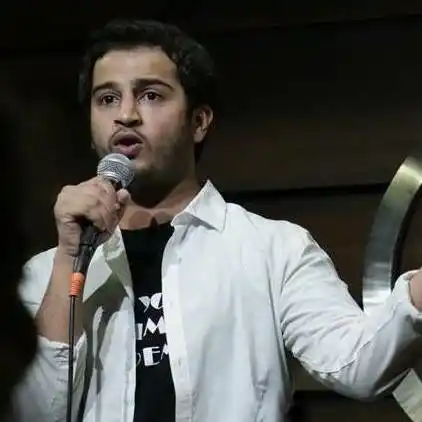 Masking anxiety with humour. Living with his dog, cat, and mediocrity. Creating content aur life se kaafi discontent. Tweeting as @juvenile_jack.