Chutia (pronounced as Sutia) is an Assamese surname. "It's not slang," clarifies Priyanka Chutia who was unable to apply for a job as the software kept rejecting her last name.
The coronavirus pandemic has left a number of Indians without work, and with no means to find employment. However, for an Assamese woman, who was recently denied a job on an online government-run portal, the lockdown is the least of her problems.
Priyanka Chutia (pronounced Sutiya) , who holds a Masters degree in Agricultural Economics and Farm Management, was unable to apply for a job with the government-run National Seed Corporation Limited after repeated attempts, apparently because the software kept rejecting her last name.
Priyanka Chutia had been trying to apply for a job but was unable to do so as the software kept rejecting her surname.

Chutia is a community of people in Assam and it is pronounced as "Sutiya".https://t.co/jICECFTUFp

— News18.com (@news18dotcom) July 22, 2020
The woman expressed her exasperation in a Facebook post, in which she says that her application was denied as the software asked her to use a "proper word" and not "slang" in place of the surname. While Chutia is generally considered a swear word in the rest of the country, it is the common last name of one of the oldest ethnic groups in Assam.
'Chutia' not slang but common Assamese second name , says woman whose online job application was rejected

In ThePrint's #NEye, Myithili Hazarika @myithili brings you snippets from the Northeast, capturing its politics, culture, society and more.https://t.co/nZgimySvrB

— Shekhar Gupta (@ShekharGupta) July 22, 2020
"I feel really sad and frustrated at times explaining people that I am not using slang but it's a community where I belong," she wrote in her post. "This is not the first time. Imagine yourself going for a presentation and the panel laughs at you at the introduction speech."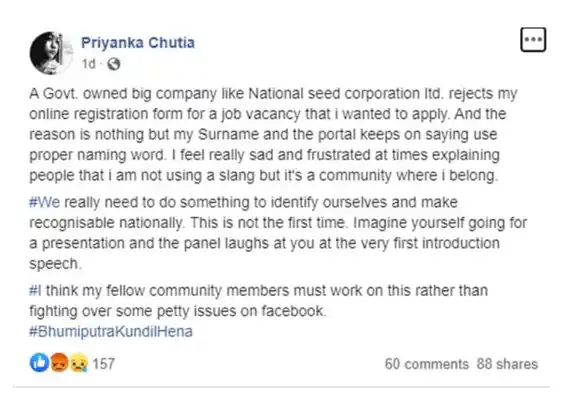 Priyanka says the issue was later resolved after she wrote to the company in question. She later took to Facebook because she wanted her fellow community members to raise awareness about the issues they face with their last name.
A number of social media users responded to this clarion call with an outpouring of support, as well as a heady debate over the origins of the name.
Bizarre behavior by a state-run corporationhttps://t.co/iT6wHJrpvc

— Shoaib Daniyal (@ShoaibDaniyal) July 22, 2020
I don't understand one thing. The consonant digraph "Ch" sound doesn't exist in Assamese. Then why spell চুতিয়া with a Ch ? The correct spelling should be "Sutia". Don't know where these Ch Sh spellings came from in the case of Assamese Nouns written in English. @padma_xoikiya https://t.co/h5554mOGVE

— Dimpy Koch (@bora_dimpy) July 20, 2020
This is not acceptable, "CHUTIA" is not a slang in Assamese. Nowadays, outsiders say themselves as the Voice of Assam and the Bhumiputros/indigenous face this. https://t.co/YHL8eCMzZ7 pic.twitter.com/NTOzjFIFwl

— Assam Bhumiputro (@AxomBhumiputro) July 20, 2020
The company later clarified, according to a report in Guwahati-based The News Mill, that the glitch was a result of a flaw in coding and that they were working on fixing the issue. However, this is not the first time the issue has been raised by members of the Chutia community, with even social media giant Facebook coming in the line of fire.
If the last two weeks of flooding in Assam going by unnoticed wasn't enough evidence, Priyanka's Facebook post has proved once again that the rest of the country is blissfully unaware about the affairs of the Northeast.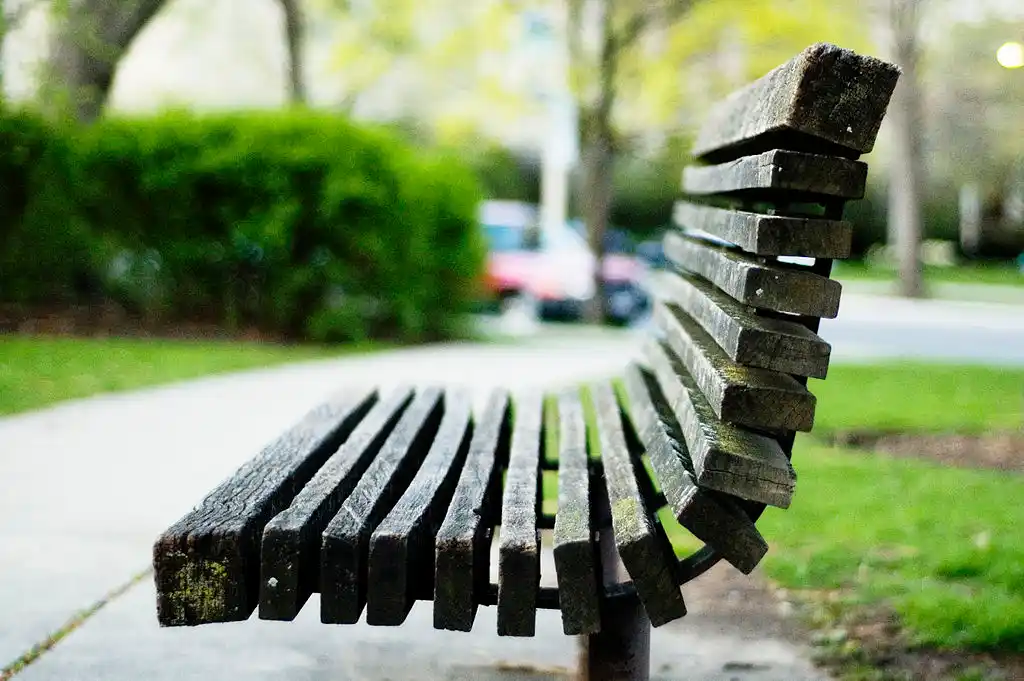 The Arré bench delivers stories that mattress. It hasn't achieved much sofar. But it's getting bedder.