Malgudi Days introduced my family, which until then had only read some of Girish Karnad's works, to his charm and subtle elegance. His WT Srinivasan represented an entire generation of Indians who had been exposed to English education and civility but stuck to their roots when it mattered the most.
One of the more unforgettable moments in Malgudi Days, that aired on Doordarshan in 1987, was that of a dhoti-clad Girish Karnad, playing tennis with firangs at the Malgudi Club. It was funny, in a gentle sort of way, because watching that scene unfold on screen as kids, we were not really aware of the socio-political and cultural subtext in the portrayal of Karnad's character. You see, at that time, we were not aware that perhaps WT Srinivasan may have been representative of an entire generation of Indians who had been exposed to an English education, European philosophy, and civility, and yet who stuck to their roots when it mattered to them the most. Srinivasan, Swami's stern but affectionate father, was a man of discipline, erudition, and deference. He signed off official letters, even apologising for his son's mischief with the words, "Your most obedient servant", but when it came to a game of tennis he chose to wear a dhoti and shoes while facing his European peers.
Set in pre-independence India, RK Narayan's immortal story – a celebration of childhood and innocence – might go down in history for introducing us to the life of an endearing Swami (played by Master Manjunath), who embodied the preoccupations of every Indian child before JEE and television invaded our lives. But its TV adaptation also gave us Girish Karnad. For the multitude of people who were not aware of his incredible body of work as a playwright, actor, academic, or author, Malgudi Days made him a household name.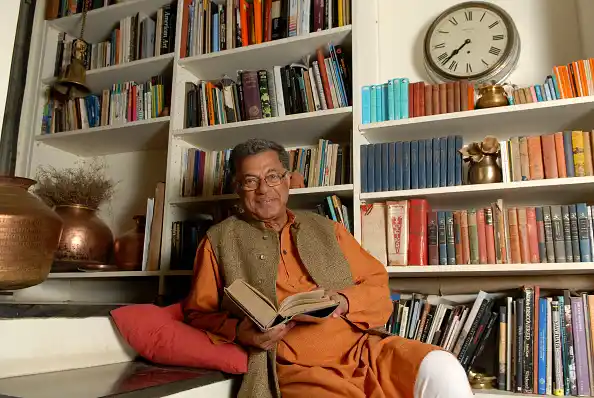 Hemant Mishra/Mint via Getty Images
Karnad appeared in just nine episodes. Yet Srinivasan was the father every kid knew: a man of deep wisdom and deeper frown lines; of few words and fewer material possessions, barring his neat, exhaustive collection of hard-bound books. He was someone who was most comfortable in his veshti, bearing the religious marks on his forehead, and subscribing to rituals, perhaps only at home. In his professional avatar, he easily slipped into European suits and polished boots, comfortable in the language of the "masters" but preserving his austere identity.
In fact, Srinivasan's formidable presence or a mere mention of his name was enough for mischievous little Swami to have a nervous breakdown: One stern look from his father or even a wall of silence was all that Swami needed to get back in line. Just as effective as his affectionate half smile. It's a feeling we all knew. It's the kind of relationship most of us shared with our fathers.
Malgudi Days introduced my family, which until then had only read some of his works, to the charm and subtle elegance of Girish Karnad. He was someone everyone grew to like. And over the decades, we all picked our Girish Karnad favourites. My father, a musician, loved his performance in Sur Sangam; he became a fan of Karnad's impressive portrayal of a singer who did more than indifferently lip-sync to songs. He brought them to life; emoted every word and melodic inflexion. My mother remained fond of Ananda Bhairavi in which he played a dancer who fights social prejudices. Nishant and Manthan were my choices. Over the years, Karnad became the default favourite actor, director, playwright for his eclectic body of work. There was always a favorite Karnad performance or production we could talk about, sometimes with the same kind of pride that comes from dissecting your favorite PG Wodehouse story at a book club.
"Girish Karnad does not parade his politics, nor indeed his patriotism."
Years after Malgudi Days, I watched a production of Hayavadana, one of Karnad's most loved and celebrated plays in Delhi. Based on Thomas Mann's The Transposed Heads, it was performed by a cast that comprised students from various city colleges: Konkona Sen Sharma studying at St Stephen's college at that time, who was yet to make her film debut, played Kali in the production. The enthusiastic students put in an electrifying performance of Karnad's searing take on sexuality and women's empowerment. I knew back then that his legacy would live on.
But then again, Karnad wasn't the kind of man obsessed with his legacy, a thought that his close friend Ramachandra Guha succinctly put in his tribute to the playwright in 2018. "Girish Karnad does not parade his politics, nor indeed his patriotism. Yet in his own understated way he has remained admirably devoted to his hometown and his home state, while never losing sight of his country or the world. He could, if he wished, write a splendid cultural history of India. For no one I know has his breadth of knowledge and understanding of all our arts – music, literature, dance – of the North as well as of the South of India; of folk forms and of popular and classical genres as well. (And he speaks and reads six Indian languages too)," Guha wrote for The Telegraph.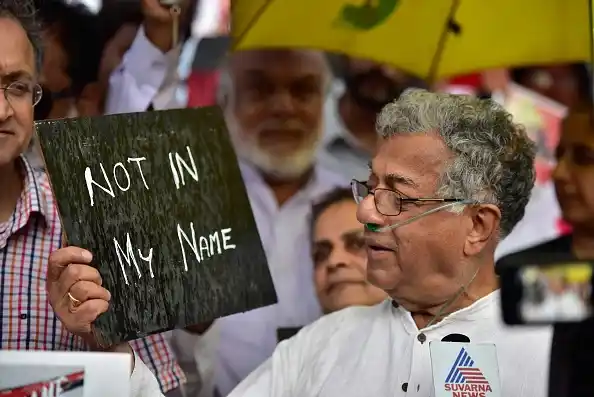 Arijit Sen/Hindustan Times via Getty Images
In June 2019, as Karnad, breathed his last, Guha's eulogy to Karnad – his intellect and his activism – seemed perfect. The photograph doing the rounds after his demise showed him with a tube near his nose at the "Not in My Name" protest in Bangalore, the video everyone was watching was that from a documentary which opens with a sprightly Karnad taking a walk in a Bangalore garden, greeting passers-by. Those are the images that have probably stayed with most people. But when I think of Karnad, I turn the page back to where it all began for me. I'll always first think of him as Mr Srinivasan, a father figure who stood tall in a quieter world, where you could actually hear one's thoughts.

Chandrima Pal is a journalist, columnist, career insomniac and caffeine snob. Loves food. Does travel. Author of A Song for I (Amaryllis) and At Home in Mumbai (Harper Collins).