The cringe pop icon, Dhinchak Pooja, dropped her latest track yesterday "Hoga Na Corona", to widespread… eyerolls. But who is to say Dhinchak Pooja's song is worse than Gal Gadot's crowdsourced "Imagine"? Or Narendra Chanchal's "Kitthon Aaya Corona"?
What do a social media starlet, an expert bhajan singer and Wonder Woman have in common? Apparently, apart from having the same chance as the rest of the world of contracting Covid-19, they are also quite committed to creating whatever content they can during this global lockdown. Unfortunately not all their content has been as well received, as they would have liked. And for this reason, they've been included as contestants on social media's top-rated ongoing show — the Corona Cringe Contest.
Who wins? You decide. For now, let's introduce contestant number one:
Dhinchak Pooja
Not since the time that she took a selfie and sang about it has Dhinchak Pooja been more popular. The cringe pop icon — who is incidentally the only singer whose concert is guaranteed to make people stay at home instead — dropped her latest track yesterday, one that's guaranteed to have everyone singing along.
An explainer of sorts on dealing with the coronavirus, it's called "Hoga Na Corona", and has been trending high on YouTube India ever since it was uploaded to the platform.
The track, which purports to contain some sort of medical advice, starts out with a pretty hefty disclaimer, which states unequivocally that "this video is not intended to be a substitute for professional medical advice, diagnosis, or treatment."
The disclaimer also goes on to mention that no animals were harmed in the making of this film, a fact that's easily disputed by seeing some of the reactions from humans online:
make the new dhinchak pooja song your ringtone and no one will want to come close even after all of this is over.

— Pranav Sapra (@pranavsapra) March 19, 2020
After watching this video, pls undergo 14 days self quarantine. #Dhinchakpooja pic.twitter.com/JVuOPV2DUa

— Kavin Kumar (@kavin_uk) March 19, 2020
Dhinchak has, meanwhile, disabled all comments and the likes/dislikes bar on the video, because she probably knows what's coming by this point. That said, not much more is expected of her than to give everyone something to laugh at, so goal achieved!
AFTER LISTENING DHINCHAK POOJA SONG
LE CORONA #Dhinchakpooja #CoronaInMaharashtra #coronavirusindia pic.twitter.com/WhzTMW2Mas

— Rudra narayana (@rnbkingno1) March 19, 2020
Gal Gadot (and friends)
Gal Gadot will have to be the face of this nomination only because there isn't enough space to fill up the number of celebrities who thought it would be a good idea to protest against coronavirus by singing one line each of John Lennon's "Imagine" in the most awkward possible way.
In the video, that's been going viral since Thursday morning, Wonder Woman leads the sing-along, before she is joined by "dear friends" Amy Adams, Zoe Kravitz, Will Ferrell, Natalie Portman, Mark Ruffalo, and several other familiar faces. The celebrities then sing a line of the popular song each, almost purposely ensuring that they're all out of tune.
Gal Gadot and other celebs drop cringy rendition of John Lennon's 'Imagine' in support of coronavirus pic.twitter.com/AJP6bnNx2s

— Culture Crave 🎥 (@CultureCrave) March 19, 2020
The fact that these celebrities really didn't end up singing very well — and also that they have a combined net-worth higher than most countries in the world, but aren't making any actual donations — seems to have irked a few Tweeters:
Gal Gadot's Imagine video annotated with Net Worths pic.twitter.com/VvRlwTzkXv

— asimpledingus (@asimpledingus) March 19, 2020
Has anyone considered isolating the virus and just playing Bono and Gal Gadot's efforts to it on loop until it dies of cringe?

— herd immunity for our time (@misslucyp) March 19, 2020
The video was also pilloried mercilessly on YouTube, where it currently stands with more downvotes than upvotes, despite the sheer star power on display…
https://youtu.be/embed/0fDIZj9BX9U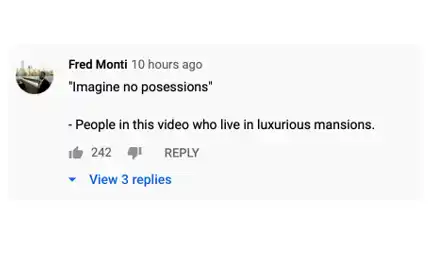 Pretty cringe indeed. But is it as cringe as our final contestant?
Narendra Chanchal
Granted, bhajan expert Narendra Chanchal's "Kitthon Aaya Corona" is almost a week old, but if you've managed to stop singing it for a second since then, you probably deserve an award of your own.
For those who haven't seen the clip, it features Chanchal's new jagrata hit, a song that seeks to find the origin of the coronavirus, as well as serve as a reminder of other diseases like swine flu and dengue. Whether it's achieved all that is up for debate, but what's clear is that the bhajan has ended up putting a smile on our faces.
It was first shared by influencer Mallika Dua, with the caption "Jagarata is better than cure"