Coronavirus did not kill the melodrama on TV. Clips from Star Plus' Yeh Rishta Kya Kehlata Hai which shows women wearing masks at home and the leading man making his lady love wear gloves is going viral.
Three months on, and the "new normal" continues to remind us that life as we knew it is now a thing of the past. After nearly 100 days of going off-air due to the lockdown, Indian TV shows are finally ready to make a comeback. But not without a Covid-19 twist to them of course.
Don't believe us? Have a look at this viral snippet from Star Plus' Yeh Rishta Kya Kehlata Hai – the future of every disapproving saas and her righteous bahu.
Is this what Star Plus are doing nowadays 😂😭😭😭 pic.twitter.com/l67FcWR5wm

— olishaan (@olishaan) July 13, 2020
It's also redefining love in the time of coronavirus. SRK may be Bollywood's King of Romance but did he ever help his leading lady sanitise her hands and put on gloves? Team #Kaira for the clean win!
So is this what starplus is doing now😂😭💀 pic.twitter.com/UFSXonq3dW

— HalalDesi (@halaldesii) July 14, 2020
Er, well, except for kissing your partner's face shield. That kinda defeats the purpose. We do not recommend it. Romance in 2020 calls for a different kind of protection.
Yeh Rishta Kya Kehlata Hai – A Contemporary Guide to Safer Sex Practices pic.twitter.com/Xag9YDsE3m

— Popodom (@prawncream) July 15, 2020
What we do recommend however, is welcoming your guests (okay, honestly… Why do you have people coming over?) with a bottle of sanitiser. If Preeto from Voot's Shakti Astitva Ke Ehsaas Ki can up her Atithi Devo Bhavo game, so can you! After all, welcoming rishtedars with garma garam chai is so pre-corona.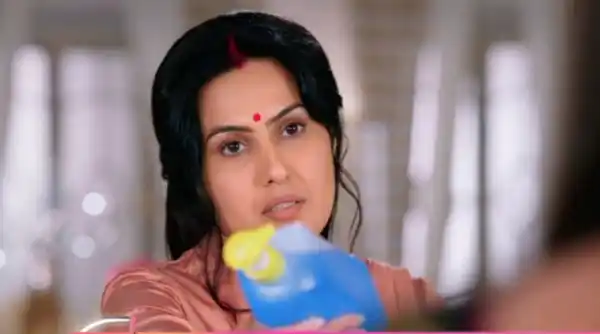 Voot
Amid these unforeseen circumstances, Indian TV shows' writers and directors are challenged to find creative ways to keep their reel life storyline relevant to real-life conditions. And by matching character sarees to their masks, they come close enough. A fashion-forward step indeed.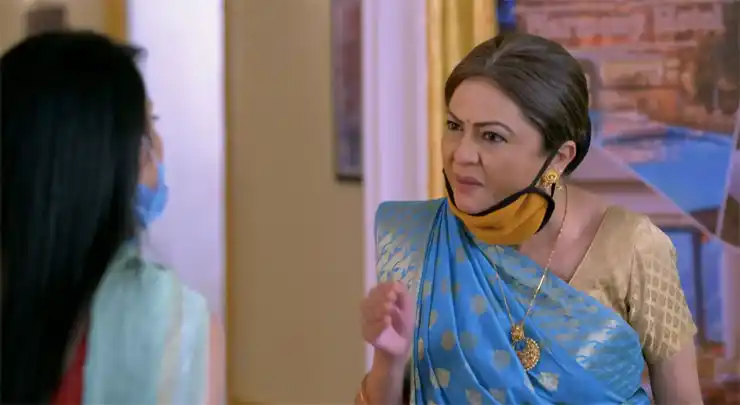 Zee5
In keeping with the standard operating procedures, the cast and crew is expected to sanitise at regular intervals and avoid any kind of physical greetings. Gracy Singh, who plays the titular role in &TV's Santoshi Maa pointed out that the team had replaced handshakes for "Namaste!" On the other hand, Sab TV's Bhakharwadi team found a low-budget handy social distancing hack.
View this post on Instagram

The Arré bench delivers stories that mattress. It hasn't achieved much sofar. But it's getting bedder.

Your weekly dose of Arré

Get the best from arre.co.in, straight to your inbox!