What will life look like once the lockdown is over? Here's a sneak peek.
The Covid-19 pandemic has had the entire world in a fix with countries under lockdown for weeks now. Quarantine and social distancing are long gone from being just precautionary measures to the way of life. While we try to navigate our days to come through this "new normal", around the world unconventional ideas place themselves at the forefront of the future that awaits us. As far as India goes, looks like our desi jugaad will get us through.
A photograph of a milkman who has come up with his own no-touch-delivery system caught the interest of social media. The image shows the milkman pouring milk into a funnel attached to a pipe on his bike instead of a vessel/bowl. The customer can be seen collecting the milk into a bowl from the other end of it. Full marks to this doodhwala for following safety measures.
"Necessity is the mother of invention."
In India: जुगाड़ पहले से तैयार है. आप काम बताओ. #Social_Distancing pic.twitter.com/ElcljWiDvK

— Awanish Sharan (@AwanishSharan) May 7, 2020
The internet has lauded the milkman for going "the extra mile" to keep himself and others safe.
Good to see that some people go extra mile to keep themselves and others safe.

Let's do basic minimum things of staying at home, wearing mask and keeping social distance even if we cannot go an extra mile like this innovative milkman. pic.twitter.com/RrjYVtdaKW

— Nitin Sangwan, IAS (@nitinsangwan) May 7, 2020
In Tripura, a school drop-out Partha Saha, has built an e-bike that ensures one-metre space is maintained between the rider and the pillion. Saha, who resides in Agartala, has earned praises from Tripura CM Biplab Deb on designing "an unique motorcycle to create awareness during COVID-19 pandemic."
Saha was not too elated with the idea of sending his daughter back to school on the bus once the lockdown was lifted. Instead, he decided to channel his energy into creating a motorcycle he could trust and wheel himself.
A doting father from Tripura makes a special 'Social Distancing bike' to ride pillion with daughter. The battery run bike has one meter distance between the rider and the pillion-rider. Really Incredible India 😊 vc in video #corona #Indiafightscorona #lockdown pic.twitter.com/EOy08QotFQ

— Supriya Sahu IAS (@supriyasahuias) May 6, 2020
He cut the body of a bike into two parts after removing its engine. By using a rod, longer than the ones on regular motorcycles, Saha then connected the wheels to create this spunky e-bike which can reach the top speed of 40 kmph. Three hours of charging is all this little ride requires to comfortably cover a distance of 80 kms.
In another instance, an e-rickshaw driver in West Bengal grabbed eyeballs for renovating his rickshaw, dividing it into four compartments by putting up partitions. Anand Mahindra, chairman of the Mahindra group, was so impressed with this modified tuk tuk that promoted social distancing with ease, that he even tagged Rajesh Jejurikar, Executive Director, Auto and Farm Sectors, Mahindra & Mahindra Ltd, in his tweet and asked him to hire the driver as an adviser to the company's R&D department.
The capabilities of our people to rapidly innovate & adapt to new circumstances never ceases to amaze me. @rajesh664 we need to get him as an advisor to our R&D & product development teams! pic.twitter.com/ssFZUyvMr9

— anand mahindra (@anandmahindra) April 24, 2020
"The capabilities of our people to rapidly innovate & adapt to new circumstances never ceases to amaze me," Mahindra said in the tweet. And, he is on point. Just look at Kerala.
In what could be called a "life hack" in the present times, Alappuzha's Thanneermukkom gram panchayat distributed 10,000 umbrellas to its residents to aid physical distancing.
To enforce physical distancing, Thaneermukkom GP in Alappuzha, mandates that everyone hold umbrella when they go out of houses. Two opened umbrellas, not touching each other, will ensure minimum distance of one meter from one another. Umbrellas distributed at subsidized rate. pic.twitter.com/6qir4KXPSL

— Thomas Isaac (@drthomasisaac) April 26, 2020
According to panchayat members, if two opened umbrellas don't touch each other they can effectively create one-metre distance. Who would've thought that the umbrella that once protected us from the sun and rain could be a handy companion in tackling the coronavirus too?
Not only India, the world is slowly gearing up to open up.
As life slowly returns to a semblance of normalcy in parts of China, educators at Yangzheng Elementary School in Hangzhou are helping students make social distancing creative and colourful with odd-looking hats.
In a video shared by the Chinese news outlet, The Paper 澎湃新闻, first graders are seen sporting funky hats along with face masks while they stay seated in single rows. These DIY metre-long hats, with two protruding wing-like flaps on either side are designed to help kids remember to maintain their distance from each other, while letting their crafty sides turn each hat into one-of-a-kind.
"We're advocating students to wear a one-metre hat and maintain one-metre's distance," Hong Feng, the school's principal, was quoted by the Chinese newspaper Zhejiang Daily.
Besides making social distancing innovative, these creative headgears also double up as a quick history lesson: The hats are reminiscent to those worn between 960 and 1279 during the Song Dynasty rule in China. Eileen Chengyin Chow, a Duke University professor, explained that the long plumes were meant to prevent officials at court from silently conspiring with each other.
First graders back to school in Hangzhou, with social distancing headgear

The long horizontal plumes on Song Dynasty toppers were supposedly to prevent officials from conspiring sotto voce with one another while at court—so social distancing was in fact their original function! pic.twitter.com/0AOKsWE1xH

— eileen chengyin chow (@chowleen) April 27, 2020
At Thailand's Praram 9 Hospital in Bangkok, the cuteness factor stays well guarded. Newborns are being provided with miniature face shields to wear for protection against the new coronavirus while they traveled home from the hospital.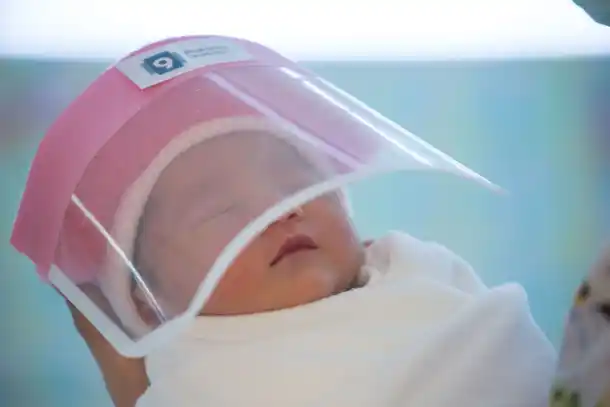 A nurse seen holding a new born baby wearing a tiny face shield against the coronavirus pandemic at Praram 9 Hospital in Bangkok, Thailand.
Guillaume Payen/Anadolu Agency / Getty Images
"Safety is what we care about most," read the statement shared on the hospital's official Facebook page. Meant for short-term protection, the face shields are not to be worn by the newborns all the time.
While we continue to remain indoors in the uncertainty of the nation's lockdown, UK-based Cocksedge Studio is already anticipating the days people can step out to the park and enjoy a picnic or two. But what about social distancing, you may ask. The "social-distancing picnic blanket" designed by Paul Cocksedge, co-founder of the studio, called "Here Comes the Sun" is ready to live its best sunny days with you. "It's a way of giving you confidence to spend time with others in a safe way," he told Dezeen.
This picnic blanket sports a massive hole right in the centre, something akin to an outline of a large circle. With four separate circular fabrics placed around the outline at an equidistance of 2 metres each, this social distancing creation is the picnic blanket of the hour.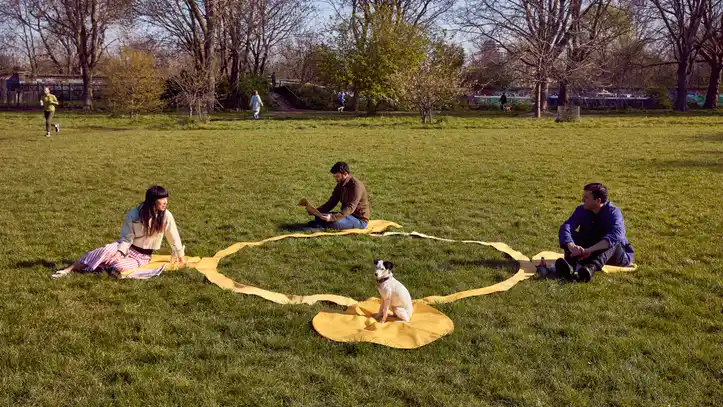 The studio has also provided a free template for anyone ready to add some quirk to their lives. So get snipping and sewing this quarantine to create your own social distancing blanket. We're counting down days until the lockdown ends to try ours.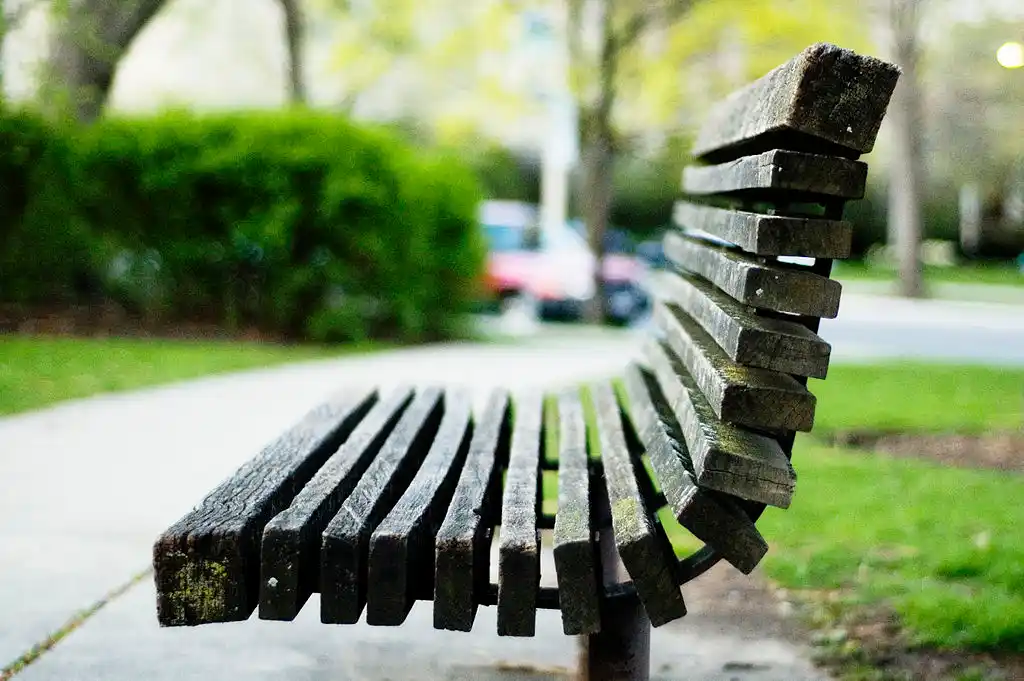 The Arré bench delivers stories that mattress. It hasn't achieved much sofar. But it's getting bedder.