2018 marked the arrival of the "selfish woman" on screen, who dares to prioritise her own desires over social obligations: Think Tabu in Andhadhun and Radhika Madan in Pataakha. But has Bollywood really been more inclusive of women behind the scenes?
Abeautiful woman (Tabu in Andhadhun) kills her wealthy, older husband, and her neighbour before poisoning the sole witness to her crimes. An unambitious small-town girl (Tapsee Pannu in Manmarziyaan) flits between her husband and her ex-boyfriend with scant regard for her marriage. An upper-class South Dilliwali (Swara Bhaskar in Veere Di Wedding) uses a dildo to pleasure herself in front of her rattled husband. A village girl (Radhika Madan in Pataakha) chooses to own a diary at the cost of her intelligent sister being taken out of school. An undercover Indian spy (Alia Bhatt in Raazi) jeopardises her mission by falling in love with her Pakistani husband and a demon (Anushka Sharma in Pari) falls in love with a human.
In any other year, the apparent selfishness of these female leads would have promptly been labelled villainous; a marker of irresponsibility that needed to be overcome or punished. But in 2018, these unlikeable girls, who dared to prioritise their own desires over social obligations, were allowed to be self-serving without being pigeonholed.
Seeing more flawed women in the year's biggest films, is a monumental start to seeing more nuanced female characters on screen. But let's not pop the champagne just yet.
This year has also had its fair share of the self-sacrificial female lead: In Padmaavat, Deepika Padukone, has to resort to jauhar to protect the honour of her kingdom. In Raazi, Alia Bhatt's Sehmat, feels compelled to subscribe to the "good Muslim" trope. And in Kedarnath, Sara Ali Khan's Mukku, is forced by her family to marry someone she doesn't love. The year has also seen films like Thugs of Hindostan, Soorma, and Stree in which female leads were sidelined. And there were films like Bhavesh Joshi: Superhero, Omerta, Satyameva Jayate, and 102 Not Out, that didn't even have a female lead.
Yet, there seems to be a general consensus on one thing: 2018 has been the year female actors have been granted extended screen time. But is it fair to assert that Bollywood has been inclusive of women this year, without looking at the representation of women behind the scenes?
In 2018 for instance, the Hindi film industry churned out a total of 112 feature films – 102 films released on the big screen and 10 that secured a digital release (films like Love Per Square Foot, Lust Stories, and Laxmi and Tikli Bomb). Of these 102 films, only 22.5 per cent boasted of at least one female lead – the remaining 77.5 per cent were headlined by men. A grand total of nine films featured only female leads; these are Pari, Hichki, Raazi, Veere Di Wedding, 3 Storeys, Love Sonia, Pataakha, Helicopter Eela, and Pihu.
In Bollywood, designations such as "music director" and "lyricist" are still predominantly reserved for men.
Moreover, a mere 19.6 per cent of the films were written by women, 13.7 per cent were edited by women, and only 5.8 per cent were helmed by a female director. The year has seen only four female music directors (Rachita Arora for Mukkabaaz, Kanika Kapoor for Bazaar, Sneha Khanwalkar for Manto, and Jasleen Royal for Hichki), and just 3.8 per cent of the year's songs have been written by female lyricists. The numbers are a testament that designations such as "music director" and "lyricist" are still predominantly reserved for men.
Another technical department that still continues to remain primarily masculine is cinematography: Out of 102, only one film (Hate Story 4) was shot by a woman.
The picture doesn't get better if you zoom in on the year's top 25 films. Just four of these films (Pari, Hichki, Raazi, Veere Di Wedding) featured all-women leads. It's a slight increase from last year, where only three of the year's top 25 films (MOM, Lipstick Under My Burkha, Tumhari Sulu) were female-led. On the bright side, the industry's archaic sexism against offering leading roles to married women seemed on the wane: In 2018, 28 per cent films were headlined by a married actress, as compared to 16 per cent last year.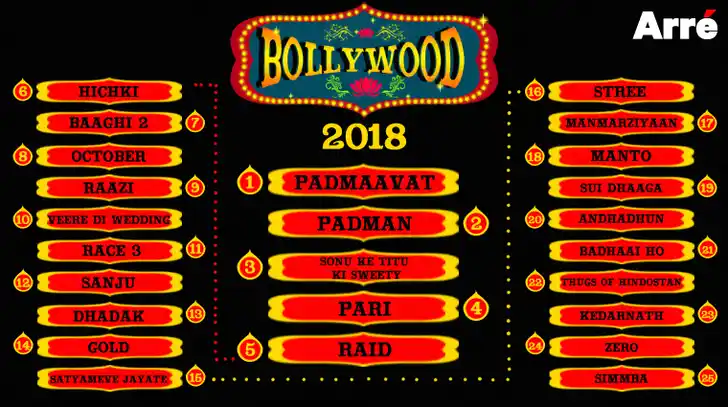 A list of the year's top 25 Hindi films.
Yet, that surge is inconsequential when you note Bollywood's bias towards married male actors: At least 52 per cent of the year's top 25 films were headlined by married men, standard fare for Bollywood. Only three of the year's biggest films (Andhadhun, Badhaai Ho, Veere Di Wedding) featured women who were older than their male counterparts. The business of objectification also soared as seven of the year's top 25 films included an "item song". In fact, two of the year's biggest hits, Stree and Sonu Ke Titu Ki Sweety. comprised two item songs each.
What's even more disheartening is that the numbers have actually dipped from last year. Only 12 per cent of the year's top 25 films had a woman director as compared to last year's 16 per cent. The number of films written by women also went down from nine to eight. It's also a dip for women editors, directors of photography, even producers. Moreover, only two of the year's top 25 films boast of a female music composer and just eight films have songs written by a female lyricist.
Meanwhile, there seems to be a massive disparity between the number of solo songs sung by male singers and female singers. Out of the 154 songs in the year's top 25 films, eight are solo songs sung by Arijit Singh alone. His closest female competitor is Sunidhi Chauhan, who sang two solo songs. In fact, it's only when you add up the solo songs sung by Chauhan, Rekha Bhardwaj (two), Shilpa Rao (one), Shubha Mudgal (one), Monali Thakur (one) and Shreya Ghoshal (one), that you get a total of eight songs. Clearly, Bollywood is yet to find itself a female Arijit Singh.
Basically, the representation of women in the seven main film departments (writer, editor, director, producer, music director, lyricist, cinematographer) has been dismal. Only four films – Manto, Raazi, Hichki, Gold – out of the 25 meet three of these criteria. It's not difficult to glean why: They're all films where a woman is in charge. Only one film meets four criteria. (VDW had a female writer, editor, producer, and lyricist).
The full extent of this latent sexism is best evidenced in the first posters of the year's top 25 films. A first poster, which comes out even before a trailer is released, is sacrosanct in defining the film. And if the year's posters are any proof, most Hindi films seem to be marketed only to men.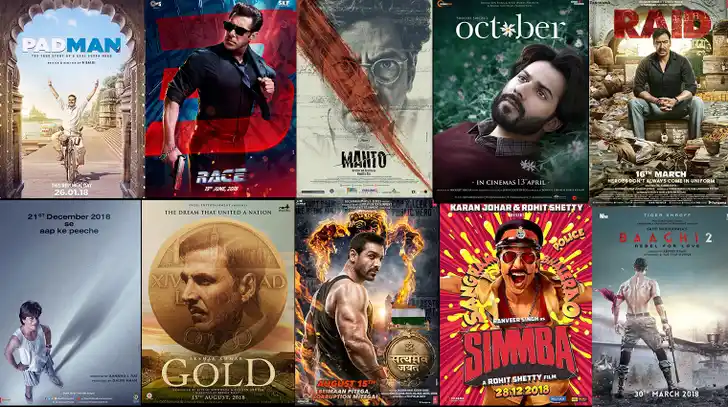 The first poster of eleven of the year's biggest films have no women. Not included in the collage is the first poster of Sanju that has five versions of Ranbir Kapoor.
This year, 44 per cent of first posters feature no women at all, a significant jump from last year's 32 per cent. Most of these films are big-budget superstar-led films, where the female leads are anyway reduced to props.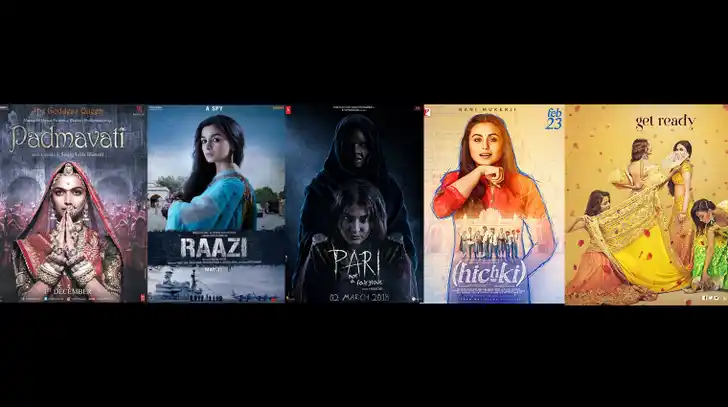 Only five films released first posters that feature only women.
In contrast, 20 per cent of the year's posters have only female actresses dominating the frame. Are women-backed films then the only way for actresses to take centre-stage?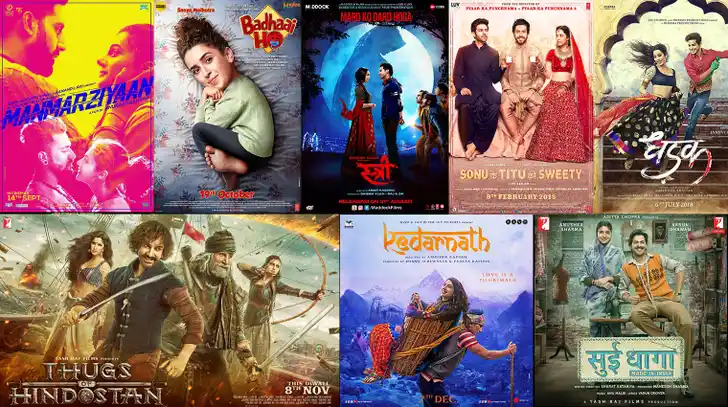 Just eight films have both the leads on their first posters.
And like last year, 32 per cent of the year's posters allow a woman to command equal or supporting space. (Sriram Raghavan's Andhadhun had a rare poster with no leads)
So, coming back to the question that everyone seems to be invested in: Has 2018 been a good year for women? The numbers don't lie and the answer is clear: It's going to take a long time before Bollywood can accommodate women – actresses, but also those behind the scenes – and open up opportunities on par with men. After all, female representation on screen is futile without inclusivity behind the scenes. Surely Bollywood can do better?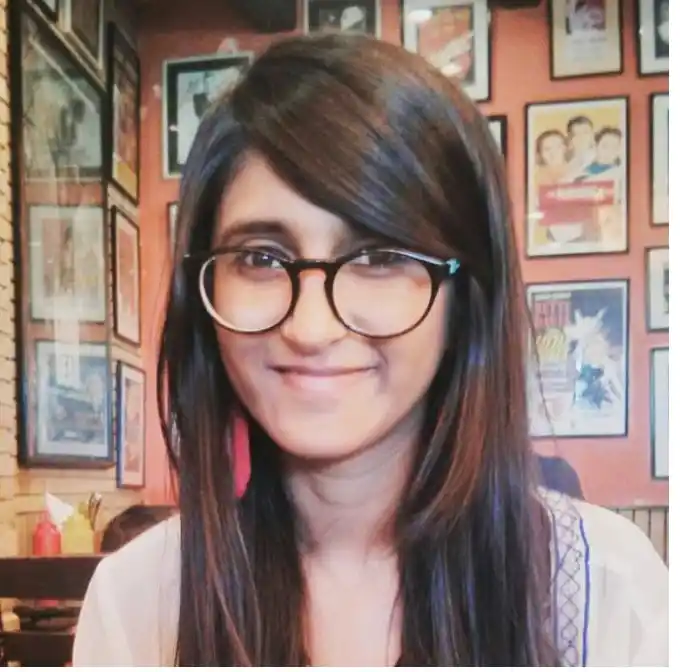 When not obsessing over TV shows, planning unaffordable vacations, or stuffing her face with french fries, Poulomi likes believing that some day her sense of humour will be darker than her under-eye circles.