On Republic Day, we look back at Rajiv Rai's cult classic Vishwatma, where Bollywood took deshbhakti to the diaspora. The film, which released 28 years ago, gave us the greatest masala national integration song, "Dil le gayi teri bindiya," and reminds us of a time when no one was asked to prove their patriotism.
In Diwali Dilwale Dulhania Le Jayenge when Amrish Puri's Chaudhary Baldev Singh walks the streets of London with "Ghar aaja pardesi" playing in the background, it made many a NRI weep. Had the film released today, in an age of hyper-nationalism, his unfading bond with his desh and mitti would have made him the perfect desi boy to Priyanka Chopra's desi girl.
But three years prior to being the adarsh pardesi – feeding pigeons at Trafalgar Square and reminiscing about Punjab – Simran's bauji was a naughty NRI. In Rajiv Rai's 1992 cult classic Vishwatma, Puri played Azghar Jurhad, a suave Kenyan-Indian businessman. He is a reputed figure in the African nation but discreetly operates a notorious criminal organisation in India called the Blue Panther. Trimurti Films: 1. Marvel Studios: 0.
Jurhad is a duplicitous deshbhakt. He celebrates Bharatiya Ekta Divas with his desi brethren in Kenya while printing fake Indian currency notes in his den. "Yahaan main Bharat ka deshbhakt kehlaaunga aur wahaan main desh ko bhrasht karunga," he chuckles deviously.
Though Tridev (1989) was Rajiv Rai's bigger box office draw, Vishwatma, to me, is wackier and more entertaining of the two, thanks to the outlandish characters, a superlative soundtrack that outlived its era, and some campy dialogues about deshbhakti.
He celebrates Bharatiya Ekta Divas with his desi brethren in Kenya while printing fake Indian currency notes in his den.
In the film, an honest police officer, Prabhat Singh (Sunny Deol), is sent on a secret mission to Kenya to capture Azghar. Prabhat's sidekick being Akash (Chunkey Pandey), the estranged brother of Azghar's slain rival. Their point of contact in the foreign country is Surya Pratap (Naseeruddin Shah), a Kenyan supercop with Indian roots. Surya Pratap's heart beats for his desh proving not all patriots wear khadi – some wear khaki and inflict maximum damage.
While Surya Pratap is unaware of the true intent behind Prabhat and Akash's visit, the duo meets Renuka (Sonam, not Kapoor), whose newly-wed sister was raped by Azghar's son and her brother-in-law; Akash's brother is killed by Azghar. Not complicated at all. Together they vow to bring their dastardly nemesis down.
Their quest leads them at a discotheque run by Azghar's henchmen where they find Kusum (Divya Bharti), a girl Prabhat had refused to marry, dancing. She had decided to follow him out to Kenya and explains her motive by cannily singing, "Saat samundar paar main tere peechhe peechhe aa gayi." What's love without some good old, filmi-style stalking? Thank goodness for visa on arrival.
This high-risk mission is jeopardised when Prabhat and Akash are apprehended by Surya Pratap who believes they are harassing a respectable citizen. He labels their conduct as "Bharat ke sheesh ko neeche jhukana." Manoj Kumar would be proud.
But Surya Pratap is in for a rude shock when he discovers his late wife had committed suicide after being molested by who else, but Azghar's rapey son, Rajnath. Remorseful, he unites with his Indian friends to defeat Azghar and gang. The final showdown is classic '90s single-screen stuff. There's the trippy track "Toofan" hinting at the evil empire's imminent fall, heroines shimmying in sexy outfits they so conveniently scored from the villain's lair, and a head-spinning chase sequence with multiple cars banging into each other that's bound to give Rohit Shetty an identity crisis.
No one was asked to prove their patriotism and no one said, uska patriotism mere patriotism se safed kaise.
In spite of a brooding Deol flaunting his dhaai kilo ke haath in sleeveless vests, Vishwatma's scene stealer are its flamboyant villains. His ridiculously catchy name notwithstanding, Azghar Jurhad is one of Amrish Puri's most fun roles. He mouths epic lines like these: "Azghar kise kab aur kahaan nigal jaata hai, yeh toh marne waale ko bhi pataa nahin chalta." The ruthless crime kingpin is a swanky dresser, smokes expensive cigars, sports a shoulder-length silver mane, and isn't shy to shake a leg – basically, a '90s' Mallya. A furious-looking Azghar breaking into a silly dance and screaming in Swahili in between "Toofan" is perhaps Vishwatma's greatest moment.
This '90s villains starter pack also has Azghar's younger brother Naagdansh – literally the loudest villain ever – who screams right into everyone's eardrums, serial rapist son Rajnath, and future son-in-law Tapasvi Gunjal. The mullet-sporting, flute-playing "kalyug ka Kanhaiya" Tapasvi (Gulshan Grover) is a craven creep. He is also the greatest speaker of Hindi in Bollywood history since Chupke Chupke's Pyare Mohan Allahabadi. And then, Azghar's operatives in India – the troika of Nilu Brothers – Bada Nilu, Majhla Nilu, and Chhota Nilu. While the Wright Brothers invented the first successful airplane, our very own Nilu Brothers smuggled an ingenious dye that prints fake Indian 100-rupee note. Where's demonetisation when you need it?
Rajiv Rai's films are known for their high style quotient and Vishwatma is top-shelf stuff. The flashy aesthetic, delightful sights soaked in the united colours of Kenya, leering baddies in bathrobes, and the bling happy heroines with fabulous hair make it a glamorous, escapist fare.
In its dollops of OTTness, Vishwatma is a capsule from a time Bollywood heroines followed their men around like lovesick puppies, the heroes could beat up a dozen men, and there was no internet to tell you that your favourite hits were rip-offs. Imagine growing up and being flabbergasted by how deeply the Pet Shop Boys and New Kids on The Block influenced this film's music. Et tu, Viju Shah?
It's all that, and some desh prem.
Today, with Naseeruddin Shah disillusioned with the state of India and hounded by new-age patriots for saying so, Vishwatma reminds us of more innocuous times – Shah in a silk dhoti-kurta and Mysore peta cheerfully singing "Main kahin bhi rahun iss jahaan mein, mera dil hai Hindustan mein," in "Dil le gayi teri bindiya", the greatest masala national integration song. A time when both desi and pardesi could love India, sing about it and be merry. No one was asked to prove their patriotism and no one said, uska patriotism mere patriotism se safed kaise.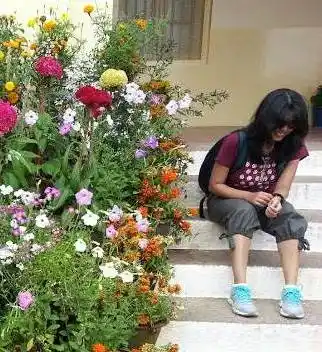 There's Master Bittoo, there's Master Raju, and there's Master Rajoo — who is not Master Raju and is Master Bittoo's big brother. The writer lives for random film trivia like this.