Uday Chopra's Twitter timeline is not only high AF, but it is also an insight into what his legacy is likely to be: His staunch self-awareness. The 46-year-old's social media interactions are the gold standard in how to deal with trolls. His acting career might be over, but he can offer Indian celebrities a crash course in how to wear fame lightly.
I'd forgotten I own a VCD (remember those?) of 2004's heist-action-thriller Dhoom. It caught my eye while I was in the middle of my year-end cleaning ritual last week. Perched next to the equally dusty Koi… Mil Gaya and Swades VCDs, the film's cover stood out. As I peered at a fresh-faced Ali (Uday Chopra's character in the film), I realised that the Dhoom series remains the only taste of Bollywood success that ol' Udi Chops tasted.
The first time I watched Dhoom was with a bunch of my Class VIII classmates in the chhapri matinee aisles of Chandan Cinema. Ali drew uproarious applause and whistles from said chhapris with his bantai lingo – "Excuse me to please" and "Ali toh say tum yeda hai". Dhoom was a hit but somehow the Chopra scion – Yash Chopra's son – couldn't quite lift the expectations we had thrust upon his brawny shoulders.
What possibly could have gone wrong? He had won the genetic lottery, was offered scripts on a silver platter, and when he made his debut, the family business was already in good hands with his elder brother and hater of public appearances, Aditya Chopra.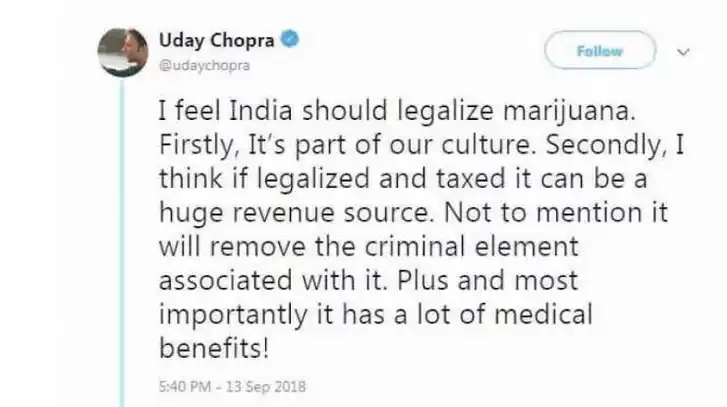 Some attribute Uday Chopra's below-average Bollywood success to his sub-par acting, others to his rough-around-the-edges looks, and some to his inability to work outside the Chopra clan. Despite making a dream debut in Mohabbatein, Chopra never fully seemed to find his footing in Bollywood. After a smattering of high-profile multi-starrers that did underwhelmingly at the box office, his solo hero turns in the spunky Neal 'n' Nikki and ambitious Pyaar Impossible were also poorly received.
Chopra knows that everything in life is fleeting – success, loss, fame, notoriety.
In fact, in 2013, Uday had hinted that Dhoom 3 might have been his last hurrah (he hasn't been seen on screen since), and that his acting career is behind him, choosing to focus on directing and producing instead. Which is great, and he seems to be doing amazingly for himself, with his recent Emmy nomination. But even if he does go on to reach the heights his father achieved, I believe Chopra's legacy will likely be something else: His staunch self-awareness. Chopra knows that everything in life is fleeting – success, loss, fame, notoriety. And the only way to avoid getting carried away by your stardom is to accept that one day it will all go away.   
The 46-year-old's interactions on Twitter aresn't just high AF – they are also the gold standard in how to deal with trolls. If you follow his Twitter timeline, you'll realise he isn't vile or nasty and that's probably because he believes "trolls are people too, they have a job to do and it's ok".
Yet, Uday Chopra gets the short end of the stick as compared to his far-less accomplished peers like Tusshar Kapoor or Jackky Bhagnani. A darling of the so-called anti-nepotism brigade, his Twitter timeline is rife with unjustified remarks about his career, mindless body-shaming, and downright insensitive criticism about his love life. And some trolls are simply loathsome. Someone called him a prostitute to which a calm Chopra replied, "There's nothing wrong with being a prostitute. It's the oldest profession in the world."
But trolls are impossible to get rid of. The joke on Uday Chopra is a timeless one and yet he takes it all with a pinch of salt. When recently asked, "Uday bhai, are u working on any films right now?", he responded with "Yes. It's called 'No film'" directed by "No one will cast me" produced by the famous "I'm not an actor."
My personal favourite is when he responded to a troll asking him to "be useful in life" with a deadpan, "That ship has sailed." Maybe this is the nihilist in me talking, but that's the most self-effacing I've seen anyone from Bollywood be.
Apart from the wit, it is Chopra's concerted support of causes he believes in – his advocacy of legalising weed and subsequent beef with Mumbai Police – that makes him stand out in a politically correct Bollywood. This, and his ability to just be himself.  
In an industry where people are more plastic than flesh, it's no surprise that most have-beens tend to go a little overboard while holding on to what they consider "their aura". Botched lip jobs, henna-coloured beards, forced flamboyance, and incessant selfies with more important stars, are proof. In the midst of this, we have Uday Chopra, as refreshing as a new day (NewDay Chopra?) – a man who spent 10 years of his life trying and failing as a leading Bollywood hero. Once a mainstream masala representation of six-pack abs, he's now let himself breathe easy.
So if Uday Chopra is to be believed that his acting career is truly over, I really hope he considers a career in educating Indian celebrities and offers a crash course in "How to not take your stardom so seriously 101." That's the one role he's really winning at.

Masking anxiety with humour. Living with his dog, cat, and mediocrity. Creating content aur life se kaafi discontent. Tweeting as @juvenile_jack.