Sushant Singh Rajput's team has launched a website dedicated to the actor. It is a collection of his thoughts and learnings.
Until Sunday, most of us only knew of Sushant Singh Rajput, the actor. His untimely death on Sunday introduced us to a Singh very few had met. The 34-year-old was enamoured by astrophysics and the workings of the universe. An avid reader and deep thinker, he was unlike most Bollywood heroes.
In a fitting tribute to the actor, his team has now created a space that honours Rajput for the passionate dreamer and curious science nerd that he was. It has launched a website called "Self Musing", which is a collection of his ideas and dreams, glimpses of which you can get from his Twitter and Instagram profiles.
The heartwarming news was shared with the fans via Singh's verified Facebook page: "He is away but he is still alive with us. Kickstarting #SelfMusing mode," the team wrote.
"Fans like you were real 'godfather' for Sushant. As promised to him, converting this space into a collection of all his thoughts, learnings, dreams, and wishes, he always wanted people to know," it added.
The online keepsakes of Rajput's musings, his love for poetry and the universe, and a profile of his images is telling of the legacy of a hardworking, bright young man. It is a document of "all the positive energies he has left behind in this world".
While the website is still undergoing development, the landing page will greet you with inspiring quotes from the actor each time you refresh the page.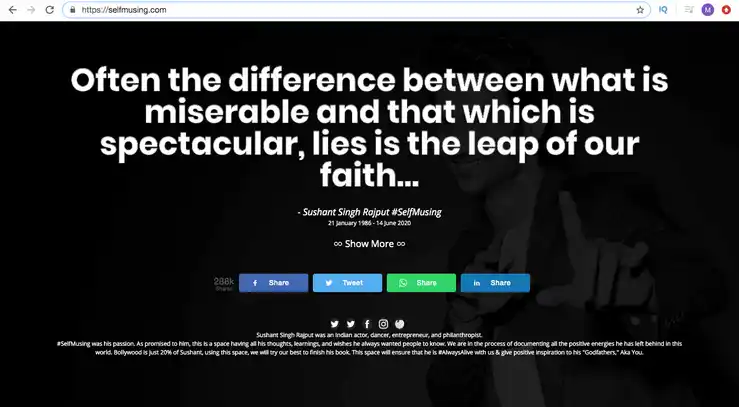 Since his passing by suicide, Rajput's bucket list comprising of 50 wishes has gone viral. From wishing to learn "how to fly a plane" to wanting to "work in AI & exponential technologies", the sky was the limit for him.
My 50 DREAMS & counting…! 😉
————————
1. Learn how to Fly a Plane ✈️ 2. Train for IronMan triathlon 🏃🏻‍♂️
3. Play a Cricket Match left-handed 🏏
4. Learn Morse Code _.. 5. Help kids learn about Space. 🌌
6. Play tennis with a Champion 🎾
7. Do a Four Clap 👏 Push-Up ! (1/6) … pic.twitter.com/8HDqlTNmb6

— Sushant Singh Rajput (@itsSSR) September 14, 2019
8. Chart trajectories of Moon, Mars, Jupiter & Saturn for a week
9. Dive in a Blue-hole
10. Perform the Double-Slit experiment
11. Plant 1000 Trees
12. Spend an evening in my Delhi College of Engineering hostel
13. Send 💯 KIDS for workshops in ISRO/ NASA
14. Meditate in Kailash pic.twitter.com/x4jVGp4UJS

— Sushant Singh Rajput (@itsSSR) September 14, 2019
15. Play Poker with a Champ
16. Write a Book
17. Visit CERN
18. Paint aurora borealis
19. Attend another NASA workshop
20. 6 pack abs in 6 months
21. Swim in Cenotes
22. Teach Coding to visually impaired
23. Spend a Week in a Jungle
24. Understand Vedic Astrology
25. Disneyland pic.twitter.com/SImtmgMAcm

— Sushant Singh Rajput (@itsSSR) September 14, 2019
26. Visit LIGO. 🌇
27. Raise a horse 🐎
28. Learn at least 10 Dance forms 🕺🏾🕺🏾
29. Work for Free Education 📚
30. Explore Andromeda with a Powerful Telescope 🔭
31. Learn KRIYA Yoga 🧘‍♂️
32. Visit Antarctica 🇦🇶 33. Help train Women in Self-defense 🥋
34. Shoot an Active Volcano 🌋 pic.twitter.com/iKSZsFv206

— Sushant Singh Rajput (@itsSSR) September 14, 2019
Learn how to Farm
36. Teach dance to kids
37. Be an Ambidextrous Archer
38. Finish reading the entire Resnick – Halliday physics book
39. Understand Polynesian astronomy
40. Learn Guitar Chords of my fav. 50 songs
41. Play Chess with a Champion
42. Own a Lamborghini pic.twitter.com/bnVoLcFaij

— Sushant Singh Rajput (@itsSSR) September 14, 2019
43 Visit St.Stephen's Cathedral in Vienna
44 Perform experiments of Cymatics
45 Help prepare students for Indian Defence Forces
46 Make a documentary on Swami Vivekananda
47 Learn to Surf
48 Work in AI & exponential
technologies
49 Learn Capoeira
50 Travel through Europe by train pic.twitter.com/PiSF7Gtayl

— Sushant Singh Rajput (@itsSSR) September 14, 2019
The initiative to share positivity during these difficult times, has been received with much love and appreciation from his fans. It's an extension of Rajput's life that was cut short and a ray of hope that will continue to illuminate the lives of many.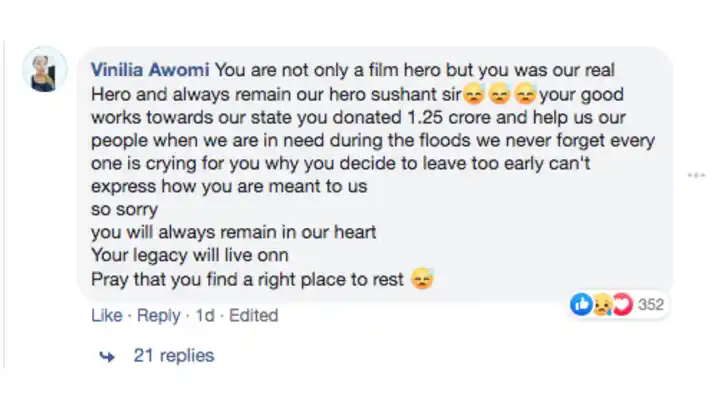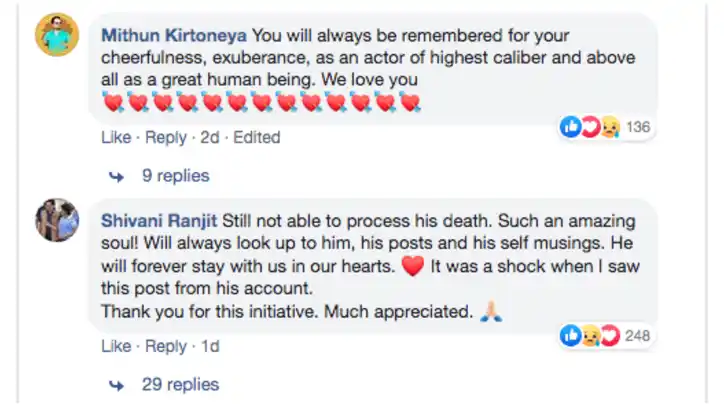 Sushant Singh was one of the few actors who successfully transitioned from television to the big screen. The actor who made his Bollywood debut with Kai Po Che! went on to star in memorable films like MS Dhoni: The Untold Story, Detective Byomkesh Bakshy!, and Sonchiriya among others. Last year, he also starred in Chhichhore, a movie that ironically dealt with the subject of mental health and suicide.
For his most loyal fans, however, who have accompanied him through his journey Sushant Singh Rajput will continue to live on as Pavitra Rishta's boy-next-door with big dreams.
Shine on, Sushant!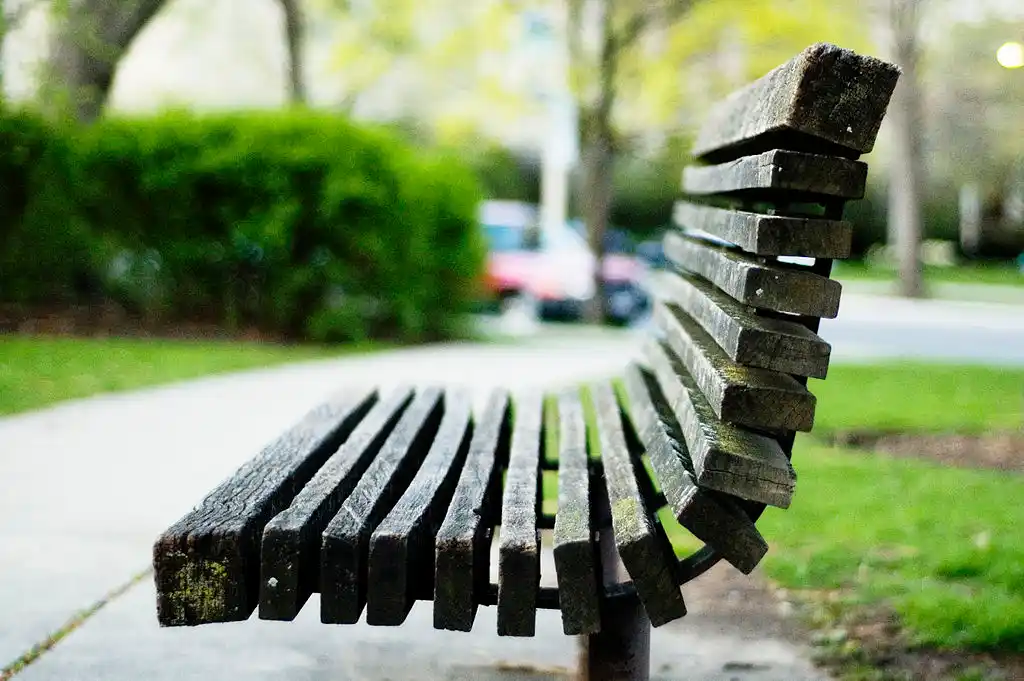 The Arré bench delivers stories that mattress. It hasn't achieved much sofar. But it's getting bedder.