Sharat Katariya's Sui Dhaaga falters in several places, but it shines when the spotlight is on its women. In a film about dignity of labour, Katariya's mastery is most evident in parts where the focus is on the immense emotional and domestic labour every married small-town woman inevitably shoulders.
If you blindly walk into Sui Dhaaga, chances are that you'll find it impossible to recognise that Sharat Katariya directed – or even wrote it. Three years after he made Dum Laga Ke Haisha, a sublime romantic comedy that articulated the frustrations of small-town men, having to bear the weight of masculinity, Katariya returns with another small-town setting. Except, this time around, Sui Dhaaga looks like a sanitised, dishonest, and a predictable offering from the Yash Raj stable – embroiling itself in every cliche Katariya's debut consciously distanced itself from.
Set in Chanderi (the second film this year after Stree), Sui Dhaaga revolves around a modest family of tailors and craftsmen who've given up their calling and taken up odd jobs to survive. Mauji (Varun Dhawan), his wife Mamta (Anushka Sharma) and his parents (Raghubhir Yadav and Yamini Das) live together in a small house, where privacy, space, and money are all a distant dream. It's also why Mauji and Mamta's marriage is stunted – they're domestic partners instead of life partners.
The film charts Mauji's journey from being an ill-treated assistant at a city shop to him fulfilling his entrepreneurial dreams. Naturally, the road to starting his own tailoring business is fraught with the obvious villains – poverty, an ailing parent, scheming urban middlemen, family feuds, and a fashion show competition where they're the bumbling underdogs on the ramp.
You don't need to sit through 120 minutes to know how it unfolds, given that the narrative is hardly novel. It also doesn't help that Dhawan, the film's lead, is evidently sloppy. He's either over-emoting or not emoting at all, managing to hit the right note in rare scenes. If anything, it underlines just how much of a misfit Dhawan is in Katariya's universe – there are several moments where you almost yearn for an Ayushmann Khurrana, Rajkummar Rao, or a Vicky Kaushal to steer the plot to its destination.
Even more puzzling is Katariya insisting on fixing an urban gaze for most of Sui Dhaaga – a strange choice for the director, who's adept at bringing alive the nuances of small-town India. As a result, the film's climax loses its grip, eventually ending in a victory that feels created, not earned.
That's not to say that Sui Dhaaga doesn't have its flourishes: "Chaav Laga" is shot with the kind of tenderness that is bettered with every viewing. The film eloquently captures the small intimacies between a husband and wife, who respect each other, but aren't allowed to express their affection. Like in DLKH, Katariya gets the interpersonal relationships down pat, like how the "phulka roti" is always served to patriarch of the house, how the barter-system with neighbours involve a cup of tea and samosa, and how Mamta relies on her mother-in-law to communicate her feelings to her own husband.
Katariya's mastery is most evident when he translates the burden of emotional and domestic labour every married small-town woman inevitably shoulders.
In fact, the few moments where we get to relive Katariya's sharp directorial voice is in the film's treatment of its two female leads – Mamta and her mother-in-law. In a film where the overarching theme is dignity of labour, Katariya's mastery is most evident when he translates the burden of emotional and domestic labour every married small-town woman inevitably shoulders. In the film for instance, Mamta and her mother-in-law begin their days much before their husbands – when they wake up at 9 am, the two women have already filled water and made six cups of chai. Several scenes where newer tasks are dumped on Mamta even before she's finished the ones preceding them, drive home this very reality. Especially in one hilarious scene, where Mamta's hand gets stuck inside a jar of achaar (pickle) inside a hospital and amid a tragedy. 
Like Sandhya in DLKH, even Mamta is practical, strong-headed, and helps Mauji navigate his ambitions and feelings, matching him step by step. Sharma, an inherent over-emoter, restrains her own vividness, balancing Mamta's meekness and her self-reliance and Sui Dhaaga is proof of her versatility. Even, in scenes where Mamta is required to smile, we don't see the wide-eyed smile we've naturally come to expect from the actress; instead, her face barely contorts. 
A few minutes into the film, Mamta's mother-in-law suffers a heart attack, but instantly goes back to the kitchen after her surgery. Years of unconditional domestic labour has put her on autopilot: Even when she collapses on the floor, her first thought is of her kitchen. It's probably why she doesn't make a big deal about her daughter-in-law heading out to work and respects her ambitions – because she doesn't want Mamta to end up like her in a few years. That's the "Made in India" story that Sui Dhaaga should have focused its lens on.
For it's in these moments that the director deftly highlights how emotionally dependent small-town men are on their wives, especially for their emotional needs. And Sui Dhaaga makes you wonder, what really stopped Sharat Katariya from making these women the crux of his film?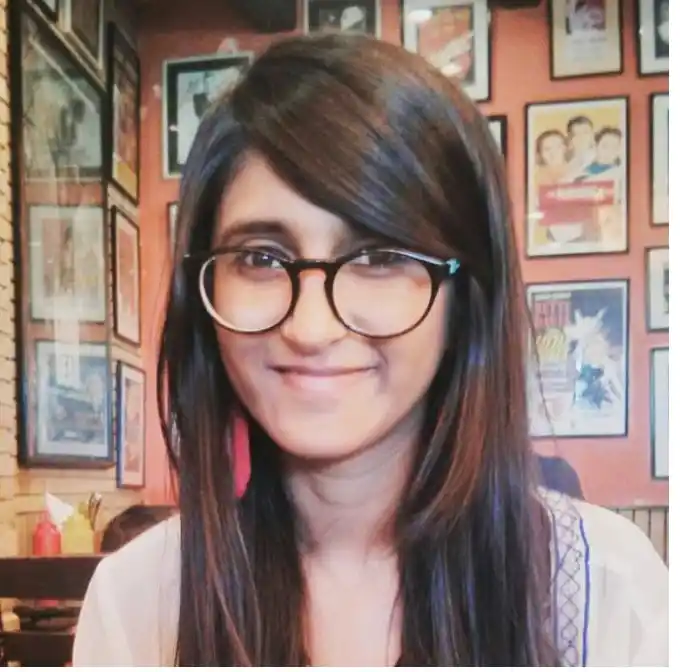 When not obsessing over TV shows, planning unaffordable vacations, or stuffing her face with french fries, Poulomi likes believing that some day her sense of humour will be darker than her under-eye circles.