In the late '80s and '90s, Bollywood witnessed the Age of Overstatement and Sridevi was its leading light: A classy embodiment of this period dominated by mismatched outfits, bouncy hair, and pelvic thrusts.
When I was 14 years old, all I really wanted to do was flip my hair and rotate my hips like Sridevi in "Hawa Hawai". I also wanted to wield a whip while wearing a pink headband with a bow like Manju in Chaalbaaz. And I was convinced that I would be the object of affection for all my crushes if I could dangle a piece of hay between my teeth as seductively as she did in "Kaate Nahin Kat Te." I think I even practiced with a straw a few times.
What attracted my generation to imitate the various personas of Sridevi was the very thing that made her stand out – her larger-than-life existence. Normal people living normal lives didn't just go "Shoo" at a cockroach, bid creditors farewell with a "Ok! Tata! Bye, bye, chee you, sayonara!", or articulate revenge while singing "Main teri dushman, dushman tu mera" as a snake. This wondrous oddity was her USP, inviting teenage girls like me to wallow in the escapist daydreams it was capable of granting.
If internet lingo were used in the '90s, Sridevi would have been given the pejorative millennial label of "extra". To those not in the know, "extra" means just that – needlessly over the top. During the time, nice girls (especially those in my family) were never afforded the luxury of being OTT. For we were a generation trained to be reined in and never emulate the dramatic world of Bollywood, especially not its actresses.
But Bollywood in the late '80s and '90s witnessed the dawn of the Age of Overstatement and Sridevi was its shining light. To me, Sridevi was a fabulously classy embodiment of this period in cinema that was dominated by mismatched outfits of all colours; big, bouncy hair; dance moves that centred solely around the pelvis and bosom. This was also a period when love meant dancing jerkily in the rain and never giving up until one or both of you were dead or turned into naagins.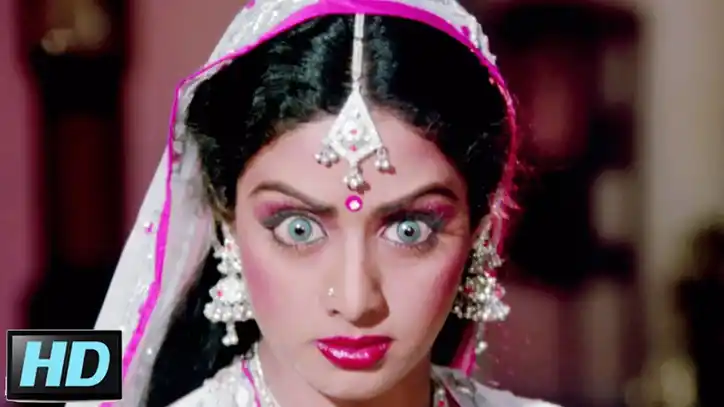 What attracted my generation to imitate the various personas of Sridevi was the very thing that made her stand out – her larger-than-life existence

Screengrab from YouTube
It was the decade when Raveena Tandon sat high on the collective imagination after having breast-heaved her way in a rain-soaked yellow sari through an entire song sequence in Mohra, the idea for which had been seeded by none other than Sridevi in Mr India. Only, the colour of her saree was blue. It was also the decade where Rekha wore a pink jumpsuit, accessorised it with a chandelier on her head, and gyrated in Khoon Bhari Maang after Sridevi had worn a golden jumpsuit and a matching chandelier on her head in "Hawa Hawai" just a year prior. The extra-ness of this decade wasn't just a sideshow, it was the very norm.
The outfits worn by these actresses also catered to the wonderful excesses of this period – the lurid jackets and dresses trimmed like lampshades, the surreal accessories, the glossy lipsticks, and jewellery slinking off necks and wrists. On paper, they sounded ludicrous and almost needless, but on screen, all one sensed was exuberance and sheer fun. And Sridevi personified every inch of this.
Back in the day, I had my own little OTT tradition. I'd come back from school, put on my audio cassettes of Mr India or Chaalbaaz because… "Kisi ke Haath Na Aayegi Yeh Ladki"… and dance all over my room. For that one hour, I didn't have to be nice or be policed into pretending that I wasn't immensely enjoying the overstatement myself. My inner "Bijli Girane Main Hoon Aayi" goddess was up and roaring.
But the '90s have faded, as has the Age of Overstatement. Almost all of the '90s heroines were unable to shed the varying degrees of overstatement that they were made to embody in their roles back in the day. Madhuri Dixit would forever be the "Dhak Dhak" girl, Rekha forgot about her career and focused on her kanjeevaram sarees, and Raveena Tandon retired into motherhood.
But not Sridevi.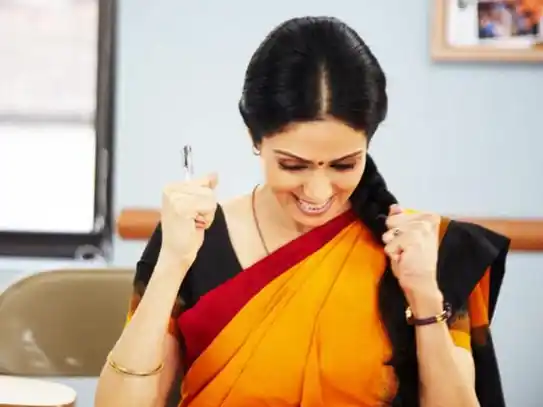 With English Vinglish, Sridevi proved that she could wear the crown of overstatement as easily as she could strip herself off of it

Image credit; Hope Productions
After spending 15 years away from the movies, Bollywood's first female superstar effortlessly shed her "Hawa Hawai" image to carve out a striking portrait as an actress who didn't need a dose of overstatement to remain a star. In English Vinglish, her comeback film, Sridevi played Shashi, a middle-aged, under-confident housewife, who is mocked by her family for not knowing English. It was a role as far removed from her vivacious on-screen personality as it was uncomfortably close to her reticent off-screen persona.
And yet, she found takers.
In doing so, Sridevi not only ended up being the only heroine who had successfully chartered a second coming in Bollywood, but also one who could wear the crown of overstatement as easily as she could strip herself off of it. Had she lived, she may have been the first senior actress to take on powerful roles suited to her age, full of dignity and strength.
Now, 15 years later, I no longer bounce around my room. My hair, hip-length and unabashedly romantic, is now in an impatient millennial topknot and "Navrai Majhi" is more my groove than "Hawa Hawai". We've all outgrown the Age of Overstatement but we will never outgrow its fond memories. And when Manju wields a knife and gives Amba a makeover in Chaalbaaz, we will still ROFL.  
With inputs from Poulomi Das