Back in 1981, 26-year-old Soni Razdan debuted with a small role in 36 Chowringhee Lane, a film that revolves around a lonely, older woman. Today, Razdan is 62. Life has come full circle: This week, she stars as the lonely, older woman in Sanjoy Nag's Yours Truly.
The first thing that strikes you about Soni Razdan is that she's unbelievably loquacious. She doesn't ration praises for daughter Alia Bhatt, calling her a "huge superstar" and is ready with answers even before I can finish the question, almost as if aware that she has had to wait for her time in the sun for an inordinately long time. Yet Razdan rolls her eyes every time the term "comeback" comes up in conversation. "I think I have been coming back for the past 25 years," she tells me, as we chat at a plush suburban club in Mumbai, describing herself instead, as a "struggling actor who has been around for a while".
The actress has good reason to be averse to the comeback theory: It's a term that she believes has been overused for every older actress who has challenged Bollywood to remember that age has little to do with talent. Yet her biggest grouse is that a "comeback" implies that her absence from films was in her control. Usually, a female actor's comeback – at least in the Hindi film industry – suggests that it was preceded by a period when she had once become unavailable or unreachable. "I never went anywhere. I was right here. But I was still not offered any roles," Razdan argues, not ready to absolve the industry of any responsibility for forgetting her.
Born in the UK to a German mother and a Kashmiri father, Razdan, a trained actor, made her feature film debut with Bengali auteur Aparna Sen's 36 Chowringhee Lane in 1981. Sen's critically acclaimed film took an unflinching look at the societal neglect of Violet Stoneham, a lonely, older woman whose existence was rendered uneventful by the world around her. In the film, Razdan had a supporting role as Stoneham's young niece – she was 26 years old at the time.
Today, Razdan is 62.
A lifetime seems to have passed. Life has even come full circle: This week, the actress will not just be part of a film that revolves around another lonely, older woman but will also star in it as its lead protagonist. In Sanjoy Nag's Yours Truly – adapted from a short story by Annie Zaidi – Razdan plays 57-year-old Mithi Kumar, a government employee who refuses to be defined by her solitary existence or the pessimism it accompanies, searching instead for love.
Like Sen in 36 Chowringhee Lane, even Nag paints a visceral portrait of the crushing loneliness that haunts a middle-aged single woman. But Yours Truly differs from Razdan's debut on one crucial aspect: Its female lead hasn't resigned to the fact that she's long crossed the expiry date on finding love; Mithi Kumar yearns to be seen, held, and touched by a companion, much like Ratna Pathak Shah's Buaji in Lipstick Under My Burkha. Razdan brings a quiet tenderness to the role with her vacant eyes that lends Mithi's struggle for a human connection, unimaginable vividness.
With Yours Truly, Razdan is ready to and carve her own identity as an actor who also happens to be Alia Bhatt's colleague.

Image credit: ZEE5
Mithi Kumar isn't a role that finds its way to older female actors everyday and Razdan is only too aware of it. "At my age, it's not very often that a filmmaker says that you're going to play a lead role in his film. In fact, this was actually the first time in my career that I got the chance to be the central protagonist who drives the story forward. What an opportunity. I could have never passed it by," she adds, sounding almost surprised that she wasn't offered yet another role that involved her playing a pained mother, who had more tears than dialogues.
Two years ago, Razdan's second coming in Bollywood could be attributed to one such role. In Meghana Gulzar's Raazi, she played Teji Khan, a helpless Kashmiri mother whose daughter, Sehmat is sent to Pakistan as an Indian spy. The fact that Sehmat was played by her own daughter made the casting decision seem gratifying, yet this real-life connection was a double-edged sword: It took away from Razdan's brief performance, reducing it to mere fan service. Was the actress not skeptical of being typecast only as "the mother" once she signed Raazi? "I don't mind playing a mother as long as I get work. I was actually delighted that someone had offered me a role after so long." "Cast me as all mothers in the world," Razdan exclaims, half-jokingly.
A year before Raazi, when Razdan made her return to TV with the short-lived Love Ka Hai Intezar, she played both mother and grandmother. Two years later, she's still essaying iterations of the same role: In last month's No Fathers in Kashmir, the actress was a doting grandmother to a 16-year-old, and a tormented mother trying to live with the grief of her son's disappearance. Razdan is revelatory as Halima, performing grief with the numbness of someone who's laboured to distance herself from her tragedy just to survive. It's surprising then, to learn that director Ashwin Kumar was initially hesitant to cast Razdan because he felt that she was "too young" to play a grandmother. But the actress persisted. Eventually it took just an audition for his doubts to be allayed. It's why Razdan insists that her biggest challenge as an actor aren't parts where she is asked to play mother. Instead it's getting into "a filmmaker's consciousness" – to have them think of her while casting for a role. .
If the actress seems nonchalant about being offered overfamiliar roles where she is made to operate in the background, it stems from a trying period in her career when roles had dried up. "It's funny, but you know when an actress is in an in-between age, there is very little work. When you're very young, there's work and when you're older, there's work once again. But between 40 and 50, that period is a tough time for an actress…. that's when most actresses really suffer; I was no exception," she says, revealing the limited scope of acting roles that an actress has to accept once she crosses a certain age.
Razdan isn't off-mark in her assessment; Bollywood is after all, notorious for its limited imagination when it comes to roles for middle-aged women. The paucity of offers for older actresses has an inevitable ripple effect: It denies them the luxury to fail or the freedom to treat acting only as an "artistic pursuit". Unlike older male actors – take Anil Kapoor for instance – actresses are burdened with the pressure to deliver with every brief outing, making it that much easier to write them off.
"It's funny, but you know when an actress is in an in-between age, there is very little work."
Razdan's 38-year-old acting career has always existed on the fringes of Bollywood. Her filmography is littered with brief appearances in some of the most definitive Hindi films of our times – Mandi, Saraansh, Trikaal, Sadak, and Monsoon Wedding. But even then, the actress never quite transitioned into a lead actor or bask in the kind of stardom that her daughter enjoys today, years later. Looking back, Razdan chalks that down to the industry's rigid perception of how a mainstream heroine should look like, admitting matter-of-factly that her unconventional looks didn't cut it. Back then, the industry was even unkinder to a married actress. Six years into her career, when Razdan married director-producer Mahesh Bhatt in 1986, Bollywood saw it as her voluntary retirement. "Once I was married, it was like, now she is Mahesh Bhatt's wife. Why would she want to work," she recalls. "For some time, I was cast in my husband's films as that character who gets killed off," referring to Sadak, where her character commits suicide.
"That's why I jumped into television," Razdan reasons, justifying her absence from the big screen. When the actress ventured into the small screen she made it a point to create roles for herself. She acted in Buniyaad and turned producer with a Hindi adaptation of the 1996 film One Fine Day. Directed by Vinta Nanda, the show, christened Aur Phir Ek Din, also starred her in the lead. "TV saved me," she confesses.
Almost four decades since she started out, things, Razdan admits, are slightly different now. Even though some people still assume that she has retired from the movies, the actress feels liberated than ever, "My kids are all grown up now. I have all the time in the world to do what I want to do. That's something I haven't had for a while." If anything, Razdan's trajectory telling of the "marriage and kids" impediment that almost always puts a brake on the careers of actresses, who are mandated to take a self-imposed exile, ultimately becoming a victim of the fickle public memory.
But with Yours Truly, Razdan is ready to start over; to shed her identity as "Alia Bhatt's mother" and carve her own as an actor, as her daughter's colleague. The actress will next be seen in a small role in a Hindi web-series called The Verdict as well as a British series that is slated for an August release. In the offing are her directorial ambitions and a play in the UK that might pan out by the end of the year. Surely, Bollywood has taken notice of her return and sent a couple of scripts her way? "No, I still have no offers."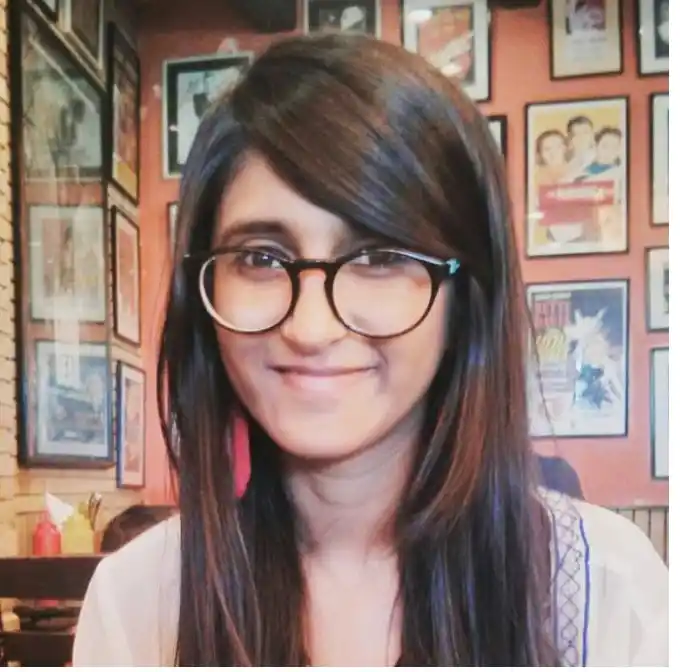 When not obsessing over TV shows, planning unaffordable vacations, or stuffing her face with french fries, Poulomi likes believing that some day her sense of humour will be darker than her under-eye circles.