Set in the ravines of Chambal in 1975, Sonchiriya resembles a Western, but presents itself as an atmospheric mood piece. The dacoits in the movie ponder deep questions like, do the deaths they inflict serve a higher purpose, and is their life meant to be their punishment?
In one of the more harrowing moments in Abhishek Chaubey's masterful Sonchiriya, Phooliya, the red head-banded leader of the Mallah gang of dacoits tells Indumati (Bhumi Pednekar) – a Thakur wife who has fled home after killing her father-in-law for raping a 12-year-old untouchable girl – to join her gang. She makes this offer as she helps Indumati and Lakhan (Sushant Singh Rajput), a dacoit from a rival outlawed gang, ferry the survivor to the nearest hospital.
Indumati reveals to her that they're not from the same caste – a piece of information that requires brandishing, given that dacoit gangs are victims of caste segregation. Phooliya shakes her head and delivers the film's most chilling line, "Castes are there to categorise men." All women, Phooliya tells Indumati, make up a wholly different caste, that is beneath everyone. It's a scene that also encapsulates the extent of Chaubey and co-writer Sudip Sharma's (NH10, Udta Punjab) ambition: To examine the psyche of a sub-culture that falls at the intersection of patriarchy, caste, and cyclical violence. The result is a jarring psychological meditation on rebellion: As Sonchiriya ponders, can salvation really be attained if one continues to be bound by the inherited shackles of tradition?
Set in the labyrinthian ravines of Chambal in 1975 – incidentally, the same year Sholay released and immortalised Gabbar Singh – Sonchiriya resembles a Western. But it presents itself as an atmospheric mood piece that is closer to a modern update of Shekhar Kapur's 1994 Bandit Queen. Chaubey's film is both informed by and pays homage to Kapur's biopic: Besides their geography, politics, and the specificity of its violence, both the films share the reticent Man Singh (Manoj Bajpayee in a cameo) in action. In Chaubey's interpretation however, Man Singh is reduced to a ghost of a man, with sunken eyes and a face that seems to be in a perennial state of mourning – presumably from a life of perpetual violence.
While India wrestles with Indira Gandhi's declaration of Emergency, the dacoits of Man Singh's gang, including his two right-hand men, Lakhan and Vakil Singh (Ranvir Shorey) set out to battle an internal emergency: Do the deaths they inflict on strangers actually serve a higher purpose? Do men who kill for a living even get to process remorse or is their life meant to be their punishment? These are questions that Hindi cinema, which has largely treated the genre in a unidimensional way, has hardly asked of its dacoits.
For much of its run-time, Sonchiriya is packed to the brim with commentary that mines the past to inform the injustices of the present.
The film's opening sequence – a gang of dacoits approaching a dead snake crawling with flies before being ambushed in a shootout that claims the life of almost the entire gang – draws generous inspiration from Sam Peckinpah's 1969 Western, The Wild Bunch. But it's also a moment that stands on its own. Chaubey localises the sequence, while also denying the viewer the full picture, constantly demanding that we keep redefining our opinion on the gang's morality.
For much of its run-time, Sonchiriya is packed to the brim with commentary that mines the past to inform the injustices of the present. It can seem like an overreach at times, but the film gains from Chaubey's deft mastery over tying together the different strands of the film's thematic preoccupations. A scene where Indumati attacks, ties up, resists, and then escapes the clutches of Beni Ram – the same man who brutalised Phooliya and is later handed over to her – is captivating. More than one action set-piece in Sonchiriya enthralled me with the sheer ingenuity of how the camera takes in the violence. Unlike Uri, there's a certain fluidity about Anuj Rakesh Dhawan's cinematography that accentuates every gunshot, every punch, resisting the temptation to publicise it. He shoots the vastness of Chambal in a way reminiscent of the ethnographic specificity of Wang Quan'an's Öndög, that is recognisable by its Mongolian steppes.
Although the film operates in a universe different from Gully Boy, it does pretty much the same in elevating the ensemble: Every actor evokes a lived-in understanding of their character that isn't just limited to their dialect (the film is in Bundelkhandi) or body language. Especially, Ranvir Shorey, an actor who otherwise rattles Hindi cinema, which has rarely challenged the actor's potential until Sonchiriya. Teetering on the brink of rage and reluctantly willing himself toward enlightenment, Vakil Singh's moral ambiguity simmers with the irrelevance of a wild-child who has long stopped struggling to live with himself – lending Sonchiriya much of its bite.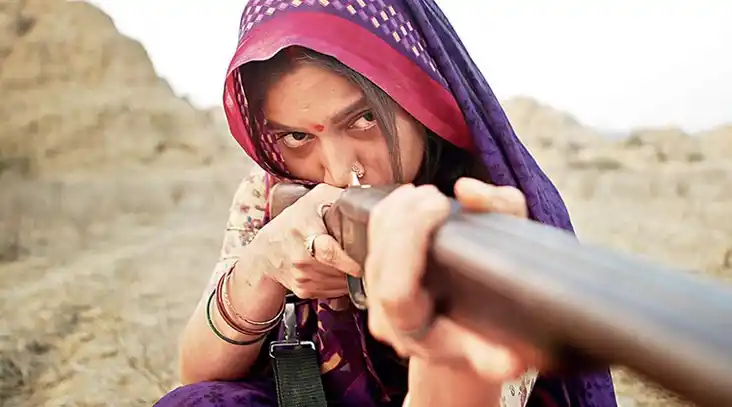 "Castes are there to categorise men." All women, Phooliya tells Indumati, make up a wholly different caste, that is beneath everyone.

Image credit: RSVP Pictures
In an interview a few weeks before the film's release, Chaubey – who returns to direction after 2016's Udta Punjab – dubbed the unsparing dacoit drama as a film about "daakus with existential issues," making it almost seem like a palatable black comedy. A few minutes into its nihilistic universe, it becomes clear why the filmmaker might have felt the need to unpack its dense themes into a quotable summary: For an audience reared on mainstream masala films where the dacoits always arrive on horses with clever taqiya qalams, Sonchiriya's audaciousness will hardly translate into commercial viability.
In fact, this week's two Hindi films releases – Chaubey's Sonchiriya and Laxman Utekar's Luka Chuppi – exist on two opposite spectrums of Bollywood sensibility. The former is an ambitious and imaginative resuscitation of a dying genre and the latter is a two-hour meme which will possibly rake in 100 crores in a couple of days.

When not obsessing over TV shows, planning unaffordable vacations, or stuffing her face with french fries, Poulomi likes believing that some day her sense of humour will be darker than her under-eye circles.