Sara Ali Khan appeared on Koffee With Karan with her famous abba. It was assumed that she'd be docile like Alia Bhatt or evade questions like Sonam Kapoor. But by the end of Koffee With Karan's most refreshing episode of the season, she had given the rest of her peers a crash course in individuality.
If there were a Coolest Star Kid Award in Bollywood, I'd imagine 23-year-old Sara Ali Khan – daughter of actors Saif Ali Khan and Amrita Singh – would've won it already. After all, she has redefined the art of the debut that involves star kids securing a Bollywood launch as a return-gift for their surnames, with two back-to-back releases.The actress debuts with Abhishek Kapoor's Kedarnath and follows it up with Rohit Shetty's Simmba in a span of two weeks (of course, Karan Johar is producing one of them). Even by nepotistic standards of ridiculous good fortune, the fact that Sara was afforded an extra big-budget film without having to furnish any kind of audience evaluation, seems a bit excessive. But in Bollywood, all's well that begins with a Koffee with Karan outing. With her film debut merely weeks away, Sara Ali Khan timed her first public appearance on the chat show – becoming the fourth star kid to grace KWK this season.
None of us expected Sara to stray far away from the sacred female star kid playbook either. It was understood that she'd be docile like Alia Bhatt, evade questions to craft a politically correct image like Sonam Kapoor, and giggle unnecessarily like Parineeti Chopra. But by the end of the show's 40 minutes, Sara Ali Khan had given the rest of her peers a crash course in individuality – even though she graced the Koffee couch with her famous abba.
Displaying refreshing maturity, Sara did not make any attempts to sugar-coat her parents' divorce and admitted that her mother and father are actually happier without each other. When KJo revealed that he shot KWK's first episode with Saif on August 16, 2004, a day after Amrita Singh "threw him out", she winked and quipped, "Happy Independence Day to them both!" before making a victory sign. In fact, Sara even considered her father's second marriage to Kareena Kapoor as a "win" for her because it meant that she had two comfortable homes instead of one uncomfortable one.
Despite Johar's intrusive questions, surprisingly none of Sara's answers seemed designed for the cameras – she seemed insistent on not playing the victim. There were no dramatic flourishes or emotional pretense… just a display of her candid personality, devoid of any star-kid predictability.
Her refusal to subscribe to a template was evident in her hilarious and blunt equation with her father. Instead of giggling when Saif jokingly said that a guy could "take" her if he had money, Sara schooled him for making inappropriate remarks and got him to apologise. But the highlight of the episode was when she refused to fat-shame herself, a behaviour very unconventional for Bollywood (think Sonakshi Sinha and Parineeti Chopra post-transformation). Instead, she spoke openly about PCOD – a disorder one in 10 Indian women contend with – and how it affected her hormone levels to an extent that made it almost impossible for her to lose weight. She watched embarrassing home videos of her past chubby self, while exuding confidence. In fact, her unparallelled candour guaranteed that Saif's jibes were relegated to the background.
Despite Johar's intrusive questions, surprisingly none of Sara's answers seemed designed for the cameras
Sara Ali Khan's individuality is all the more refreshing, considering we live in an age where every byte is crafted and tailored for promotion. And KWK is the stage that allows actors to garner cultural relevance. Appearances of star kids on the show follow the same boilerplate of the challenges they face despite receiving everything on a silver platter. The bar for candour is so low that the last time any star kid spoke without rehearsing in front of the mirror multiple times was in 2014, when Alia Bhatt declared that Prithviraj Chauhan was the President of India.
Yet, for all the candidness on display, the elephant in the room was not addressed. Neither Karan Johar nor Saif Ali Khan broached the subject of nepotism in an episode that was technically a love-letter to nepotism. Their silence was all the more ironic, considering Saif had appeared on KWK last season with Kangana Ranaut, who launched a no-holds-barred tirade against nepotism.
But Sara Ali Khan didn't shy away from the n-word. She spoke about it – just not on the couch. In a BBC interview that aired a day before her KWK appearance, she accepted that she benefited from nepotism and had the luxury of second chances, "I don't think I can run away from (accepting) it. It'll be hypocritical and wrong." Her stance on nepotism remained the same in a bunch of other interviews as well and she didn't shy away from being articulate or answering uncomfortable questions head on.
Just for that, she should be declared the Coolest Star Kid in Bollywood. Hopefully, we can say the same thing after watching Kedarnath.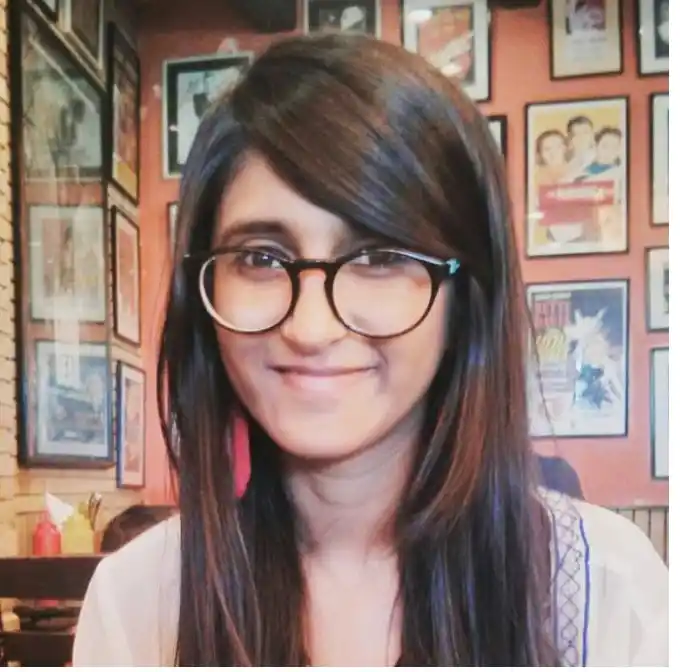 When not obsessing over TV shows, planning unaffordable vacations, or stuffing her face with french fries, Poulomi likes believing that some day her sense of humour will be darker than her under-eye circles.