In the last three years, Sanya Malhotra has acted in films like Pataakha and Badhaai Ho, which offer a testament to her versatility. Now with her extraordinary performance in Ritesh Batra's Photograph, the actress is finally ready to step out of Dangal's shadow.
Back in December 2016, when Nitesh Tiwari's Dangal released to record-breaking success, it transformed the lives of Fatima Sana Shaikh and Sanya Malhotra, the debutantes who essayed the older versions of the wrestlers, Geeta and Babita Phogat. Typical of any Aamir Khan project, even Dangal – an ambitious wrestling origin drama – amassed breathless attention before, during, and after its completion. But for Shaikh and Malhotra who were swiftly branded the "Dangal girls", the experience of witnessing their film become a cultural event, felt surreal. Moreover, their moment in the spotlight was underlined by an unusual impediment: As newcomers who were also outsiders, how could they follow up Dangal, immortalised as the highest-grossing Hindi film ever?
Sanya Malhotra had to wait just a few days that December to solve the conundrum. Amid the congratulatory calls for Dangal, came an offer for her second film: a lead role in Ritesh Batra's Photograph. "Ritesh sir called me two days after Dangal released," Malhotra tells me when we meet at a noisy "elite club" hotel in Andheri. "I liked the script and auditioned for the role when he flew down to India." A yoga convention and the cacophony of kids frolicking in the hotel's pool provide an unnecessarily amusing backdrop to our conversation; Malhotra remains unperturbed by the disturbances, and despite a day of promotions, unreasonably animated.
Now three years later, Photograph is Malhotra's fourth release, even though it was the second film that she shot for in 2017. In the film, she plays Miloni, a meek CA topper whose sheltered upbringing in an upper-class, conservative Gujarati household in Mumbai, renders her existence almost robot-like. It's a role that exists on the opposite side of the spectrum of Dangal's Babita Phogat. "With Dangal, I could use wrestling as a medium to get inside Babita's head," she says. "We trained for almost a year, so I was aware of the body-language of my character, even before we started shooting." But Photograph's Miloni – by her own admission – was rooted in anti-physicality, which posed a challenge: "For Miloni, I had no external device like that to enter her world, because it was such an internal role."
Sanya Malhotra comes across as someone still unaffected by stardom, despite being a part of two spectacular box-office successes.
Malhotra is extraordinary in Photograph – the film is solid proof of her versatility. Like The Lunchbox (Malhotra is a self-confessed fan), even Photograph hinges on two strangers from different parts of Mumbai finding their way to each other. But it strays from Batra's breakout hit, when it comes to their respective female protagonists. As Miloni – a girl whose familial expectations rob her off agency over her body and life – Malhotra has minimal dialogue in Photograph. And yet, the actress uses it to her advantage, turning in one of the most expressive performances by a Hindi film heroine in recent times. She achieves that feat by using every body part, especially her eyes and a hesitant, awkward body language, to convey the emotions simmering in Miloni's head.
When we talk, Malhotra exudes a quiet confidence while dissecting her performance in Photograph that she insists is a result of "doing 30-35 takes for almost every scene" so that they could keep improvising and working alongside actors like Nawazuddin Siddiqui and Geetanjali Kulkarni. The actress particularly remembers being influenced by how Kulkarni would approach her role, "During my workshops with Geetanjali before the shoot, I noticed that she would keep jotting down backstories for her character in a diary. One day, she made Ritesh sir listen to some Bihari music because she felt that Rampyaari (Geetanjali plays a maid in Photograph) would have listened to that."
Creating backstories for her character is a lesson Malhotra claims to have carried forward to the two other films – Vishal Bhardwaj's Pataakha and Amit Sharma's Badhaai Ho – she acted in last year. In Pataakha, her first lead role, Malhotra dived into another physical character similar to her outing in Dangal. In Bhardwaj's tale of two warring Haryanvi sisters who can't live with or without each other, she played Genda "Chutki" Kumari, the academic younger sister. Malhotra infused a delightful and uninhibited irreverence to her performance that, along with Radhika Madan's fearless act, redeemed the middling film.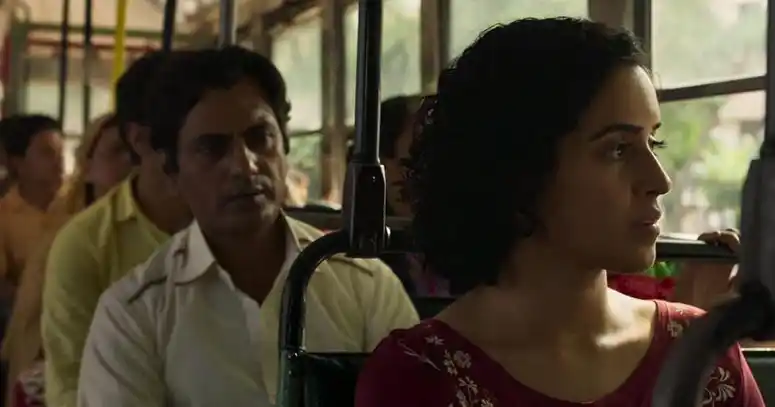 Sanya Malhotra is extraordinary in Photograph.

Image credit: Amazon Studios
And in Badhaai Ho, one of last year's surprise box-office successes, the actress had a supporting role as Renee, a young Delhi girl whose boyfriend's biggest problem is that his middle-aged parents still have sex. I ask her whether the limited screen time of her character was ever a concern and pat comes the reply, "Not at all. I had a limited screen time in Dangal as well (she makes an appearance way past the one-hour mark in the film). But can you imagine turning down these films because of limited screen time?"
It's a rare display of self-awareness for an actress who is only four films old, but it also explains Malhotra's transition into Bollywood, minus the urgency to star only in big-budget films. Malhotra's filmography instead, points to a penchant for digging out filmmakers who could offer her perspectives and characters that challenge her. In comparison, her Dangal co-star, Fatima Sana Shaikh's filmography boasts only of a cameo in Thugs of Hindostaan, the highly anticipated period epic that sank without a trace.
Malhotra comes across as someone still unaffected by stardom, despite being a part of two spectacular box-office successes. She even managed to choreograph a song in Secret Superstar in between acting in Pataakha and Badhaai Ho last year and admits that she'd probably take a "sabbatical in a few years" to learn something new. For now, the evidence of how far she has traversed in Bollywood is in her next project: Anurag Basu's untitled multi-starrer, that reunites her with Shaikh after four years. Only one of these ladies is no longer "that Dangal girl".

When not obsessing over TV shows, planning unaffordable vacations, or stuffing her face with french fries, Poulomi likes believing that some day her sense of humour will be darker than her under-eye circles.