In Rajkumar Hirani's biopic on Sanjay Dutt's life, the greatest villain is the media – not Dutt's self-destructive behaviour. Sanju does exactly what it proudly announces that it doesn't do: glorify Sanjay Dutt.
The one-line message of Rajkumar Hirani's Sanju (for which he also gets a story, screenplay, and editor credit) is encapsulated in a song employed in the film: "Kuch toh log kahenge, logon ka kaam hai kehna."
The idea is to invoke sentimentality, and it sets the tone of the entire film – an authorised biopic based on the life of Sanjay Dutt, arguably the movie event of the year – that's brought to life by its compelling lead Ranbir Kapoor. It's also its sole villain and most alarming of all, the stand Hirani decides to take in Sanju.  
But first, let's get the essentials out of the way. Kapoor's mercurial turn doesn't just recreate the arresting persona of Dutt, but also gives a peek into his emotional core. He single-handedly makes Sanju affecting cinema, riding on the back of the electric chemistry he shares with Vicky Kaushal.
But as a crowd-pleasing biopic, the verdict is clear: Sanjay Dutt shouldn't be blamed.
In Sanju, the treatment of every scene imbibes this stand. When the film isn't engrossed in declaring, in no uncertain terms, that Dutt was a victim of his circumstances which were inaccurately exaggerated and sensationalised by the media, it moulds itself into a comedy. Take the now infamous scene where Winnie, a biographer (Anushka Sharma in a wasted role and wig) meets Dutt and tests the veracity of his story by asking him the total number of women he's slept with. Dutt answers that once when he was drunk, he had roughly chalked up the number to around 350 women, minus sex workers. His admission is accompanied by a comical background score – as if womanising is a harmless punchline – and the occupants of the housefull theatre around me fittingly responded with collective laughter.
The film brushing off of Dutt's philanderous ways isn't an exception – it's the route adopted to communicate the emotional and moral transgressions of its lead. When he betrays his best friend (a scene-stealing Kaushal) by sleeping with his girlfriend, it's because he was looking out for him by "testing her loyalty" as if sex isn't a two-way street. He then goes on to question "her character", and reduces the moment to a hilarious sequence, ably supported by a comical score.
Rajkumar Hirani's insistence to not acknowledge that flawed men can own up to their flaws, is Sanju's greatest weakness.
This isn't to argue that superstars shouldn't be flawed or that those flaws shouldn't make it to the screen. What is troublesome is the treatment of those flaws. Because, as we will later see, these supposedly harmless dismissals will be used to absolve Dutt of any wrongdoing.  
In a later scene, Dutt meets with a politician to clear his "terrorist" tag. The scene swiftly shifts focus to derive comedy from the sight of the ageing politician falling asleep mid-conversation. It's as if the film itself doesn't take the charges against Dutt seriously and presumes his innocence, shying away from exploring any level of his culpability.
To deal with the judicial accusations against Dutt, Sanju comes up with predictable villains: The "terrorist" tag is the figment of every Indian tabloid's over-enthusiastic imagination. He was never friendly with the underworld (Abu Salem dropping off an assault rifle to your house is an everyday occurrence, according to Sanju); just "forced" to acquaint himself with them to safeguard his life. He was in possession of an AK-56 only because he was scared of the rape and death threats of his family in the aftermath of the Babri Masjid riots. Naturally, he also disposed it, out of that same fear.
Not only does Sanju imply that Dutt is in no way connected to the 1993 Mumbai blasts, but it even goes as far as labelling samachar as the "drug" that has overpowered the intellect of everyone who believes that he is a criminal. Basically, everyone (especially external factors) is at fault, but Dutt.
To Hirani's credit, Sanju does not shy away from emphasising Dutt's drug abuse (Although, the film neatly caps it off by implying that Jim Sarbh's Zubin Mistry is responsible for his addiction.) Or his jail stint, even though court proceedings are skimmed over and his imprisonment is only used as a device to goad empathy for his family. But in making the media's unverified headlines the film's greatest villain instead of Dutt's self-destructive behaviour, Sanju does precisely what it proudly announces it doesn't: glorify Sanjay Dutt.
It's a bit unfortunate that a clever, talented filmmaker like Hirani, who has his finger firmly on the pulse of India's cinema-going audiences, would depict Dutt as a "flawed" and "broken" personality. There's no denying that he is quite possibly all of those things, but there's only so much that these traits can justify for the untoward actions of a grown man. "Bad choices make good stories", sure; that would work had he not cemented Dutt as a misunderstood hero.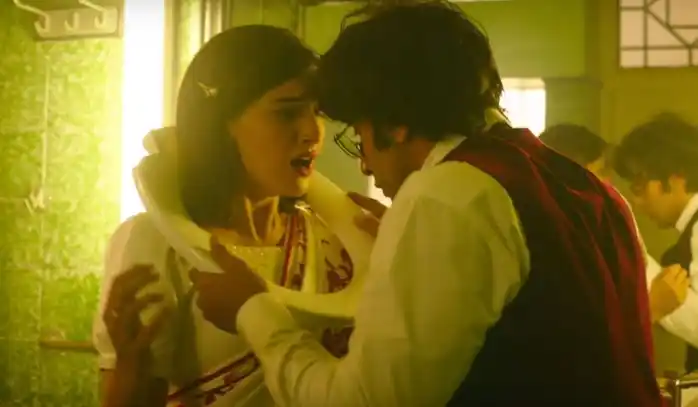 Ranbir Kapoor's mercurial turn doesn't just recreate the arresting persona of Sanjay Dutt, but also gives a peek into his emotional core. He single-handedly makes Sanju arresting cinema

Image credit: Vidhu Vinod Chopra Productions
But the filmmaker's insistence to not acknowledge that flawed men can own up to their flaws, is Sanju's greatest weakness.
That's also why it's impossible to view Sanju just as Dutt's point of view of his own life, mainly because by deciding to not dwell on certain facts, the film becomes an endorsement. Sanju has nothing to say about Dutt's previous wives and their effect on his life. Every character apart from Sunil, Nargis, and Maanyata Dutt are given fictional names. The debate regarding Dutt getting frequent paroles because of his celebrity status finds no place in the film.  
His sisters are also unceremoniously sidelined, as are the consequences of his actions on their lives. While the film has enough and more to say about the damaging effects of irresponsible reporting on his life, it remains mum on Bollywood's tendency to trivialise misdemeanours of their own. By sticking to the film fraternity narrative of Dutt making some "mistakes", Sanju gives its lead a free pass – absolving him of the responsibility of owning up to them. It's a double standard truly inherent to a Bollywood biopic. Just like how throughout Sanju, Dutt comes off as a habitual liar. And yet, with its very existence, the film expects you to trust his version.
Sanju also raises some questions about the accountability of a biopic — its innate template demands a redemption for its protagonist. The film can't help but afford its lead a clean chit. It makes Dutt the victim, when he should have really been a supporting character.
But most importantly, Sanju's admiration-laced sympathetic gaze is doubly problematic for the same reason Darkest Hour and its depiction of Winston Churchill faced backlash. It doesn't just heroise a flawed personality, but also ends up as the definitive and selective account for the future.
Sanju will be Dutt's legacy. When people with no other context of Dutt's actions watch the film, they won't know the reason behind Dutt's conviction under TADA. They will only remember that Dutt made a cameo appearance in his biopic, dancing with Ranbir Kapoor to the song "Baba bolta hai ab bas ho gaya". A song, that only supports his innocence.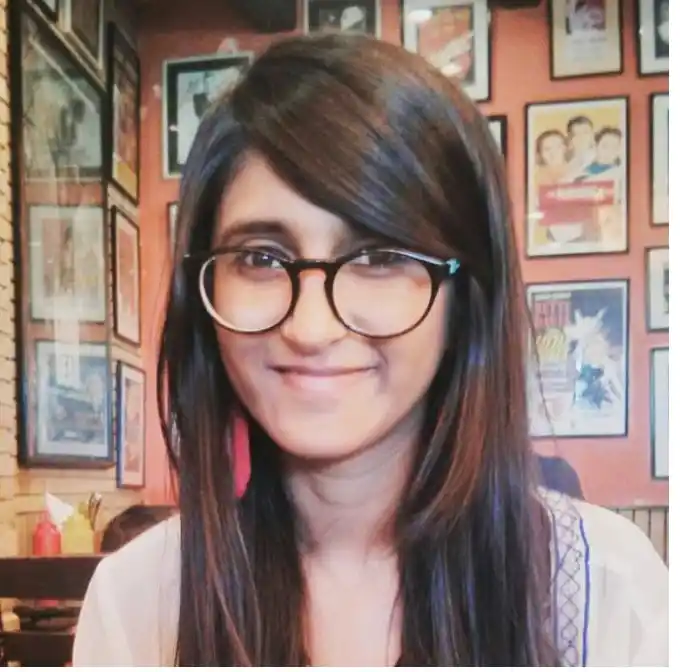 When not obsessing over TV shows, planning unaffordable vacations, or stuffing her face with french fries, Poulomi likes believing that some day her sense of humour will be darker than her under-eye circles.