Bollywood actor Rishi Kapoor passed away on Thursday after a long battle with cancer. "I'm destroyed," wrote Amitabh Bachchan on Twitter.
Veteran actor Rishi Kapoor passed away this morning at Mumbai's HN Reliance Hospital. The actor was on ICU support for a week, before breathing his last on April 30.
Rishi Kapoor, who has been suffering from cancer, was facing breathing difficulties and was hence admitted to the hospital, his brother Randhir Kapoor told PTI. The actor was undergoing treatment in the US for almost a year and returned to India only in September.
The news of Kapoor's death comes as a big jolt to Bollywood which has been mourning the death of actor Irrfan Khan, who died on Wednesday.
Rishi Kapoor was legendary director-actor Raj Kapoor's third child, after Randhir and Ritu Nanda. He is survived by his wife Neetu and son Ranbir and daughter Riddhima.
Tributes started pouring in on Twitter as the news broke. The first came from Amitabh Bachchan, who has been Kapoor's long-time co-star having acted in several hit films such as Amar Akbar Anthony, Coolie, and Kabhi Kabhie. After almost three decades, the two were seen together in the 2018 film 102 Not Out. "I'm destroyed," said Big B.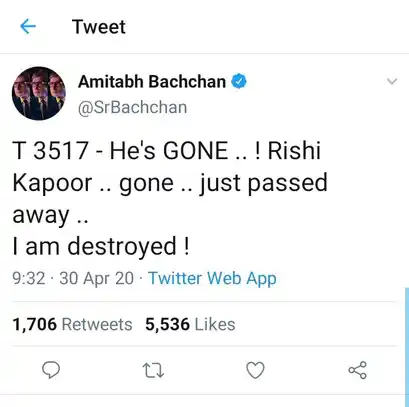 Superstar Rajinikant was left heartbroken.
Heartbroken … Rest In Peace … my dearest friend #RishiKapoor

— Rajinikanth (@rajinikanth) April 30, 2020
Akshay Kumar tweeted, "It looks like we are in the middle of a nightmare."
It seems like we're in the midst of a nightmare…just heard the depressing news of #RishiKapoor ji passing away, it's heartbreaking. He was a legend, a great co-star and a good friend of the family. My thoughts and prayers with his family 🙏🏻

— Akshay Kumar (@akshaykumar) April 30, 2020
With a heavy heart, Priyanka Chopra posted a picture of hers along with Rishi Kapoor and his wife Neetu.
My heart is so heavy. This is the end of an era. #Rishisir your candid heart and immeasurable talent will never be encountered again. Such a privilege to have known you even a little bit. My condolences to Neetu maam, Ridhima, Ranbir and the rest of the family. Rest in peace Sir. pic.twitter.com/TR6GVSN4m7

— PRIYANKA (@priyankachopra) April 30, 2020
"Our adored Chintu no more," wrote veteran writer and columnist Shobhaa De.
Our adored Chintu no more. He lived life king size. May his soul rest in peace. Condolences to his grieving family. A fine actor never dies. He lives through his films. RIP#RishiKapoor @chintskap pic.twitter.com/29rX2TnQlu

— Shobhaa De (@DeShobhaa) April 30, 2020
Congress leader Shashi Tharoor grieved the demise of his "senior schoolmate at Mumbai's Campion School".
Saddened to hear that my senior schoolmate at Mumbai's CampionSchool, Rishi Kapoor, whom i competed with in "inter-class dramatics" in 1967-68, has gone to a better world. From the romantic hero of "Bobby"to the mature character actor of his last films, he evolved remarkably. RIP pic.twitter.com/9eyzE0qP38

— Shashi Tharoor (@ShashiTharoor) April 30, 2020
Music composer Amit Tridevi mourned the passing of yet another legend.
Demise of a another legend this morning.still can't believe.whats with this year man.2020 sucks big time.may his soul rest in peace..condolences..#RishiKapoor

— Amit Trivedi (@ItsAmitTrivedi) April 30, 2020
His laughter will be most missed, said Taapsee Pannu who acted with him in Anubhav Sinha's Mulk.
Been trying to write something n I can't put my mind n hands in sync. More like the heart in between is just not able to comprehend this. That laugh, that sense of humour, the honesty and even the bully he was , will be missed. No one like you #RishiKapoor

— taapsee pannu (@taapsee) April 30, 2020
"What will we be in 2020? People going from tragedy to tragedy," wrote actress Richa Chadda.
What will we be in 2020? People going from tragedy to tragedy, watching from enforced distance… mourning without the solace of human touch or company… Rest In Peace #RishiKapoor sir… have no more words …💔 @chintskap

— TheRichaChadha (@RichaChadha) April 30, 2020
Politicians and sportspersons, many of whom have grown up watching Kapoor's films, also wrote testimonies on Twitter.
Congress's Rahul Gandhi couldn't have been more correct. This is indeed a terrible week.
This is a terrible week for Indian cinema, with the passing of another legend, actor Rishi Kapoor. A wonderful actor, with a huge fan following across generations, he will be greatly missed. My condolences to his family, friends & fans all over the world, at this time of grief.

— Rahul Gandhi (@RahulGandhi) April 30, 2020
Delhi CM Kejriwal offered condolences to his family.
Deeply saddened by the sudden demise of actor Rishi Kapoor. He entertained several generations of Indians throughout his career. What a terrible loss.. My condolences to the grieving family. May God bless his soul.

— Arvind Kejriwal (@ArvindKejriwal) April 30, 2020
For cricketer Anil Kumble Kapoor was a childhood hero.
#RishiKapoor childhood hero…gone..heartfelt condolences to his family and friends.

— Anil Kumble (@anilkumble1074) April 30, 2020
Kapoor's last tweet was an appeal to stop attacking doctors.
Rishi Kapoor's last tweet was an appeal to all to stop attacking doctors and medics in the Covid19 crisis. #RIPRishiKapoor pic.twitter.com/oqk32lN8Fp

— Shiv Aroor (@ShivAroor) April 30, 2020
Truly another legend is gone.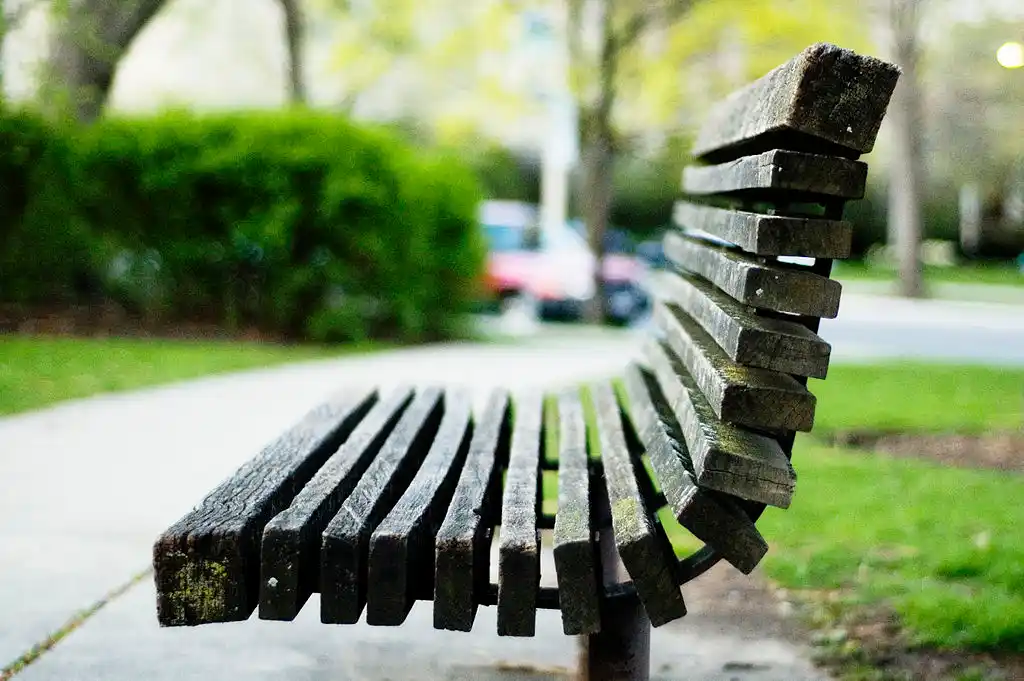 The Arré bench delivers stories that mattress. It hasn't achieved much sofar. But it's getting bedder.