Two decades on, Rehnaa Hai Tere Dil Mein will have a sequel. But will it come close to the magic of the 2001 movie? After all, RHTDM amassed a cult following thanks to its wonderful music and inspired casting – especially the sincerity of R Madhavan.
Gautham Menon's Rehnaa Hai Tere Dil Mein (2001), a love story about chances missed and taken, released at a time when the Bollywood soundtrack made a movie. There's no Dil Se without "Chaiyya Chaiyya" or "Jiya Jale" the same way Dil Chahta Hai is unimaginable without "Koi Kahe" or "Woh Ladki Hai Kahan". In the 2000s, an era when physical cassettes and radio were indispensable to daily existence, a soundtrack was the pathway to the film's  universe. RHTDM also succeeded in using its music to make a lasting impression.
There are few films that have weaponised a soundtrack to tell its story the way RHTDM managed to. Its songs, deeply catchy and affecting even two decades later, are almost like a protagonist. If in Dil Chahta Hai, "Koi Kahe" cemented the playful brashness of a generation that didn't play by the rules in under five minutes, then "Zara Zara," the passionate love-ballad that's RHTDM's centrepiece, distilled the language of pining for an entire generation. One doesn't have to be a fan of RHTDM to be a fan of its music, but there's no denying that the former implies the latter.
Adapted from Menon's blockbuster Tamil film Minnale, RHTDM facilitated the Hindi debuts of the director and the lead actors, R Madhavan and Dia Mirza. It also starred Saif Ali Khan, fresh off the success of Dil Chahta Hai. The story follows the familiar love-triangle template: Maddy (Madhavan), a brash Mumbai boy, falls in love with the docile Reena (Dia Mirza) the minute he spots her. But finding out whether there's indeed any possibility of a connection between them is easier said than done.
Maddy and Reena are practically strangers and besides, Reena's wedding is already fixed with her childhood friend Rajeev (Khan). But the fact that Reena hasn't seen Rajeev, who lives abroad, in years, gives Maddy an opening to get closer to her by impersonating him. That Reena finds out about Maddy's lie at the exact moment when she starts developing feelings for him, throwing into question the validity of their bond, is almost expected. But in RHTDM, the fact that Rajeev and Maddy used to be rivals in college makes matters even more complicated.
RHTDM succeeded in using its music to make a lasting impression.
To be fair, there's nothing new about the film's premise of mistaken identities. But RHTDM finds quiet ways to make a case for itself. Even though it belonged to a period in Hindi cinema guilty of disguising a strain of stalking as romantic perseverance, it's worth noting that the film comes close to taking a stand against Maddy's ways. Once Reena finds out about the real Rajeev, not only is she miffed about being lied to, but also about how she was lied to. In fact, even Maddy comes to the realisation that his feelings for Reena doesn't justify his means.
Another clue as to how the film, which released in 2001 alongside Bollywood heavyweights like Dil Chahta Hai, Lagaan, and Kabhi Khushi Kabhie Gham, amassed a loyal, cult following, lies in its curious casting. Madhavan, an actor with a striking sincerity, is plays an iteration of the college stud – someone who isn't entirely likeable and boasts of a bravado that can come across as off-putting. Khan, on the other hand, is cast as the proverbial nice guy, effectively playing a character closer to Akshaye Khanna's Sid in Dil Chahta Hai. The clash of personas makes the viewing experience that much more satisfying, not least due to the film upending conventional expectations of the Hindi film hero.
There's also the timing of life RHTDM captured that worked in its favour. Its protagonists are in their early 20s, living a life sandwiched between being carefree college-students and committed professionals. It isn't a part of youth that usually comes under the scanner in Hindi movies. But the protagonists of RHTDM represent adults in progress: three people who look like grown-ups don't always act like them, which made their romantic indecision all the more believable.
There's nothing new about the RHTDM's premise of mistaken identities. But it finds quiet ways to make a case for itself.
It's perhaps why RHTDM is the kind of Hindi romance that seemed more focused on articulating the pangs of the broken-hearted than in repeating what it really meant to fall in love. It helped that it came out when an entire generation of Indian youth, stuck in similar rhythms, were starting to come of age, experiencing romantic encounters that would lead them to their first heartbreaks. It also reveals why people of a certain age continue to respond to the movie even two decades on, seeing parts of themselves in a movie even when they might have stopped being that person.
RHTDM's music, the rare great Hindi soundtrack not composed by AR Rahman, was essentially designed to drive home this very panic of losing the person you could have built an entire life with. Composed by Harris Jayaraj, it is stacked with songs that evoke similar investment irrespective of whether they're sung in unison at a party or hummed alone in your room. The title track, "Rehna Hai Tere Dil Mein" is an energetic ode to the giddiness of love while, "Dil Ko Tumse," plays out like the softest gesture, an emotionally intense proclamation for your lover. And despite the ability of "Zara Zara" to constantly elicit goosebumps, the song that hits the hardest is "Sach Keh Raha Hai Deewana," a heartbreak sermon delivered by KK with such vividness that it defines the movie.
In that sense, the enduring magic of RHTDM rests on the fact that its music has at some point been instrumental in playing as background score either while someone was in the thick of a romance or just out of it. We may no longer be the same people as when we first heard them, but it brings alive a memory of a time on youth. That alone is enough.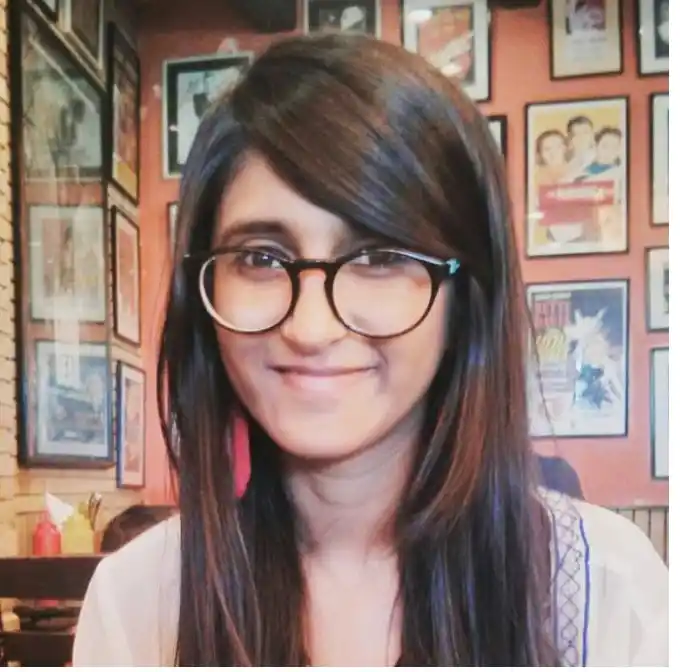 When not obsessing over TV shows, planning unaffordable vacations, or stuffing her face with french fries, Poulomi likes believing that some day her sense of humour will be darker than her under-eye circles.