Anushka Sharma's Pari is one of the rare instances of an A-lister putting their weight behind the bastardised Bollywood horror. In fact, the film may just reinvigorate the genre because it is the most inventive horror film in years.
Before Anushka Sharma's Pari, the last time a Bollywood A-lister headlined a horror film was way back in 2003 (Revathy was an unknown face when Raat released). At the time, acting in a horror film was as much a gamble for an actress' career, as it is now. In Ram Gopal Varma's freakishly sleek Bhoot, Urmila Matondkar played Swati, a woman possessed by a the ghost of the person killed in the high rise apartment she and her husband, Vishal (Ajay Devgn) move into.
Bhoot came at a time when the Raaz-ification of the Bollywood horror genre was yet to unfold, and it actually strived to be worthy of the genre. It was one of the earliest instances of taking the genre seriously; the film had no songs, romantic subplots, and instead boasted of an evil spirit backstory that didn't go down the "jilted lover from the past" route. The novelty of Bhoot's offering as a supernatural horror film lay unmistakably in RGV letting everyday objects acquire ominous overtones instead of ODing on the blood.
In the following years, many iterations of horror films saw the light of day; most were profitable, but very few riveting or frightening. Barring a few exceptions, like, the claustrophobic Phobia, or Priyadarshan's semi-enjoyable Bhool Bhulaiyaa (that relied more on comedy than horror), the genre was essentially relegated to being a clash of "Which Bhatt Can Make The Most Pointless Horror Sequels?" besides being the very reason for Bipasha Basu's career.
That is until debutante Prosit Roy's Pari this year.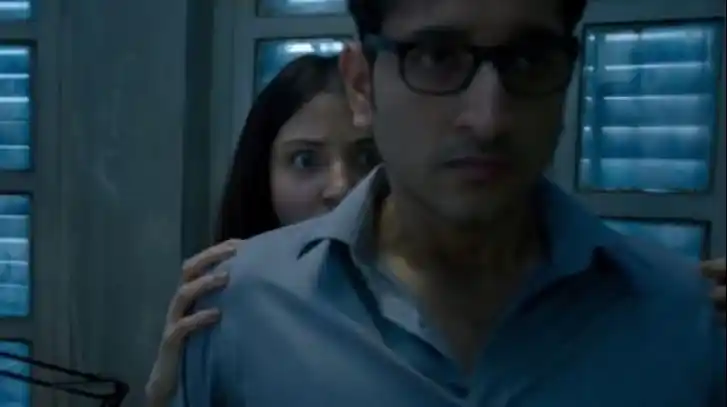 Like Bhoot, Pari's charm lies in its propensity to create mood.

Image credit: Clean Slate Films
Pari, which is Anushka Sharma's third film as a producer, also stars Kahaani's breakout star (and Bengal's pride) Parambrata Chatterjee, and a menacing Rajat Kapoor. In the film, Sharma plays Rukhsana, an orphan who is found chained and bruised in the middle of a forest after her mother is accidentally run over by Parambrata's Arnab. With nowhere to go and a band of bloodthirsty exorcists christened "Qayamat Andolan" led by the persistent professor Kasim Ali (Rajat Kapoor) after her, Rukhsana takes refuge in Arnab's house.
Set in Bangladesh and Kolkata, Pari seems like a spiritual version of the Swedish romantic-horror film Let the Right One In (remade in English as Let Me In). The film's plot delves into Rukhsana's terrifying identity, reveals the motives of witch hunters and offers fascinating socio-political commentary on Bangladesh's refugee crisis and ethnic cleansing.
At a time when Bollywood is overpopulated with horror films that look like each other's carbon copies (Really, who can tell apart an Aatma from a Creature?), Pari is also one of our most inventive horror films, creating a world of its own. It helps that the film is aided by an engaging narrative, a stupendous lead, and an able supporting cast. Borrowing heavily from folklore and the Quran, (particularly the Ifrit, the most powerful and dreaded jinns), Pari sheds the baggage that comes with the bastardisation of Bollywood horror and delivers a film that is as thrilling as it is nauseating. In doing so, it reinvigorates a genre that has been marred by cheap thrills and jump scares.
Like Bhoot, Pari's charm lies in its propensity to create mood. The Bangaliness looms throughout Pari – Boroline is the evergreen saviour, there is chatter of Kolkata Book Fair's unceremonious location change, a sneaky view of Victoria Memorial, and a token shot of maach-bhaat – but in a way that isn't overtly manufactured. Moreover, Roy exploits the gloomy bluish tones, and a rainy Kolkata (every Bengali really wishes it rained that much) to create an uncomfortable atmosphere, where a seemingly harmless move like Rukshana drowning her head in a bucket full of water or cutting her nails, is enough to keep one on the edge.
If there's one thing that thwarts Pari from dunking in mediocrity, is Anushka Sharma's performance as the feral, modern-day Mowgli.
In fact, where Pari triumphs is in refusing to play its gore for cheap thrills, which is why even though there's ample blood and spine-curdling violence (especially the scenes depicting the cruel ways the Andolan goes about in annihilating evil), it assumes the grammar of a thriller. Not only does Pari shy away from drowning itself in the worst horror tropes but it also peppers the film's proceedings and story with quirks, and twists that although not unique, seem at least accomplished. In fact, Pari actually manages to utilise its tropes in a way that makes one want to invest in its universe.
To be fair, Pari isn't without its problems. There's a needless arranged marriage subplot, an awkward love ballad that appears completely at odds with its doomed atmospheric setting, and an overexcited background score. There's also the film's over-reliance on cults, witchery, black magic, and blind faith for its source material that gets a little too much to digest at times.
But, if there's one thing that thwarts Pari from dunking in mediocrity, is Anushka Sharma's performance as the feral, modern-day Mowgli. As someone who has been criticised for being unreliably vivid, the actress is a portrait in restraint, regardless of whether it is indulging in acts of barbarity or briskly switching into moments of tenderness, jealousy, vulnerability or empathy. Her prowess over her facial expressions, body language, and haunting stares elevate Pari several notches, making it possible to commiserate with the very face of evil.
In fact, if Pari is able to legitimise and mainstream the genre beyond the fervid horror film-lovers who're willing to consume umpteen Vikram Bhatt sequels, it'll be because of this Sharmaji ki ladki's incredible gamble.

When not obsessing over TV shows, planning unaffordable vacations, or stuffing her face with french fries, Poulomi likes believing that some day her sense of humour will be darker than her under-eye circles.