Omung Kumar B, the director of PM Narendra Modi, is a man of contradictions. He claims he is not "politically inclined" but endorses the Prime Minister by directing a biopic on him. He insists that he is a neutral filmmaker, because he did not meet the PM – only sought his permission.
Ten months ago, Omung Kumar, who now goes by "Omung Kumar B" met Vivek Oberoi – now christened "Vivek Anand Oberoi" – while judging the Zee TV reality show India's Best Dramebaaz. Apparently, that's when the duo finalised the idea of making a biopic on Prime Minister Narendra Modi. Sometimes, the jokes write themselves.
Yet, Kumar was merely a puppet; the mastermind behind the biopic was producer Sandeep Singh, who completes the comical trifecta of superstitious name changes by going as "Sandeep Ssingh" at the moment. "It so happened that when I was judging India's Best Dramebaaz with Vivek, Sandeep approached me about making the biopic. And I said, okay why not? At that point, he asked me if I wanted to cast Vivek in it because I had developed a good bond with him. And I said, okay, why not?" Kumar told me, with the detachment of someone ordering at McDonalds after a heavy meal. Going by the director's account, PM Narendra Modi sounds less like a movie being put together and more like a business transaction.
I met Kumar, a long-time assistant of Sanjay Leela Bhansali and a former art director (he created the sets for Black and Saawariya) at his Andheri office last month, mere hours before the Central Board of Film Certification awarded the biopic an U certificate. During our 20-minute conversation, Kumar couldn't resist hinting that the makers were expecting a favourable response from the Election Commission which would pave the way for the film's release on April 11, the first day of polling in the seven-phase general election, despite it violating the Model Code of Conduct. It explained the aura of overconfidence permeating Kumar's disturbingly all-white office, that ironically resembled what the sets of a Bhansali film would look like, that is if the film had no budget.
Less than 24 hours later, the tables had irreversibly turned: Invoking Article 324 of the Indian Constitution, the Election Commission stalled the release of PM Narendra Modi until the end of the general elections, stating that the film had "the potential to disturb the level playing field".
When the news broke, the film's public relations team was knee-deep in negotiations with critics, trying to dictate the timing of a potential negative review: Critics would be invited for a screening only if they agreed to publish "negative reviews" on April 12, a day after the planned release of PM Narendra Modi. "See, we don't want to control whether you give a favourable review or a negative review," a PR person informed me, seconds after making the ludicrous demand. In a way, it summed up the paradox accompanying the biopic, essentially a paean to the Prime Minister during the country's most decisive elections. For Kumar, making what looks like a love letter to the current PM, however was a responsibility. "Aisi picture aaj tak banni nahi hai. In history. So, that's a good way to make a mark," he offered.
Omung Kumar, who termed PM Narendra Modi, "the biggest film of his career" came across as someone who revels in contradictions.
The director, who termed PM Narendra Modi, "the biggest film of his career" came across as someone who revels in contradictions. "I'm not politically inclined," he said, early on to counter accusations that PM Narendra Modi might be a hagiography. It explains why even in 2019, amid the growing tensions in the country, Kumar remains fixated on PM Modi's "inspiring" story. "In the film, politics is just a base. Okay, this guy goes into politics, so I have to show that world. But it is ultimately a neutral person telling a story… an inspiring story," he claimed, wholly oblivious to why the country is hellbent on assuming that PM Narendra Modi is a "political film".
Naturally, he laughed off accusations against the biopic, interpreting them as "a certain section ganging up without seeing the film". Yet Kumar instinctively flinches at the suggestion that the timing of the film's release might reveal its propagandistic roots, "What is propaganda? See, propaganda films means that it's funded by the BJP. It's not. I know who my producers are and I wouldn't have done it had it been the other way around. I'm a very righteous person who believes in what I'm making," he announced, minutes after revealing that he decided to make a film endorsing the PM even though he doesn't get politics.
When I pointed out the irony of an apolitical director making a biopic about a person occupying the highest seat of power in the country, Kumar adopted a defensive tone, "Obviously, I'm not making a documentary. I'm not writing a book. It's cinematic excellence that I want to show on the big screen of a chaiwala who became a PM – who became a superhero." The director stopped me before I could even object, "He is a superhero. I'm not making him one." Kumar suggested as much by implying that the courage that PM Modi displayed while giving an "answer" to Pakistan after the Pulwama attack will remain unparalleled. Echoing his opinion is the film's trailer, which ends with a shot of Vivek Oberoi delivering a monologue against Pakistan undermining India's ability to take revenge.
Considering he's so disconnected with Indian politics, how did Kumar, who made his directorial debut with Mary Kom, then guarantee that his "neutral film" was true to the facts of Modi's journey and his rule as PM? "Vivek is very politically inclined. He knows too much about politics, so if I would falter and wouldn't know things, I would ask him ki kya huya tha aisa? Kya ho sakta hai aisa?" Kumar said, while simultaneously adding that as a headstrong director, he doesn't let anyone influence him. "Haan par kahin agar facts and figures lana hai toh, I would take it from other people. And Vivek would just double-check that."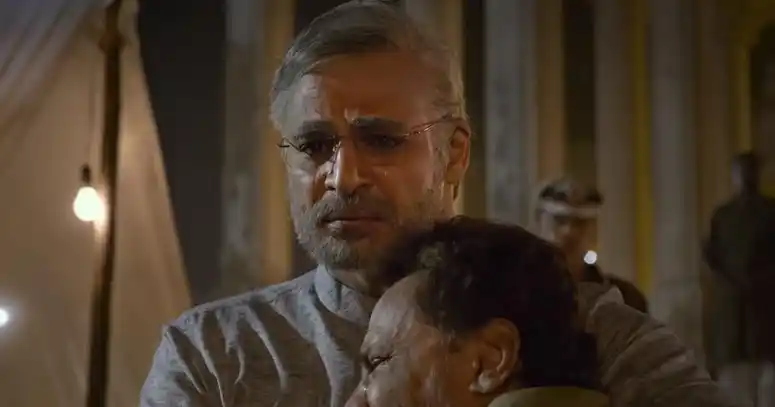 The Election Commission stalled the release of PM Narendra Modi
.

Image credit: Legend Global Studio
Essentially, PM Narendra Modi's fact-checker then, was the film's lead, a self-confessed admirer of the PM and one of BJP's star campaigners (the director disputed the claim, saying "it wasn't true"). Almost desperate to suggest how neutral he has been while making PM Narendra Modi, Kumar proudly stated that he did not meet PM Modi in person so that he wouldn't get influenced. And yet in the same breath, revealed that PM Modi's permission was sought while the makers were scripting it – the film was also shown to the PM's team.
Kumar kept repeating this pattern throughout: He would say something and then instantly follow it up with a completely opposing take that would contradict his earlier statement. The most obvious evidence of it is when I pressed Kumar to explain the hurry to release such a "neutral film" during the elections. "It's purely a box office decision. Releasing it in April was always the plan even before we started shooting it," he told me, adding that the benefit of the election season was the equivalent of a "Diwali, Christmas, or Eid" release for them.
Kumar's comparison is woefully misguided, given that the festive periods he mentions don't determine the fate of the country like elections do. But he doesn't seem convinced by logic. "Because of this film, who is going to be influenced so much that they will change their minds in one day and vote for Modi? Aisa nahi hai. If that was the case, everyone should stop campaigning and just make movies," Kumar countered. A minute later, he's changed his mind, of course. Now, he thinks that films are an important medium to influence people, but makes it clear that his film isn't targeting voters. Instead, he is looking to "inspire people" with the "zero to hero" story of the PM.
At that point, Kumar sounded like he is in complete denial, considering he can't control what the audience take away from the film. What if the film does end up influencing voters? To that, I'm offered an eloquent, "It won't na. It won't." The director paused and repeated his tired reasoning, "Because I'm inspiring someone. Woh nahi dekh raha hai koi. I don't think that anyone will be so in awe after seeing the film that they will change their votes. Phir toh sab smoking, rape dekh ke woh bhi karna shuru kar denge."
As we near the end of our conversation, Kumar proceeds to complain about being robbed of the chance to talk about a film he shot in record 38 days by being forced to defend accusations, which he claims are a "joke". And yet when I ask him a question about the film – if PM Narendra Modi touches upon demonetisation, the many incidents of lynching, and the growing intolerance in the country, Kumar declined to answer. "Look at the man himself – you like him or you hate him but you can't avoid him. The same is with our film."

When not obsessing over TV shows, planning unaffordable vacations, or stuffing her face with french fries, Poulomi likes believing that some day her sense of humour will be darker than her under-eye circles.