Thirteen years ago, Vishal Bhardwaj gave us the masterful Omkara based on Othello, the Shakespeare play about race and misogyny. The play is tailor-made for Indian sensibilities, where race turns into caste and the misogyny is dialled up several notches.
There's a reason why Vishal Bhardwaj is considered a master when it comes to telling stories on the big screen: The director's genius lies in his astute understanding of the complexities of human nature. It's this precise quality that has aided him in adapting three Shakespearean tragedies set in different parts of medieval Europe to modern India in a way that all their elements seamlessly transform into visual poetry. He's also one of those directors who doesn't just stay faithful to his source material, but also gives it a contemporary twist rooted in the Indian milieu. Like Othello, who transformed into Omkara, in a film that turns 13 today.
A tragic tale of love and jealousy, Shakespeare's Othello, is coloured by its titular protagonist's insecurities. Othello was a "Moor", a disparaging term used to describe dark-skinned or African Muslim people in medieval Europe. Several times during the course of the play, Othello's complexion is brought up and it's this innate inferiority complex that makes Othello a victim of manipulation by his ensign, Iago.
If there was ever a character tailor-made for Indian sensibilities, it is Othello. In 2006, when Bhardwaj adapted Othello to Omkara, he turned race into caste. In the film, Omkara was half-Dalit, half-Brahmin, living in the badlands of rural Uttar Pradesh. But unlike Othello, Omkara wasn't insecure about his caste identity. Instead, he wore it as a badge of honour. Despite this deviation, Omkara perfectly embodies Othello's jealousy and insecurities solely because of his reality as an Indian man.
Omkara lives in a land full of patriarchal institutions, including arranged marriage. A country where women are both a burden and an object of desire.
It's this superiority that drives Omkara to assume that he has the right to punish Dolly as well, without even hearing her side.
It's this shared mentality that creates millions of Omkaras: men who end up with women who deserve far, far better and yet continue to believe that they own them. Despite their inflated self-worth, they can still never shake off the underlying feeling of not being good enough. Deep down, they are aware that the women they are with could've done better, but are hardly given a choice to.
In the film, it's his runaway lover Dolly's father who plants the first seeds of doubt in Omkara's mind. He tells him (repeating Othello's most significant line almost verbatim) that a woman who can betray her father can betray anyone. He sets the tone of the film by reminding Omkara of "a woman's two-faced nature," reflecting India's ingrained misogyny.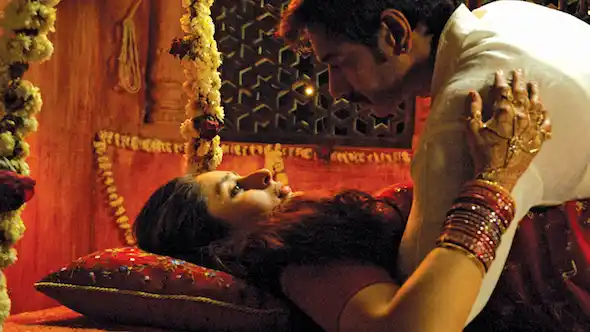 Omkara lives in a land full of patriarchal institutions, including arranged marriage.

Image credit: Shemaroo Entertainment
Later, when Dolly goes to Omkara's home for the first time, his right-hand man Langda Tyagi (Iago)'s wife, Indu makes a jibe about the difference in the couple's skin colour. But what catches Omkara's attention is the metaphor that she uses to describe their coupling: "Kaare Krishna ke honthon pe baansuri" (a flute on the lips of the dark-skinned Krishna). That it's this observation that pleases Omkara is revealing of how incapable countless men like him are of viewing the women they love as their equals. It's this superiority that drives Omkara to assume that he has the right to punish Dolly as well, without even hearing her side.
In the film, Omkara decides to elevate Kesu (Vivek Oberoi playing Cassio in a wonderful turn) as the party baahubali instead of Langda only because of the former's college education. It's what drives Langda to exact revenge on him, by insinuating to Omkara that Dolly is having an affair with Kesu.
Both Dolly and Kesu are easy targets because of what they have in common: They've both studied in the same college and speak English fluently. Omkara, on the other hand, speaks in the rustic Hindi dialect unaltered by any sign of formal education. By tricking him into believing that Dolly is cheating on him with Kesu, Langda realises that he can reduce Omkara to a sum of his failings. By making Omkara the outsider in this equation: Dolly could have easily chosen Kesu for a grander life – a life inaccessible to Omkara due to his illiteracy.
This is Bhardwaj deftly weaving India's third-most pervasive and ingrained malaise after misogyny and caste into the film's narrative: Macaulayism. For Omkara does offer a peek into the minds of less-educated men across the country, who let their inferiority complex manifest in toxic ways. In the film, Omkara sees Dolly only as a prize he's entitled to, which is why he views her supposed betrayal as an insult to his machismo. It's also the reason her father's words torture him repeatedly.
In doing so, Bhardwaj exposes the hypocrisy of Indian men in Omkara. For them, it's not enough that women like Dolly leave everything behind and choose to love them fiercely. Because of their own inadequacies, men like Omkara are completely unable to trust them.
It's the exact sentiment that Indu encapsulates in one scene: "Jab granthon ne kalank ko humaare maathe ki bindi bana diya hai, to aapki kya galati hai?" (When even the scriptures have branded us sullied and untrustworthy, who can blame you?).
In its two-hour-long runtime, Omkara gives us a lot of things: an able update of Othello, Saif Ali Khan's fine form, a taut plot. But more importantly, it gives us a searing commentary on how hesitant Indian men are to battle their inner demons. The price in the end, is always paid by unsuspecting women.

Bhaskar Chawla is a writer, and a lifelong student of screenwriting. He writes about cricket, cinema, television, and life in general. His favourite thing in the world is common sense.