Shoojit Sircar and Juhi Chaturvedi's October paints a very affecting portrait of bereavement that acknowledges a stage of the grieving process that is rarely discussed on screen: survivor's guilt.
"Where is Dan?"
October's lead Shiuli Iyer (newcomer Banita Sandhu) utters these three words right before falling into a pool of blood from the third floor of the hotel she works at. It is these three words that captivate the complete attention of her colleague, the 21-year-old Dan (a surprisingly affecting Varun Dhawan), and hold him ransom.
Prior to that night, forever sullied by Dan's absence and Shiuli's misfortune, she was an afterthought in his monotonous life. A hotel management trainee at a five-star hotel, Dan is disgruntled and misguidedly ambitious at the same time. Too restless to work his way up the ladder, he doesn't see the point in being put on laundry duty or vacuuming the third floor for the umpteenth time. For his dreams are bigger: Working in the hotel's kitchen (because he can chop really well), the bar ("I make cocktails for my dad. They're really nice"), or opening a restaurant with two of his friends.
Taking what he believes is his rightful place at the front desk, at the kitchen, and at the bar, is 20-year-old Shiuli, the junior he detests, whose advances he rejects, and whose invested obedience makes him stand out like a sore thumb. Dan puts her down in every way, so it's ironic that it's him who is a regular visitor at Venkateshwar Hospital where Shiuli lies in a coma held together by an army of pipes. It's a remarkable transition of a man who rebels against being a paid caretaker, into an unpaid caregiver; the drifter finally building a home.
Dan is eaten away by the preoccupation that his absence might have put Shiuli in harm's way. At first, his survivor's guilt manifests in him drowning in utter obsession. He starts visiting her daily, routinely skipping work, harassing the doctors to ensure her well-being. It comes to a point where Dan remains as much of a presence at Shiuli's bed as her family, comprising her distraught but resilient mother Vidya (a fine Gitanjali Rao) and two siblings.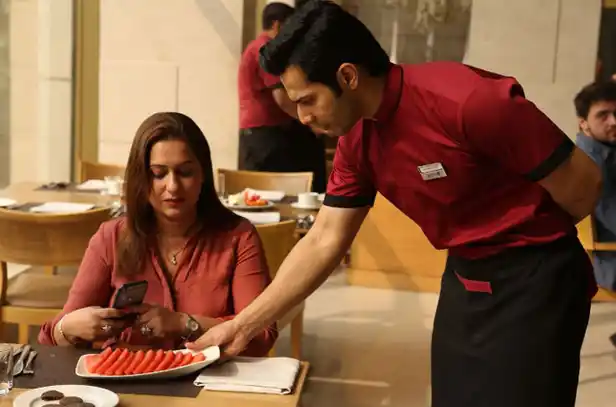 A hotel management trainee at a five-star hotel, Varun Dhawan's Dan is disgruntled and misguidedly ambitious at the same time.

Image credit: Rising Sun Productions
On more than one occasion, he vehemently urges her mother to not give up and pull the plug on her daughter (faintly reminiscent of another Juhi Chaturvedi-Shoojit Sircar character, Bhaskor Banerjee in Piku who begs his daughter to not put him on the ventilator). Even after multiple warnings, his guilt-induced temper gets the better of him as he hits a colleague at the hotel. Soon after, he is thrown out of the hotel and the course, putting his diploma in jeopardy. But even that life-altering loss is hardly enough to deter him from being glued to Shiuli's side at the hospital.
In the process, it also opens the door to his (manufactured) feeling of unconditional love for her, reciprocating what she might have felt before her accident and starting off a romance that has very little time. But his guilt also metamorphoses into narcissistic selfishness; where he wants as much validation for his sacrifice as anyone else, sticking a picture of him for her to remember on the bed.
As the seasons change, and winter slowly makes way for autumn, Dan also strikes an unlikely friendship with Shiuli's single mother. Their lives are intertwined by unspeakable tragedy, but it is also their presence that is the other's balm, much like Shiv and Tara in Anu Menon's Waiting.
Like Dan, even Shiv (Naseeruddin Shah) harbours a deep guilt of being away while his wife suffered a stroke and tragically lay undiscovered for hours. It chews at his conscience, disguising its presence as dutiful commitment toward his bedridden wife, the same way Dan remains committed to staying by Shiuli's side. To the outside world, people like Shiv and Dan are an anomaly; they're even branded crazy for their striking optimism and thankless sacrifices. But, to themselves, they're ordinary sinners, fervently hoping their penance rids them of their guilt.
By clinging on too hard, Dan manages to let go.
In spelling out this delicate dance of mourning and guilt, the dream-team of Sircar and Chaturvedi paints a very affecting portrait of grief, one that acknowledges and encompasses a sacrosanct stage of the grieving process: survivor's guilt. Every frame of October has this autumnal feeling hanging over it.
It's a stage of grieving (and healing) that rarely finds its way to the big screen, save for rare appearances in films like Waiting and Ghar, where newly-weds Vikas and Aarti are left to rebuild their bond after Aarti is violently gang-raped. In the film, Vikas deals with his guilt by alienating himself. His selfishness of isolating himself comes at the cost of his relationship, even when he remains aware that his selflessness might be Aarti's only remedy. He chooses to indulge his narcissism until the very end when he runs to the train station to stop his wife from leaving.
While October's portrayal of the escalating shades of survivor's guilt stops short of veering into dangerous territory, Asghar Farhadi's The Salesman captures its unmasked brutality. Like in Ghar, the couple in the film survive a traumatic sexual assault that results in distancing them. While the wife goes into her shell recuperating from her assault, her husband wallows in his guilt, milking it as a justifiable excuse to explore the violent monster inside him. As the film nears its end, the roles are reversed: He is as much a sinner as his wife's perpetrator by allowing the guilt to overpower the gravity of the crime.
However, unlike them, the guilt that Vidya and Dan harbour goes from being a secret to a remedy that awakens them, matures them, and fosters the process of healing and moving on. By clinging on too hard, they manage to let go. Sircar's October pits these myriad faces of guilt against the backdrop of the quotidian, bringing to life a film that ends with a thought that is as dispiriting as it is hopeful.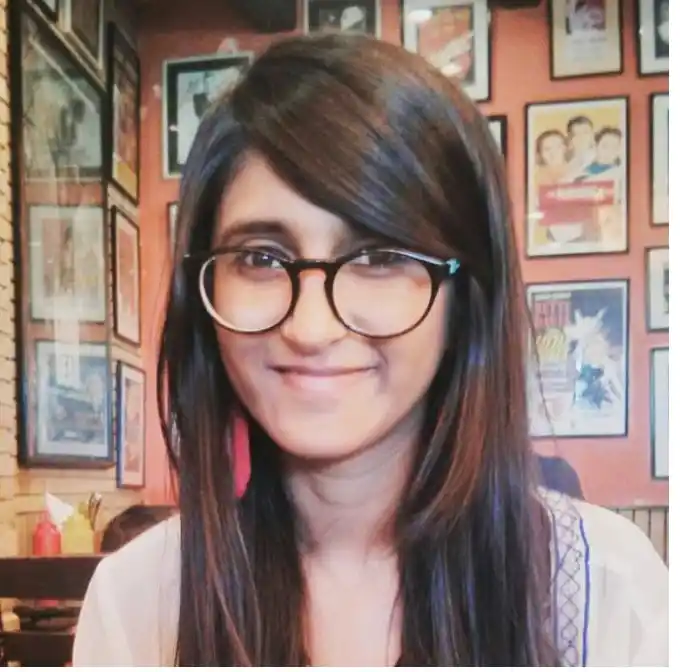 When not obsessing over TV shows, planning unaffordable vacations, or stuffing her face with french fries, Poulomi likes believing that some day her sense of humour will be darker than her under-eye circles.