Anurag Kashyap's Manmarziyaan is both a manifesto of modern love and a statement against Bollywood's unrealistic portrayal of love triangles. Aided by smart writing and affecting performances, the film subverts the nice guy trope and squashes the idea of the one true love.
Anurag Kashyap's Manmarziyaan is not just another love triangle that puts forth two oft-abused options – carefree excitement and routine stability – in front of its female lead. It dismantles just about everything we're conditioned to believe about how we love, fed through sugarcoated Bollywood romance; a throbbing manifesto of modern love that threatens to unravel the inadequacies of romance.
Set in Amritsar, it revolves around Rumi (an electric Tapsee Pannu), a gutsy 20-something orphan who is in love with Vicky Sandhu aka DJ Sandz (the inimitable Vicky Kaushal), the neighbourhood drifter. They have the kind of passionate, all-consuming romance that inevitably sets the universal standard for how "true" love should make us feel – equally soul-crushing during its highs and lows. Trouble brews when the lovers are discovered by Rumi's extended family. Their instant disapproval of her unambitious lover forces her to devise an ultimatum: If he doesn't ask for her hand the next day, she'll marry whoever they pick.
Of course, he doesn't show up. Nor does he transform into a dependable lover overnight. In a tragi-comic scene that highlights the latter, Rumi changes her mind about eloping with Vicky, a few minutes after they've already left. Sensing that he will always be indifferent to life's practicalities, Rumi gives him an earful about how he shits all over responsibilities. Her grievances don't shock Vicky, who subverts the "macho hero" trope by being aware of his weaknesses. His face registers a shade of puppy-hurt, as he tells her – with tears in his eyes – that even though her outburst is accurate, she shouldn't have shown him the mirror. Rumi, eventually, interprets his repeated indecisiveness as rejection and marries Robbie, the dependable NRI banker (Abhishek Bachchan).
Here's the catch though. In Kashyap and writer Kanika Dhillon's deft hands, Bachchan's Robbie undercuts the proverbial nice guy trope that continues to be peddled in Hindi cinema. Traditionally, the nice guy has always been depicted as the boring second choice (Ajay Devgn in Hum Dil De Chuke Sanam), the calm bystander (R Madhavan in Tanu Weds Manu), or the kind-hearted stranger (Salman Khan in Kuch Kuch Hota Hai). He's limited to being the silent spectator in someone else's love story – one who shows up the inadequacy of the existing lover, and wins over the girl due to his selflessness, stability, and unwavering love. If you think about it, we've never really known the nice guy beyond his perfections.
That is, until Manmarziyaan's Robbie.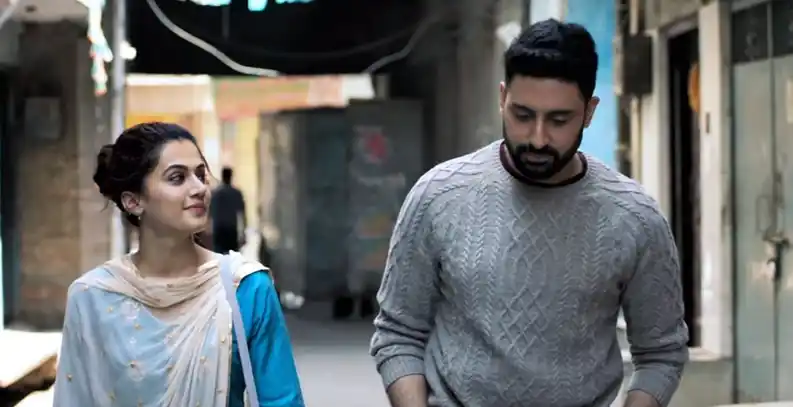 Abhishek Bachchan's Robbie is Manmarziyaan's most interesting character.

Image credit: Colour Yellow Productions
On the surface, Robbie displays every imaginable trait of the nice guy: He's instantly besotted by Rumi and liked by her family. He's understanding to a fault, lives by the rules, and is the kind of person who will double-check whether his own wife wants to sleep with him. But these are red herrings: Robbie refuses to be defined by his niceness or be sidelined from what he believes is his love story. He relentlessly pursues Rumi despite knowing that she loves Vicky, takes advantage of Vicky's flaws, and manipulates Rumi and Vicky's complicated situation in his favour.
Unlike Sanjay Dutt in Saajan, Robbie doesn't give up at the mere sight of another suitor. In any other love triangle, he'd be framed as the heartless villain, but in Kashyap's gaze, he is the film's most interesting character. By levelling the field for all three of his protagonists, Kashyap utilises Robbie (and Bachchan's restrained performance) to drive home the point misunderstood by almost every Bollywood love triangle: There can be no nice guys in the selfish, amoral pursuit of love. 
It squashes the myth of "the one", going so far as stating that love is never a person; even someone who is perfect for you in every way, can hardly give you everything. And the idea of the one true love – you can have the most intense romance with someone and still not end up together.
It's not surprising then that Manmarziyaan doesn't treat love as a competition and consciously eschews taking sides – Robbie, Rumi, and Vicky get to star in their own love stories. It's a decision that hoists the woman in a love triangle from being a mere "object" of affection to a person who's flawed, indecisive, and really no better than her suitors. Even the film's manchild and nice guy aren't reduced to caricatures.
Manmarziyaan takes it upon itself to remind you that love doesn't magically happen to you; you have to be ready for it. At the same time as your significant other. Love may not be a person, but it sure is timing – a thought that Kashyap captures in a quietly heartbreaking La La Land-esque parting scene.
It leaves you with a fascinating question: Which love story is more valid? And is there even a way to assess that? There are no answers: It's only fitting that Manmarziyaan is dedicated to Amrita Pritam, the woman who revelled in her dual love lives.

When not obsessing over TV shows, planning unaffordable vacations, or stuffing her face with french fries, Poulomi likes believing that some day her sense of humour will be darker than her under-eye circles.