Kesari, a retelling of the events of the Battle of Saragarhi, tells you nothing about the clash between the valiant 21 Sikh soldiers of the British Indian Army and 10,000 Afghan tribesmen that a quick Google search will not. The battle is uninspiring and unnecessarily long drawn-out, and there is little imagination in the fight sequences.
It's been a long time since Akshay Kumar has looked this uncomfortable. In Anurag Singh's Kesari, the actor is hidden under a thick layer of a frizzy, fake beard that sits awkwardly on his face, and he – by the look he wears throughout the film – can't seem to get around. By now, the actor's presence in a movie is enough to give away its intentions: To celebrate a chest-thumping brand of patriotism. And lately, it's hard to tell one Akshay Kumar film apart from the other, except Kesari stands out for easily defeating his other nationalistic dramas in being utterly contrived.
Set in 1897, Kesari is a retelling of the sombre events of the Battle of Saragarhi that was waged between 21 valiant soldiers of the 36 Sikh Regiment of the British Indian Army and 10,000 Afghani tribesmen in modern-day Khyber Pakhtunkhwa region of Pakistan. The incident is a proud part of Sikh history and just a routine reading is enough to cause goosebumps. If you merely relied on your imagination, you'd probably be able to conjure up the terror, confusion, and ultimately, the courage of the cornered Sikh soldiers. But imagination is not something you can accuse the Anurag Singh film of.
Kumar's presence ensures that the movie amps up themes of bravery, valour, and nationalistic fervour to a decibel level that is almost too jarring. There's also Parineeti Chopra, hidden somewhere in a role that feels like it's angry at itself for existing: Maybe her preparation involves thinking of what constitutes the bare minimum in a role and then dialling down on that too.  
Kesari could have been an inspiring war film, but the movie attempts to manipulate nationalistic fervour: The opening sequence makes it evident that our sympathies lie with the moralistic Ishwar Singh (Akshay Kumar), who saves an Afghan girl from being beheaded by her abusers. It also quickly reminds you that he's an underdog: Ishwar Singh is punished for disobeying orders and promptly transferred to a different province. Since, it's also a film with ample British characters, there's the stock mistreatment of an Indian soldier as well.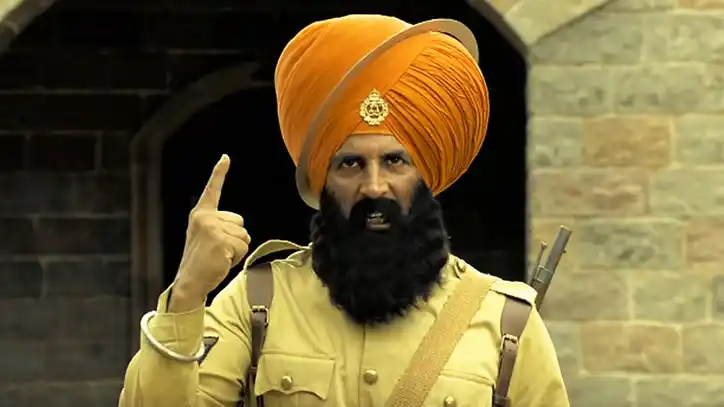 Kesari does not seek to educate – the film tells you nothing that a quick Google search will not.

Image Credits: Dharma Productions
All of this is metaphorical buildup, before the film actually proceeds to the battleground to present a cautionary tale of revisionist cinema. Essentially, Kesari exploits the pages of history to craft a film that glorifies the idea of violence against any possible enemy. A brave battle between the 21 soldiers and their 10,0000 opponents, is converted into a battle of two faiths. It revels in the black and white. The Afghans are kohl-eyed savages who "insult religions". Even Kumar's trademark ability to make middling films slightly entertaining is no match for Kesari. The camera, for the most part, gleefully focuses on bodies being dismembered and swords and bullets being one with skulls and limbs. Kesari does not seek to educate – the film tells you nothing that a quick Google search will not. The dialogues are so juvenile that they remind you of two teenagers stubbornly fighting in the playground over lunch.
Even the film's big draw – the hyped battle – is unnecessarily long drawn-out and manages to make the feat of 21 vs 10,000 look boring. From the beginning, it's evident that despite the numbers, it's not a level playing ground. The Afghan battalion is reduced to a bunch of dimwits whose war cry involves beating drums and who are so inattentive that they easily get fired upon while marching toward the fort, with no clue how to defend themselves.
The biggest drawback of the film is that it eventually is a disservice to a historic event. It's hard to justify a film like Kesari that only seeks to recreate a fantasy of bloodlust, in times of war-mongering.

The Arré bench delivers stories that mattress. It hasn't achieved much sofar. But it's getting bedder.