Kalank, a period epic about star-crossed lovers in the time of Partition, has all the makings of being the next Thugs of Hindostan. Its threadbare plot feels as believable as Vijay Mallya's innocence and has the shock value of a rejected saas-bahu serial.
You know a film has already given up on itself when its devious villain – an unhinged murderer who destroys the lives of the protagonists – is played by Kunal Kemmu. On a good day, Kemmu, a superbly limited actor, can contort his face to conjure up only one expression – the problem is Abhishek Varman's Kalank feels like it was shot on all the bad days.Set in 1944 in Husnabad, a town near Lahore, Kalank has all the makings of being the next Thugs of Hindostan. Like the Aamir Khan-starrer, Varman takes a star-studded cast of A-listers and then goes out of his way to ensure that they have zero chemistry with each other so that their presence can do nothing to elevate the film's proceedings. Its threadbare plot feels as believable as Vijay Mallya's innocence and its romantic conflict has the emotional intelligence of a robot and the shock value of a rejected saas bahu serial. Similar to Thugs of Hindostan, Kalank's understanding of history is more misinformed than the versions spewed by alt-historian Vivek Agnihotri. And even this period epic about interfaith star-crossed lovers in the time of Partition, needlessly runs at almost three hours, proving once again that editors are really an endangered species in Bollywood.
Kalank opens with Satya (Sonakshi Sinha), the daughter-in-law of an affluent Hindu family being diagnosed with cancer and told that she possibly has just a year left to live. She – essentially a Paakhi redux from Lootera – immediately does the most natural thing a terminally ill-patient can think of: Reach a random girl's house and set her up with her London-educated newspaper editor husband, Dev Chowdhury (Aditya Roy Kapur). The girl in question is the lower-class Roop (Alia Bhatt in her most pointless role ever), a manic pixie kitegirl who agrees to marry Dev by burning her books. Dev's wardrobe of Fabindia kurtas and his round glasses make it amply clear that he is a liberal – naturally he doesn't resist his dying wife linking his Shaadi.com profile with Roop. Giving Dev's indifference a tough competition is his widowed father Balram Chowdhury (Sanjay Dutt) whose contribution in his life and in the film is limited to stomping around perennially hunched as if he doesn't believe in the concept of necks.
The rest of the film's "plot" is so puerile that it can be instantly guessed by a five-year-old: Stuck in a loveless marriage, Roop starts taking singing lessons from Bahar Begum (Madhuri Dixit), a courtesan who lives on the Hira mandi, the neighbourhood's red-light district and spends most of the film either glaring or crying. In the process, Roop falls in love with her estranged son Zafar (Varun Dhawan) a lower-class Muslim blacksmith whose personality trait involves reminding everyone that he is an illegitimate child and fighting CGI-bulls in his free time. 
It's ironic that the suspense of the entire film hinges on the secret identity of Zafar's father, given that Kalank is so lazily crafted that it takes less than five minutes for anyone to put two and two together. By the time the big reveal happens in the film's bloated second half, even the writers lose interest in it. As a result, Kalank discloses it so nonchalantly as if it's discussing the humidity in Mumbai and not divulging the ruins of a decade-old affair that has broken families and given two grown men unwavering daddy issues.
I'm the last person to take exception to Varman and Karan Johar's fundamental right to consistently churn out shoddy, forgettable big-budget films (Kalank is pegged around Rs 80 crore). In fact, it's hard to fault Kalank for getting carried away with its inherent groan-worthiness when the recent successes of Kesari and Total Dhamaal prove that undermining the audience's intelligence has always been a totally acceptable genre of Hindi filmmaking. However, Kalank isn't merely a gloriously bad film – it's also a cautionary tale about uninspired and pretentious filmmaking that has the smugness to get away with peddling offensive tropes.
Varman, who debuted with 2 States, is the latest writer-director to join the ranks of Hindi filmmakers who don't let their surface-level understanding of minorities impede them from doing injustice to the intricacies of a Hindu-Muslim romance. In the film, Varman immediately establishes Zafar's religion by the most cliched identifiers: Dhawan, who enthusiastically overacts, wears more kajal in the film than most Maybelline models, offers namaz for a token scene, and is shown wearing a skull cap for less than five seconds. In Varman's interpretation, Muslims are either hot-headed villains or victims – there is no in-between. So, even in a tale of eternal love, it's the three Muslim protagonists who either kill or sacrifice their lives.
It's why the film's depiction of Hindu-Muslim enmity and the riots that followed Partition is so reductive that it appears caricaturish (the most nuance Kalank manages is repeating the word "aawam" at least 15 times). This exploitation of a community feels even more jarring, given that the film could have been just as mediocre if it remained a straightforward poor girl-rich boy love story. Zafar's religion doesn't influence the film's main conflict and it isn't even the reason that keeps Roop and him apart, so its mere addition feels like a cheap plot-device that exists only to manufacture praises of sensitivity.
Perhaps, the weakest link of Kalank is how Varman doesn't seem interested in explaining any plot twist in the film or justifying how one piece of information connects to the other. Instead, the protagonists in Kalank just happen to magically appear at the right place at the exact time they need to be. Yet like a true Dharma Production, Kalank has all the time in the world to slip in a product placement for Lux, replicate DDLJ's train sequence, and make a reference to Johar's upcoming film, Takht. But when it comes to the important things, Kalank is ignorant: For instance, almost all of the protagonists, irrespective of their class divide and level of literacy, casually use a splattering of perfectly pronounced English words in their daily conversations, forgetting that they're in 1944. And their dialogues are less words and more Urdu spoken word poetry, randomly strewn with vapid phrases like "aankhon ki kashish" and "palkon ka aitraz".
Essentially, Kalank is so insistent in packaging itself as a visually arresting period experience – the lavishness of the sets feel undone by the urgency to recreate the opulence of Baahubali – that it forgets the importance of having any substance. After three hours of brandishing an outdated outlook and failing at rehashing the oldest romantic trope in Bollywood then, the only promise Kalank ends up living up to, is its title.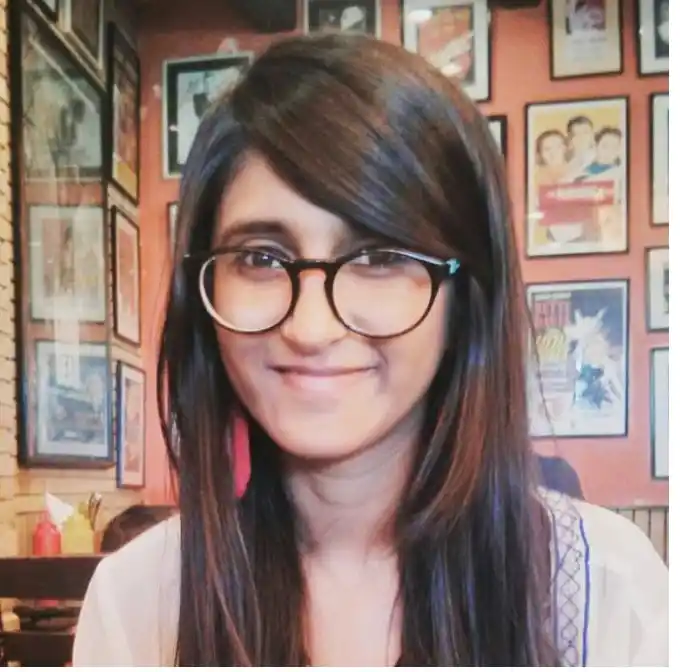 When not obsessing over TV shows, planning unaffordable vacations, or stuffing her face with french fries, Poulomi likes believing that some day her sense of humour will be darker than her under-eye circles.