Kader Khan didn't just create the cinema of the 1980s. He created the 1980s. He catered to the lowest common denominator without any apology. He was of the people, for the people, by the people – only louder, shriller, piercing. The veteran actor and writer brought the lowbrow out of its cultural closet.
Kader Khan wasn't a writer or an actor.
Of course, IMDb credits him with some 110 titles as a writer, and 416 as an actor, and a career in Hindi films spanning four decades, starting from 1971. Op-ed pieces have reasons to sing paeans about his extremely prolific contribution to cinema, proudly propping up the impressive statistics of more than ten films a year on an average before or behind the cameras. His understanding of Hindi, Urdu, Hindustani and their apt everyday usage deservedly won him awards and accolades in equal measure. BUT. Kader Khan wasn't just a writer or an actor.
Kader Khan was a concept. Kader Khan was a genre.
The 1980s were a decadent decade. Guess the sexy swag of the flower power was so very evolved and consuming and out-there, that it was kind of tough for the generation after to live up to its legacy. The existing icons were slipping, and the antithesis were getting deified. Spaces in Arts, Literature, Film, and Fashion were being redefined, confusing the lows with the highs, and vice versa. Plastic defined the new aesthetic. Loud was the new doctrine.
On the real world front, the bumbling buffoons of the Janata Party had mucked up the first non-Congress government and the bumbling buffoons of the country had decided to give Mrs Gandhi a second chance. The angry young man was ceasing to be as angry. From the suave smugglers, the lalas and badmash bahus were making comebacks as the villains of peace. It was as if all the powers in the world had combined forces to put everything in the regressive mode. The pace had become slow. The bar had been set low.
Enter Kader Khan. The high priest of the lowbrow.
Of the four professional decades that he spent in Bollywood, it was the 1980s that saw the Kader Khan phenomenon explode. He was involved in the story, screenplay, and dialogues of more than 70 films between 1980 and 1989, and almost half of them were hits. From innumerable Jeetendra PT shows like Himmatwala, Justice Chaudhary, Haisiyat, Akalmand, Sarfarosh, and Maqsad to Anil Kapoor-Jackie Shroff bromances Andar Baahar and Karma, from Amitabh Bachchan mega-movies like Lawaaris and Yaarana to family tearjerkers including Swarg Se Sundar and Bade Ghar Ki Beti featuring ungrateful sons and vicious daughters-in-law, to the exquisitely convoluted Khoon Bhari Maang featuring Rekha fighting a crocodile, Kader Khan helmed it all.
Kader Khan was a concept. Kader Khan was a genre.
Here's the thing, though. Kader Khan did not just create the 1980s cinema. He created the 1980s. He almost decided on the narrative for the decade. He established the world as he saw it. And the world became him. Where the hero could dance around matkas wearing atrocious wigs, sweaters and suits, taming the womenfolk who alternated between playing Thunder Thighs and Pyaar Ki Devi. Where Advocate Shobha and Meva Ram could co-exist with Naglingam Reddy, Desh Bahadur Gupta, Abdul Karim Kaliya and Pinto The Great Smuggler. It was a realm where he stuffed everything he could, and made it large.
The audiences lapped it up. They were indoctrinated already.
There was a method attached to the man's mission, though. Kader Khan catered to the lowest common denominator without any apology. He was of the people, for the people, by the people – only, louder, shriller, and definitely more piercing. The trick was to pick the right elements with the right connect from the world that surrounded him and enhance them manifold. That was the Kader Khan formula, if there was one.
His hero, therefore, was a potent and colorful mix of Chacha Chaudhary's brains and Sabu's brawn, complete with the native Amar Chitra Katha sanskaars, and a pair of dancing shoes. His character actors were garish, ear-splitting reflections of how he saw the real world. So the unscrupulous trader from Swarg Se Sundar (1986) isn't just an unscrupulous trader. He is actually called Milavat Ram in case you miss his blatant beimaani, and his shop is called "Do Aur Lo Karaane Waala", in case you still miss his blatant beimaani.
Kader Khan brought the lowbrow out of its cultural closet. Not only did he specialise in it, he basked in it. He genuinely loved the "ghun ki tarah gehun mein pisne waale gadhe" and did his darnedest to give them their place under the sun. His metaphors and similes were not to flaunt his linguistic wizardry. On the contrary, he browbeat them to such an extent that they ceased to be anything beyond this non-nuanced gimmickry of words. This democratisation of upma and shlesh alankaars was poetic justice, so to say, for the masses. "Dosti ka thoda atta lete hain. Ussmein pyaar ka paani milaate hain. Phir goonth-te hain. Phir dil ke chulhe par rakh ke ussko pakaate hain," says Amitabh Bachchan in Yaarana (1981) while describing how he prepares rotis for his best friend Amjad Khan. Okay then.
It was the 1980s that saw the Kader Khan phenomenon explode.
He made movie-making and movie-viewing a watered-down version of what they were, and he wasn't sorry about it. Crass became mainstream, villains became comedians, comedians became circus clowns. When somebody points out to Mukri in Dharam Kanta (1982) how he is rather short to be a dacoit, he says, "Jab hum chhota daaka daalte hain toh hum chhote ho jaate hain, jab hum bada daaka daalte hain, hum bade ho jaate hain." And then you sample this Kader Khan truism from Meri Aawaz Suno (1981): "Mera naam Topiwala hai. Maine bahut saare ghamandiyon ke sar kaat kar apne kadmon mein kuchle hain, aur unnki topiyon ko apne paas saja kar rakha hai," as you see Topiwala proudly displaying his prized scalps. You can't get straighter than that now, can you?
The audience roared. Kader Khan worked. Full stop.
And Kader Khan continues to work. In Sambit Patra & Co. on news channels. In Bharat Mata Ki Jai Whatsapp forwards. In Tanishk Bagchi remixes. In The Kapil Sharma Show. In over-the-top characters and situations, dialogues laced with obtuse humour, vulgar misogyny, hahaha jokes, and the dholak beats to highlight the punchlines. One may complain, get offended, feel repulsed, and rightly so. And then one may snigger when nobody's watching. Because the lowbrow charm scores. Every single time.
"Mujhe swarg nahin jaana hai kyonki swarg jaane ke liye marna padta hai," said Kader Khan in Ghar Sansar (1986) as Girdhari Lal.
Both Girdhari Lal and Kader Khan must be having a good laugh right now.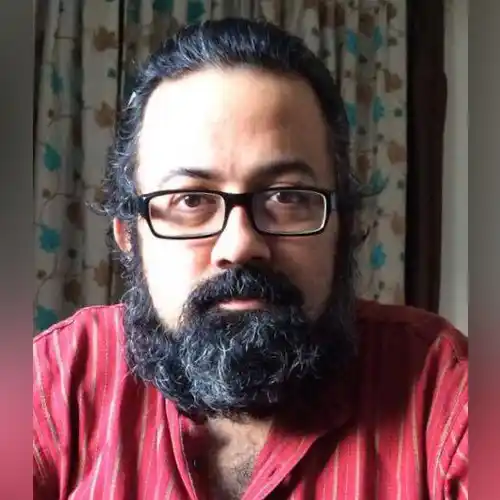 Vaibhav Vishal is a writer based in Mumbai. He tweets as @ofnosurnamefame and can be found on www.ofnosurnamefame.com when nobody is watching.