If Sridevi is the undisputed icon of queer India, Rishi Kapoor can be credited with demolishing the tight constraints of a male lead. Kapoor, with his chubby bits and rumply hair, rescued the Hindi film hero from alpha males, creating space for new normals.
"He was my childhood… " read the tweet from Karan Johar. The filmmaker was referring to actor Rishi Kapoor, who had just passed away. I imagined he meant to write "crush" where the ellipses went, just like me. The star had been ill for some time, but it was still painful to know that the man I'd been smitten with since childhood was gone.
If Sridevi is the undisputed icon of queer India, Rishi Kapoor can be credited with demolishing the tight constraints of a male lead. Kapoor, with his chubby bits and rumply hair, created space for gender-bending stories, especially at a time when machismo was the rule. All those roles which look unconventional now might not have been a conscious choice, but his persona must have helped writers and directors to push the boundaries. What they could not achieve with Amitabh Bachchan, they got done through Rishi Kapoor – without compromising on popular appeal.
My earliest impression of Kapoor is him sparkling on stage singing "Om Shanti Om" during Chitrahaar in the mid 1980s. His beamy face, curly hair, and spirited moves had me besotted. In a time when heroes were clad in standard block prints in shades of brown, and brooded and beat up baddies, here was a male actor not conforming – a man who could carry off glitter and a plethora of colours. A boy with a winning smile on his crimson lips, he looked as glamorous as many of his leading ladies, and hence game for some experiments. In Rafoo Chakkar, for instance, he easily slips into skirts and feathers for a screen time which remained the longest drag performance for any male lead until Kamal Haasan came around as Chachi 420 two decades later.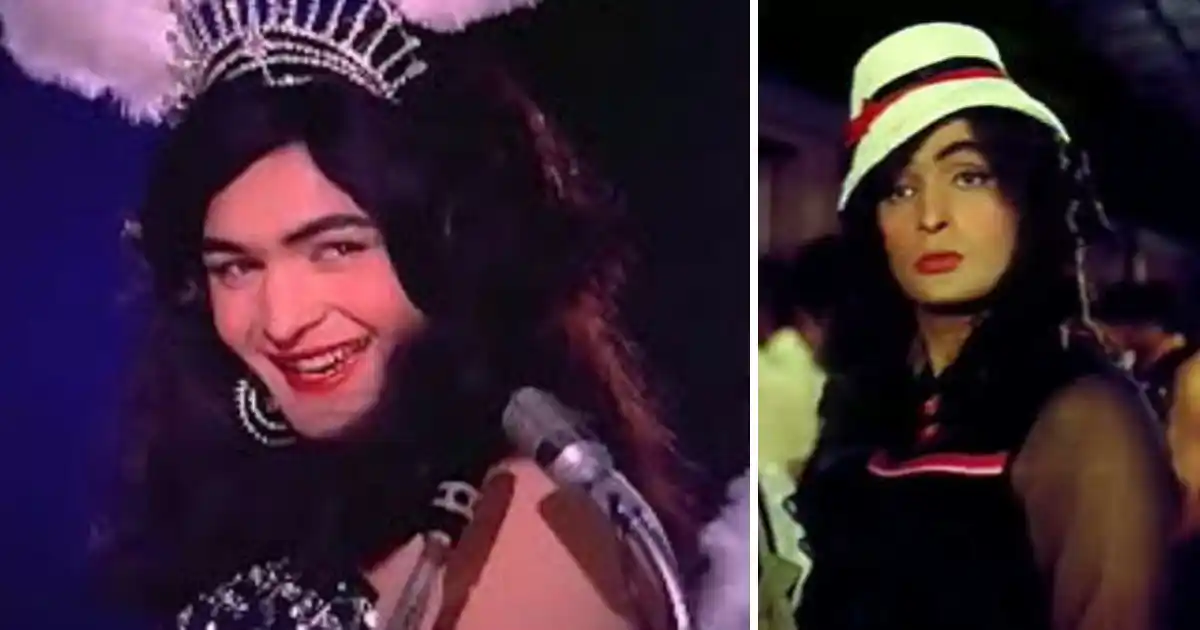 I wouldn't really say Kapoor's performance in Rafoo Chakkar (1975), which I watched only in the 90s, helped me discover my sexuality. It fuelled my own curiosity and an experiment with crossdressing. Over the course of a long hot afternoon during the summer holidays, with the help of a cousin, I put on a skirt, a top and a borrowed hair band. And was instantly made to realise that I had done something wrong when a scolding from an elder followed soon after. I don't have a desire to cross dress now but thanks to Rishi, I know that I can if I wish to.
Kapoor's performance in Rafoo Chakkar fuelled my own curiosity and an experiment with crossdressing.
An alter-icon 
Over the years, it was easy to see why Kapoor would become a semi-icon for the alternative. His dance moves, for instance, conveyed gay abandon and a "who cares" attitude which went well with Sahir Ludhianvi's lyrics in the Kabhi Kabhie superhit "Pyar kar liya toh kya, pyar hai khata nahin", an apt queer anthem. "Main bhi hoshmand hoon, tu bhi hoshmand hai, uss tarah jiyenge hum, jis tarah pasand hai," is not only gender neutral but also plays up consent over convention.
By the time I hit puberty, my hero had already shed the sparkly costumes, gained considerable weight and changed into his trademark knitwear. The charms of the "jersey man", however, were still intact. The spirited moves on rotating dance floors were replaced by slow thumkas and bum dances with much younger girls on hills. They were not as cringeworthy then as they appear now. Kapoor was still a perfect counter to the action heroes of late 1980s and 90s and his softer persona worked well for family films like Deewana. It was really his personality that could carry off the weight of a hapless male lead in Damini, clearing the ground for the female protagonist to really take over.
This was also around the time I realised that I might be different from other boys. By 10 years of age, I was falling for men significantly older than me. I secretly adored a science teacher in school, a distant relative in the Indian Air Force, and of course, paunchy Rishi Kapoor in colourful cardigans. His presence on screen was always reassuring. I found that I had no attraction for younger boys, which was confusing, but only because I was yet to learn that there's a whole community of gay men who only fall for matures.
The newly liberalised economy also rediscovered Kapoor's old hits. Songs from 1975 aligned well with the market-induced fad of '90's valentines. Two collegians defying night curfew ("Ek Main Aur Ek Tu") or adamant at PDA ("Khullam Khulla Pyar Karenge") were perfect dope for the MTV generation. We were now dealing with two Rishi Kapoors. One was young and rebellious and the other middle-aged and conventional. He was his own father – or his own son, depending on how you looked at things.
Kapoor didn't need to be a man to… be a man.
The non-alpha trendsetter 
The one thing that did not change for Kapoor was his mostly non-alpha repertoire.
In the iconic Amar Akbar Anthony both Amitabh Bachchan and Rishi Kapoor endure beatings. Anthony (Bachchan) gives a tough fight to police inspector and elder brother Amar (Vinod Khanna), but Kapoor's Akbar wails in tune with the concluding chorus of "Tayyab Ali Pyar Ka Dushman…" as three men pummel him. Anthony gets drunk and applies antiseptic to his mirror reflection, while Akbar has to be hospitalised.
Kapoor didn't need to be a man to… be a man. That realisation was a huge relief for me – it meant that I could drop the pretence of liking the mock fights boys around me indulged in to emulate filmy heroes. Tying bands on foreheads after watching a desi Tarzan movie on cable TV, or singing "Jungbaaz Aa Gaye" while holding pencil knives (this actually led to a terrible accident in our classroom), were readily avoided without feeling like a total misfit. I still had Rishi.
Kapoor's second innings was more interesting as he got rid of the pressures of a lead man and enjoyed the freedoms of a character artist. Letting another man catch his flying lungi (Namaste London) or shower room talk with a younger man (Bewakoofiyan) became routine matters. He was the perfect choice for Mr Duggal in Do Dooni Chaar. A middle-class school teacher too scared to take a bribe or challenge the domineering men around him, it remains one of his best performances.
But then there was also the florid Dean Yogendra Vashishth from Student of the Year. He is temperamental, proud, and channels the desires and loneliness of many mature gay men. What was an opportunity to normalise a lifestyle, was given the Karan Johar treatment – it lampooned homosexuality, but at least it transcended the proverbial foot-in-the-door scenario that most mainstream film scripts flirt with. By the climax, SOTY goes beyond the three leads to talk about the Dean and gay student Sudo. I know this is an unpopular opinion, but I found these characters as vulnerably human as any other – the fear of not finding a partner, annoyance at heteronormativity – features missing from gay portrayals in earlier commercial movies.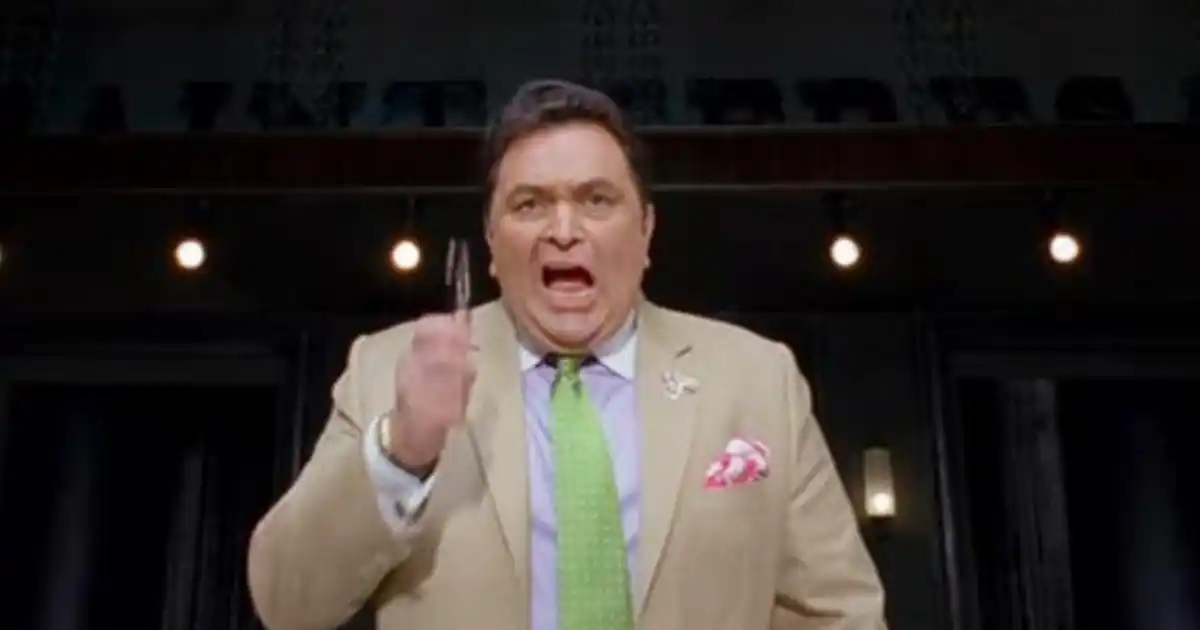 I liked the film more, however, for casting Kapoor in that role. The star I adored instantly became single and gay and hence seemingly more accessible than ever.
Even in death, Kapoor seems as alive as ever through his films spanning 46 years. All of them may not be great stories but they do present characters that are colourful and commercial, yet not conventionally masculine. Maybe he knew what he was doing. Or maybe, he was unknowingly building a bridge for men to understand each other.