No Imtiaz Ali film is complete without a train scene. In Love Aaj Kal, a separation unfolds on a train ride and in Jab We Met, a relationship blooms through the course of the journey. But the most iconic train scenes in Bollywood remain Simran running toward Raj in DDLJ and Rajesh Khanna crooning "Mere Sapno Ki Rani" as Sharmila Tagore gazes at him from a coach.
In Imtiaz Ali's Love Aaj Kal, Raghu (Kartik Aaryan) and Leena (Aarushi Sharma) are shown travelling on trains. There's a subtle hint of separation and a glimmer of hope as we see Raghu wave goodbye to a passing train. Watching the trailer took me back to my fascination for trains, reminding me of my heart's unfulfilled desire of finding my soulmate in one such journey. I have always been taken by train journeys – not only because my father worked for the railways, but also because train journeys had a different charm of their own. The scenery outside, the food items at different platforms, the people you encountered, and the excitement of boarding a rail gaadi united to create an experience that was uniquely memorable.
Bollywood romanticised this fascination to an unimaginable extent. The earliest memory I have of trains in Hindi cinema was in films like Sholay (1975) and The Burning Train (1980), where trains made for pivotal sub-plots. Then, Hindi cinema made them romantic. What can be better than meeting your soulmate on a moving train? Trains acted as a sort of unifier in terms of finding love across barriers of class and geography. In a  country like India, trains are more than just a mode of transport – they symbolise life itself. It's no surprise then, that in no time, the Indian railways became a marker for middle-class romance as well.
But as India progressed, trains fell out of fashion. With the advent of the noughties, Bollywood couples preferred meeting in flights over trains, often highlighting the lofty ambitions of the nation. Take the climactic airport dash in Jaane Tu Yaa Jaane Na for instance. But even then, the airport can hardly replicate the sentimentality of a meet-cute on a train or a platform, which has seen lovers meet, greet, and even separate for decades. Some of the greatest love stories in Bollywood have started at the train station. In Dilwale Dulhaniya Le Jayenge  (1996), Raj (Shah Rukh Khan) and Simran's (Kajol) love story starts and ends at a platform. The climax sequence in particular, where Simran runs towards the moving train and Raj extends his hands has become a pop culture phenomenon. Bollywood has recreated the iconic train scene and its version a number of times – in Chennai Express, Yeh Jawaani Hai Deewani, Jab We Met. And more than two decades later, Shubh Mangal Zyada Saavdhan, a same-sex love story, is giving us an updated version of this scene – with Ayushmann Khurrana running beside a moving train while his partner Jitendra Kumar channels in inner SRK.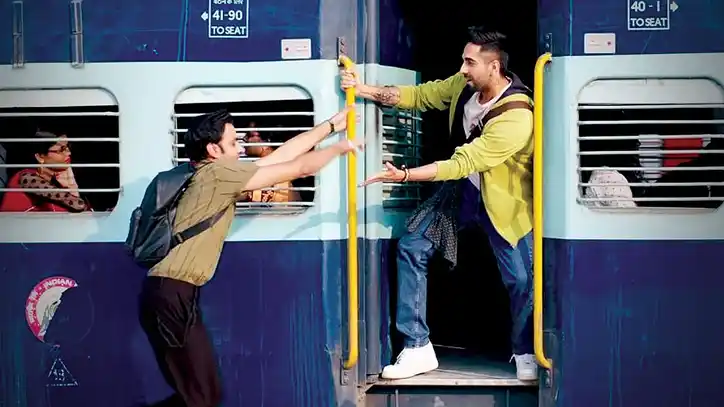 Shubh Mangal Zyada Saavdhan, a same-sex love story, is giving us an updated version of the iconic DDLJ scene – with Jitendra Kumar running beside a moving train while his partner Ayushmann Khurrana channels in inner SRK.

Colour Yellow Productions
There is no train scene that has achieved the DDLJ cult status, but there is a certain enigma to the Shah Rukh Khan-Manisha Koirala encounter at a railway station in Dil Se (1998). Khan's Amar is smitten even as  Koirala's Meghana is hesitant to make eye contact. It is a standard "boy meets girl at a station" trope that soon acquires sombre undertones.
What the DDLJ scene is to millennials, "Mere Sapno Ki Rani" from Aradhana (1969) is to Gen X-ers. Rajesh Khanna and Sharmila Tagore tenderly romance each other in the evergreen song – he croons from a jeep and she dreamily gazes at him from a coach. Similarly in Pakeezah (1972), Raj Kumar meets Meena Kumari inside a train compartment, develops an infatuation, and eventually leaves that famous note complimenting her legs.
In some movies, trains become a companion in tragedy. In Shyam Benegal's Suraj Ka Satvan Godha (1992), the protagonist Manek Mulla (Rajit Kapur) works for the railway mail service. Through him, we come to know about three women and his tryst with them. There are Tanna and Jamuna, two star-crossed lovers, who meet at a platform after years. This is hardly reconciliation, rather the bitterness comes out – Tanna is in a broken marriage and Jamuna has become a widow. As they depart, Tanna meets with an accident while crossing the tracks.
Trains acted as a sort of unifier in terms of finding love across barriers of class and geography.
While some love stories begin on train journeys, other's end on platforms. In Teesri Kasam (1966), Raj Kapoor and Waheeda Rahman's separation happens at a railway station. Sadma (1983) too harps on a ritualistic yet tragic separation at the railway station. In it, Somu (Kamal Haasan) rescues Nehalata (Sridevi) who has lost her memory and brings her to his place, becoming her caretaker and guardian. In a cruel twist of fate, when she eventually regains it, she has no recollection of Somu. And as she takes the train to go back home to her parents, she throws him food, thinking he is a beggar. As the train leaves, Somu is left all alone on the platform, a striking image of loneliness. Even in  Raanjhanaa (2013), a similar bittersweet exchange happens: Kundan (Dhanush) is all ready to meet Zoya (Sonam Kapoor) years after they separated at the railway station. His heart is filled with love and he is convinced that Zoya will recognise him. Zoya walks by, unaware of his existence.
Yet there are few directors who've used the journey as a metaphor for life. Today no Imtiaz Ali film is complete without a train scene. Back in 2009, in the first Love Aaj Kal, Veer Singh (Rishi Kapoor) tells Jai (Saif Ali Khan) about how desperate he was to meet Harleen (Giselle Monteiro) one last time, as she was shifting to Kolkata with her family. At that point, he had lost all hope of being with her, but when he sees Harleen going away at the station, he decides that his life would be incomplete without her. It's this story that prompts Saif to get Meera (Deepika Padukone) back. It's a wonderful juxtaposition of romance in Hindi cinema. Maybe it's time for another train journey to find what the heart desires.

Sayantan Mondal is an instructional designer and writer from Pune. When he is not busy at work, he likes to watch movies, make memes and hunt zombies. He also has a doctorate degree that he uses to ward off evil and other supernatural beings.