A coy bride, an awkward groom, a glass of kesar milk, and rambunctious relatives outside with their ears glued to the closed door – this is how a suhaag raat scene unfolded in Hindi films. But which was the last movie in which you saw a shy dulhan sitting on a bed of roses?
There's a scene in Patni Patni Aur Woh (1978), right after Sanjeev Kapoor and Vidya Sinha get married. Both the bride and the groom are given instructions for the big night by their respective circle of friends. The bride is told to simultaneously be shy and play hard to get; the groom is trained to seduce his new wife. Once he is pushed inside the bedroom by his giddy friends, he tries wooing the dulhan with a rose and lines of poetry. This turns out, rather comically, to be a flop idea. Bereft of options, they then sit next to each other, come closer slowly, and consummate their marriage in an oddly rehearsed manner.
This is exactly how every suhaag raat scene – the night when the bride and groom are alone with each other in a room for the first time – plays out in Hindi films. A coy bride, an awkward groom, a bed bedecked with rose petals, a glass of kesar milk inside, and rambunctious relatives and friends outside with their ears glued to the closed door ready to recognise any movement or noise. This trope is littered across countless Hindi films – every shaadi scene is followed by a suhaag raat one. The anticipation and the thrill is best captured in the lyrics of Roja's "Rukmani Rukmani": Shaadi ki baat kya kya hua?
In a culture where the silence around sex becomes the unintended noise around it, it is Hindi cinema's suhaag raat scenes, that for long acknowledged sex as a need. The collective curiosity of a society when it came to unpacking matters of desire also led to filmmakers leveraging on the idea of inserting such scenes to cater to repressed hormones. This meant that these interpretations were often unrealistic and ill-equipped with giving a reference point for how matters of sex actually unfolded in real life. Most films were guilty of dressing these scenes as a way for audiences to derive satisfaction from having their secret fantasies played out on the big screen.
There were of course a few exceptions. In Kabhie Kabhie (1976), the bride painfully sings out the words written by her ex-lover, even as her oblivious husband gets down to removing her jewellery piece by piece. In Hum Dil De Chuke Sanam (1999), the bride is lovelorn, cold, and bitter, lying on the bed next to a man she doesn't want to be married to. She visibly flinches at his touch even as she offers him her body although she yearns for someone else. In Naseeb Apna Apna (1986), we have an unwilling groom – a city boy forced to marry a village girl – who throws the glass of milk that bride offers him on the floor.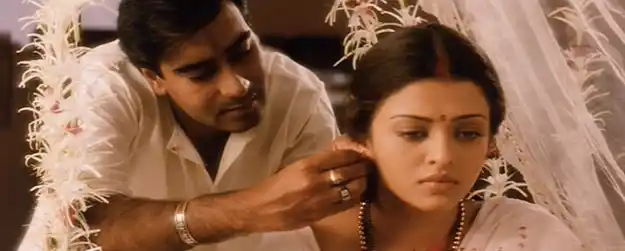 In Hum Dil De Chuke Sanam the bride visibly flinches at the touch of the man she doesn't want to be married to even as she offers him her body although she yearns for someone else.

SLB Films
Even though these movies did not stick to the suhaag raat stereotype, there was a suhaag raat scene nonetheless. The template had an indispensable position in our films, mainly because it also represented the wedding night as the first unmonitored interaction between two people who had just vowed to spend the rest of their lives with each other. In a country where arranged marriages are the norm, this first night after the wedding didn't derive its significance only from the fact that the couple would throw caution to the wind and do it. Instead, it was primed more for being the night where a couple were allowed the privacy to indulge in intimacy: They could actually talk, hold hands, or look into each other's eyes for the first time. This was the first real opportunity to get to know your partner.
Movies, to a large extent, hold a mirror to the world we occupy.
Interestingly, in recent years, the proverbial suhaag raat scene, once an integral part of any film, is slowly being reduced to an afterthought. The lack of such a sequence is especially glaring given that there still exists films where protagonists are getting married. Take for instance, some of the romantic comedies of the last five years – Tanu Weds Manu (2011), Yeh Jawaani Hai Deewani (2013), Shuddh Desi Romance (2013), Two States (2014), and more recently Kabir Singh (2019). All these movies have a commonality: None of them had scenes or songs orchestrated around the suhaag raat. In some of these films (Two States, Kabir Singh), protagonists are romancing each other and having sex before the wedding.
Movies, to a large extent, hold a mirror to the world we occupy. Today, in India, pre-maritial sex is no longer the taboo it used to be. Our films are only reflecting this changing mindset.
The suhaag raat doesn't feature in every other movie today, and in the few films that make room for such a scene, the implications and purpose of its existence are completely different to what it was back in the day. In last year's Raazi for instance, you'd be forgiven for mistaking the suhaag raat scene as a setting for a date: There's conversation and the groom is listening to jazz music. He then sleeps on a different bed to indicate to this new wife that sex can wait until they get to know each other, in a way emphasising on the need for consent.
The ideals of arranged marriage get a similar spin in last year's Manmarziyaan. Like Hum Dil De Chuke Sanam, the bride marries a stranger even though she is in love with someone else. Yet it is she who makes the first move on her wedding night because she feels like sex. Her husband (who forgets to get condoms on his honeymoon) gives in even as he is fully aware that she isn't in love with him and most probably not even a virgin. There is no drama around it.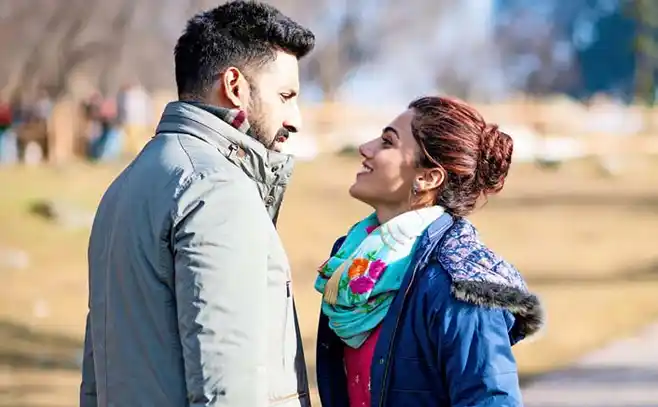 In Manmarziyaan although the bride marries a stranger, she makes the first move on her wedding night because she feels like sex.

Eros International
Now, the first night is all about convenience and not tradition. And no film captures this change more succinctly than Love Aaj Kal where Deepika Padukone, the bride, sits on the bed waiting for her husband wearing a casual dress paired with red bangles. There is no ghunghat, dupatta, or doodh in sight. It is clinical, modern, and practical, everything that a traditional wedding night is not. Perhaps, that explains the demise of the suhaag raat scene.

Whatever Bhavna writes often stays in her head. It seldom makes it to paper or a public platform. When it does happen, she is often found acting totally cool.