Garam Dharam's Lit AF Instagram feed is the most feel-good thing on the internet right now. The Bollywood stalwart's posts reflect his carefree nature and zeal for life and serve as a stark reminder that there's nothing quite as adorable as old people on social media.
Dharmendra Deol, who turns 85 today, is one of Bollywood's most beloved grand old men. In a career spanning six decades and over 250 films, his legacy remains unparalleled. He spent his early days in the industry, essaying idealist roles in Hrishikesh Mukherjee films, becoming the vehicle for Bengali literary realism in Hindi cinema. By the time the '60s and '70s rolled out, dashing Dharmendra evolved into a versatile performer, equally adept at displaying action hero bravado (Sholay) and comic-timing genius (Chupke Chupke). He is Bollywood's first heartthrob and admittedly, my mom's first crush. Even today, he continues to tug at our hearts – surprisingly via his Instagram feed.
I discovered Dharam Paaji's lit AF Instagram feed when a coworker showed us a clip of Garam Dharam jazz walking on the streets of London. It was a hysterical video, we all laughed and I instinctively pressed follow. Then forgot about it until he popped up on my feed again, proclaiming his love for ducks, dressed in army fatigues and a cowboy hat. This time, I was hooked.
Sometimes it's ducks, at other times dogs. Paaji's feed is filled with adorable videos and images – Dharmendra hugging a Messi cutout, posts of him fawning over his sons and gawking at flowers and waterfalls, some throwback black-and-white pictures from his heyday, and clips of him feeding cows, birds, and hens. @aapkadharam is the pure gold standard of Insta feeds – and more wholesome than many other accounts out there.
I was quick to tell my mum, our family's most diehard Dharmendra fan about it, and it was enough to get her addicted to Instagram. Sharing Dharam Paaji's Insta posts with "awwwws" and heart emojis has become a ritual of sorts for our family WhatsApp groups. Mum will send me a link on WhatsApp and then start gushing over how cute he is even today and that's enough to cheer me up in the middle of a hectic workday. Paaji's childlike enthusiasm and overall gusto for life are infectious. And just yesterday, he urged us all to "go organic, grow organic".
Sharing Dharam Paaji's Insta posts with "awwwws" and heart emojis has become a ritual of sorts for our family WhatsApp groups.
Dharam Paaji is like what I think my baa would be if she were alive and were to take to Instagram. What makes his histrionics all the more appealing is that unlike Big B on Twitter or DJ Khaled on Snapchat, Hema ji's hubby has a feed that's absent of any kind of professional agenda or malicious intent. There is no over-the-top effort to seem relevant and there is no cringe-inducing movie plug. And he is probably the only big name on social media, who is oblivious to its complexities.
There's no PR machinery dictating Daddy Deol's feed. Even as yesteryear peers like Rishi Kapoor create controversies with their problematic Twitter rants, Dharam ji is content with telling his followers about his new cap and getting chicks to kiss on camera.
In many ways, the genuineness depicted in Dharmendra's Instagram posts mirrors his real-life aesthetic: a simple man who never quite took his stardom too seriously and focused instead on having a good time. Never afraid to take the road less travelled, (just look at all the women-driven movies such as Seeta Aur Geeta, he did in the prime of his career), one of my favourite posts from his feed is where the 83-year-old is passionately driving an ATV through what I can only assume is his farm house. In many of his stories, he flashes his trademark, twinkly smile, and reminds his followers to "be strong, keep moving" (sic). Clearly mellowing down with age, (he claims to have quit alcohol since 2011), his self-effacing charm and honest-to-goodness earnestness has managed to endear him to millennials. I know for sure that despite all the promotions, increments, and paid-off EMIs, some of just want to one day be Dharam-Uncle-on-Instagram level of nonchalant when we grow old.
In Dharmendra's IG posts, I find a reflection of our parents and grandparents. In the age of #Deepveer and #NickYanka, where celebs' social media presence is managed by an entourage that ensures every single word, hashtag, and selfie is directed toward some bogus brand endorsement or professional goal, Dharam ji's Instagram is a friggin' godsend. Happy birthday, sir, and thank you for keeping it real.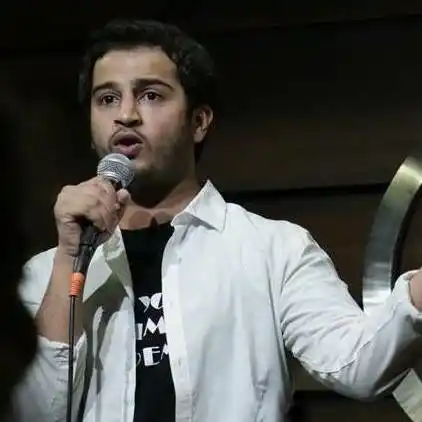 Masking anxiety with humour. Living with his dog, cat, and mediocrity. Creating content aur life se kaafi discontent. Tweeting as @juvenile_jack.