For an industry overpopulated by biopics that veer between hagiographies and celebrations of hyper-nationalism, Gunjan Saxena is a welcome respite. Yet, it sticks to expected beats, and there are few moments with any bite. Janhvi Kapoor, who has visibly improved since Dhadak, is still inconsistent.
The biggest strength and weakness of Gunjan Saxena, a cheerful biopic of Indian Air Force's only woman combat pilot who served during the Kargil War, is its casting. In a move intended to mirror Alia Bhatt's heavy-lifting in Raazi, Janhvi Kapoor, another Dharma Productions protege, plays Saxena. Her father is played by Pankaj Tripathi, an actor whose tuned performances have the ability to make it seem as if he is tailor-made for every role. If Kapoor is miscast in a part as physically demanding as it is emotionally driven, then Tripathi goes above and beyond the material at hand, infusing his turn with a degree of emotional complexity that fills in the gaps.
The actor achieved something similar in Ashwiny Iyer Tiwari's Bareilly Ki Barfi, playing a father who refused to let the gender of his child dictate his parenting. But here, Tripathi outdoes himself, bringing alive the language of supportive parenting without making it seem idealistic or far-fetched. He paints an atypical portrait of an army man who barters aggressive displays of masculinity for surprising gentleness.
A kitchen outburst scene where Tripathi does a richer version of Kumud Mishra's guilt-ridden father in Thappad, almost feels like a protest against Hindi cinema routinely glorifying emotionally unavailable fathers in the line of duty. Even though the biopic dedicates itself to telling the story of a daughter, it's really the inner life of her father who single-handedly holds your attention.
Gunjan Saxena opens in 1999, capturing the 24-year-old eponymous heroine on her first mission during the Kargil War, before rewinding back 15 years to plot her origin story. The initial portions effectively chronicle Gunjan's fixation with becoming a pilot (she wears black aviators at home even during the night to protect her eyesight) and the obstacles that come her way in realising that dream. That Saxena was one of the first two female IAF officers to pilot a helicopter in a war zone, historically considered the domain of men, is a clear indication that her primary hurdles would arise due to her gender.
The film sticks to these expected beats: At home, her mother (Ayesha Raza Mishra, as entertaining as ever) views Gunjan's pilot dreams as an inconvenience, enlisting the help of an astrologer to "cure" her and her elder brother Anshuman (Angad Bedi), an army man himself, is politely patronising. But her father's unbridled encouragement is enough to make up for their collective skepticism, leading Gunjan to join the Indian Air Force and successfully graduating from the academy.
Gunjan Saxena was one of the first two female IAF officers to pilot a helicopter in a war zone.
Who is Gunjan Saxena?
The story then shifts to Gunjan's first posting at the Udhampur base where she is the only female officer, surrounded by male colleagues who go out of their way to ostracise her.
The sexism is both garden-variety and polite: Even when Gunjan's male colleagues are indifferent to her capabilities, the film never paints them as vicious, which might be a sign of the writers feeling compelled to show the Indian Armed Forces in a favourable light. The humiliation that she undergoes at the base is more structural (no washroom or changing rooms for women, the orthodox Indian mentality) than personal.
The only scene that comes close to having any bite is one where Gunjan is publicly shamed through a juvenile display of masculinity – Kapoor who has visibly improved as an actor since Dhadak employs a remarkable restraint in the moment that makes it all the more moving.
The problem however, is that she is also inconsistent. A moment of confrontation in the film's second half is marred by her rehearsed delivery rather than revealing the angst of a character who is consistently made to feel invisible. Occasionally, the effort shows: It doesn't help that she might not be the most physical actor around, and so for the most part, Gunjan's transformation from a determined girl to an efficient pilot is rather more inward. That approach would have worked better if Kapoor could conjure up the distinctive insecurities of a woman forced to second-guess herself despite being more than capable. But her performance, although adequate, lacks that depth.
Similarly the film, co-written by Sharma and Nikhil Mehrotra, is simplistic with its storytelling, a touch too safe. There is little room for grey in the film's universe made up of only two kinds of people: those who side with Gunjan and ones who don't. The overbearing background score stands out like a sore thumb and the film's war scenes and training montages aren't as slickly designed or memorable as Uri or Raazi.
Gunjan Saxena understands the difference between patriotism and jingoism.
What makes Gunjan Saxena stand out 
But there's an admirable clarity in the film's politics that makes a case for Gunjan Saxena being one of the better Hindi biopics to have come out in recent times. The writing is consistently empathetic and alert to the insidious nature of gender discrimination without being too preachy.
In fact, the film stumbles upon some interesting observations about male condescension that inform the bravery of both Gunjan and her father's feminism. Both Anshuman and Gunjan's superiors (Vineet Kumar Singh, Manav Vij) employ well-meaning sermons about prioritising her safety to justify their hesitation in seeing a woman pilot beyond her gender – the dreaded "safety" argument that is routinely used to thwart women's ambition.
For an industry overpopulated by biopics that veer between hagiographies and celebrations of hyper-nationalism, Gunjan Saxena is a welcome respite. Like Shakuntala Devi, it spotlights the story of a woman whose achievements also reflect the imbalances of a society that stood in the way of it.
But look deeper and you'll notice that the writers use Gunjan's origin story to make a case for the kind of patriotism that Hindi movies seem to have forgotten. In one of the film's standout scenes, Gunjan wakes up her father late at night to ask him if she's betraying her country by joining the armed forces only because she wants to fly and not necessarily because she is patriotic. "Do you think the Air Force only wants people who yell Bharat mata ki jai?" he replies, pointing out that there is more than one way to serve one's country. That a mainstream film understands the difference between patriotism and jingoism makes you wish Gunjan Saxena had released on the big screen.
Gunjan Saxena: The Kargil Girl is screening on Netflix.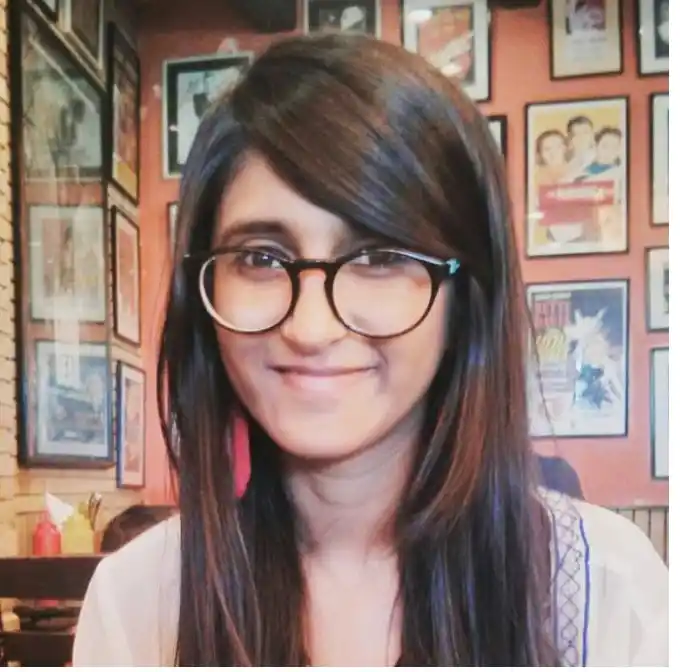 When not obsessing over TV shows, planning unaffordable vacations, or stuffing her face with french fries, Poulomi likes believing that some day her sense of humour will be darker than her under-eye circles.